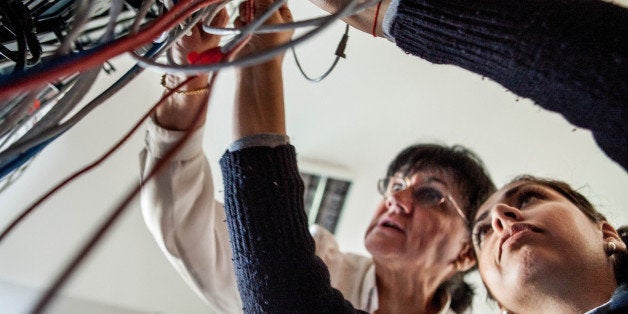 Digitization. This topic was top of mind for many of the 2,500 world business and government leaders at the recent World Economic Forum annual meeting in Davos, Switzerland. Digitization is the full-scale adoption of computer- and Internet-enabled technologies by consumers, businesses and governments; it is important because it can grow economies and create jobs.
In fact, according to the 2013 Global Information Technology Report, adoption of such information and communication technologies (ICT) provided a $193 billion boost to world economic output and created 6 million jobs in 2011. And, each new ICT position led to two or more jobs in other sectors in the Philippines and 2.4 jobs in South America.
In the past, when we thought of Internet connectivity, we thought about devices -- smartphones, computers, tablets. But today we can connect people, processes, data and things to the Internet - and completely re-engineer every aspect of our lives. At Cisco we call this the Internet of Everything, and it is allowing innovative thinkers to come up with better, smarter and less expensive ways to do things. It is helping to save money, conserve resources and improve the way we do business, educate children and provide health care.
For example, in Barcelona, Spain, a fiber-optic network is supporting projects that run on smart technology, like remote irrigation control for the city's green spaces. So far, this includes 77 remote-controlled fountains and two networks that provide hot water in 64 buildings. Barcelona's vice mayor, Antoni Vives, reported in January 2014 that the city is saving $58 million annually using smart water technology.
Clearly, there is great potential in a fully digitized world. But one thing stands in the way: We don't have enough people with the skills to manage the growing number of Internet connections.
Networking technology is at the heart of the Internet, connecting devices and local networks with the global public Internet. Planning, designing, building, managing and supporting IP networks all require dedicated networking skills.
To gauge the supply and demand of people with such skills, Cisco partnered with the research firm IDC to analyze the networking talent pool of 29 emerging market countries, from China to Brazil to Saudi Arabia. What we found was alarming. There is a shortage of at least 1.2 million people skilled in Internet protocol (IP) networking. And that is just in the 29 countries surveyed.
Countries with an unbalanced supply and demand of networking professionals will miss out on an opportunity to grow their economies. Their business sector will be unable to capitalize on the market shift presented by the Internet of Everything, which we estimate holds $19 trillion in value for the public and private sectors worldwide over the next 10 years.
Why is there such a shortage of skilled networking professionals? And more importantly, how do we fix it? Seventy-five million young people are unemployed worldwide. If we can inspire some of them to train in networking technology, we can put more people back to work while filling a demand for our governments and businesses.
First, we need training programs targeted to job needs. Partnerships between public agencies and private companies can help. The US Telecommunications Training Institute is one example -- it offers tuition-free training in 84 courses, including Internet technology, cybersecurity and rural connectivity through funding contributions from various U.S. government agencies and corporate members. From 1983 to 2014, over 1,940 courses have been taught to 9,076 participants from 171 developing countries.
The Cisco Networking Academy program is another example - in partnership with colleges, universities and other institutions, we have trained 5.5 million students in networking technology worldwide since 1997. Networking Academy curriculum can supplement computer science and technology courses in schools and help students develop the specific skills employers demand. From 2005 to 2013, more than 1.2 million students found jobs thanks to the program.
Second, we must mentor young people and support them on a path toward technology and networking careers. Women in particular can benefit from positive role models. According to Million Women Mentors, women comprise more than 20 percent of engineering school graduates, yet only 11 percent of practicing engineers are women. The lack of female role models may contribute to women dropping out of technology fields of study and careers. The US2020 initiative aims to match 1 million science, technology, engineering and math (STEM) mentors with students to increase awareness of STEM education and careers, especially among girls, underrepresented minorities and low-income children. TechBridge, a nonprofit that offers an after-school STEM program for girls, offers an online toolkit to help potential role models engage girls and underrepresented youth in STEM through readings, videos, questions and more. As more technology professionals devote more time to mentoring, they will sow the seeds of a future workforce capable of using Internet connections to change the world.
The outlook for digitizing the world is strong if we act together and act now. We have a shortage of skilled professionals that must be filled, but we also have millions of business leaders, heads of state, and social innovators who aren't willing to let this moment of opportunity slip away. Now we all must work together to cultivate the public policies, the training programs and the enthusiasm that will enable us to harness the power of the Internet to benefit people, communities and the planet.
Related