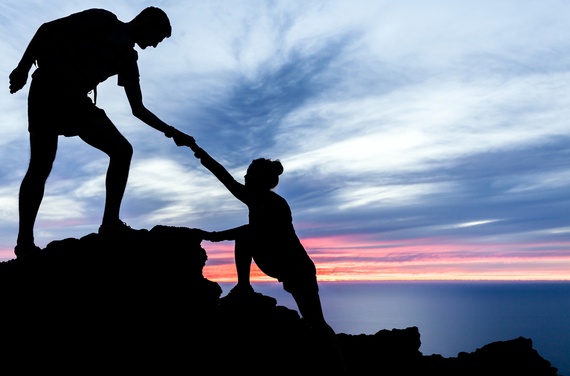 When tragedy strikes, we know all too well how to pray for victims, hold moments of silence and express sympathy. What we're less adept at is taking appropriate action in response to that tragedy.
The beloved Mr. Rogers said that when he would see scary things in the news as a young boy, his mother would say to him, "Look for the helpers. You will always find people who are helping." As Father's Day approaches and we try to explain to our children and ourselves how 49 people who were just out dancing could be shot dead for no other reason than who they love, I encourage you to not only instruct them to look for the helpers, but show them how they can actually be the helpers.
There are some practical, immediate things you can do like donating blood instead of the gay community who unfairly cannot, or sending funds to support the victims and their families. But there are other, more personal actions to take as well. Orlando was not a random attack in an arbitrarily chosen setting. Though we don't fully understand all of the shooter's motives, we can be sure he was targeting the Latinx and LGBTQ community.
This is a group of people who face racism and homophobia on a daily basis. They were in a space they considered a sanctuary--somewhere they could be themselves without fear of hate and violence. The man who wreaked havoc on that nightclub did not do so accidentally or out of convenience; he did so purposefully and with horrifying fervor.
So what can we do as LGBTQ folks and allies? How can our words and deeds not only express the pain and sorrow we feel in the face of such a tragedy, but change the factors that allowed a crisis like this to happen?
The answers are many because the problems are many. When faced with fear and uncertainty as humans, we are tempted to choose a simple explanation to account for a complex reality. But we cannot be so passive this time. We must identify and address the multitude of issues that allowed one person to murder 49 others and maim another 53: hyper-masculinity, homophobia, illogical gun legislation, domestic terrorism, ISIS, domestic violence, etc.
So when you're watching or reading the news and feel like you'll have to either turn it off or start crying, don't turn it off. Allow yourself to feel the weight of what has happened. Allow yourself to mourn the couple that should be getting married but instead will be buried together. Allow yourself to mourn the mother of 11 who was out dancing with her gay son. Allow yourself to mourn for and with the families directly affected and remember that they could have been your own.
We do this because the weight and depth of the pain from such an incident has to move us each to action. It isn't just one issue, it's many. Take your pick, or act on a few. But don't just change your profile picture, do more.
If we really want to be the helpers, we can do so in a very personal way. We can involve ourselves in personal and public conversations. The LGBTQ community in Orlando and across the world is hurting deeply right now and they need to hear from us, the rest of the LGBTQ community and allies. Call, text or email your LGBTQ friends. Ask how they are doing, whether they need to talk or if you can attend a vigil with them. Attend local Pride Parades, march alongside them; show up. I promise you that even if you don't have anyone to go with, if you show up to a Pride Parade in solidarity, your presence will matter more than you know.
Here are a few more ideas from the Care2 team that can be done right now, from your couch.
1. Start a petition about gun control, discriminatory anti-LGBTQ policy or domestic violence.
2. Sign and share one of the compelling petitions that already exist. .
3. Contact your political representative directly about the issue you care about.
And for those of you who like to speak with your wallet:
4. Fund the victims.
5. Support LGBTQ organizations. Donate money to HRC, GLAAD, GLSEN, state equality organizations, local Pride groups and LGBTQ centers.
6. Fund the support dogs that traveled down to Florida to aid in emotional healing.
7. Fund homeless LGBTQ teenagers.
8. Fund efforts to thwart LGBTQ suicide.
No one should be gunned down with an assault rifle while out having fun. No one should have to die for who they love. Not one of us should stay silent when the moment of silence for the 49 dead and 53 injured is over.
"To this day, especially in times of 'disaster,' I remember my mother's words, and I am always comforted by realizing that there are still so many helpers--so many caring people in this world." - Fred Rogers
Joe Baker is the Vice President, Editorial and Advocacy for Care2 and ThePetitionSite. He is responsible for recruitment campaigns for nonprofit partners, membership growth efforts and all editorial content. Prior to Care2, Joe was the Executive Director of N-TEN. Joe serves on the Board of Directors of Death Penalty Focus, the Advisory Board of GiveForward.org and volunteers for the Sierra Club and Amnesty International.
Calling all HuffPost superfans!
Sign up for membership to become a founding member and help shape HuffPost's next chapter