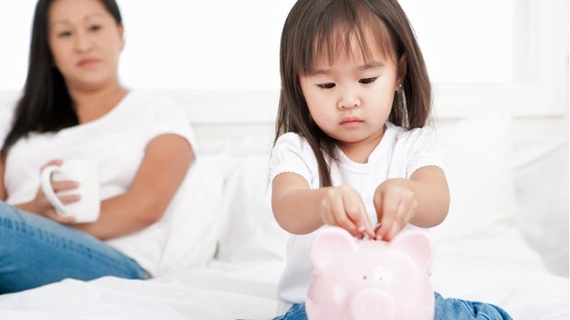 Raising children and managing finances simultaneously is a difficult task for all parents. This scenario can become worse if you need to raise your children alone as a single mother. You need to work hard to earn regular expenses and the same time you need to take care of the upbringing of your child. This sounds very challenging, isn't it? As you have decided to take this situation upfront, you need to look for every possible linkup which can help you to get more stable financially. So here is a little researched data to help all you lovely moms trying to raise their children all alone.
According to some recent survey a colossal percentage of single parents are single mothers and unfortunately they are struggling crucially with finances. So every bit of financial assistance would be a great help for them. Unfortunately there are very few single mothers who know where to get financial assistance so that they can easily manage their finances easily. Practically if you are a single mom and not a student then there are fewer options available for you. In spite of this if you can keep an eye on all available assistances for single mothers then you may opt for right one for you and your children. Keep reading:
Health matters: Going out without any health insurance can be disastrous for all and especially when you need to take care of your children alone, you need to extra cautious about health related matters. If your job doesn't offer you a health insurance like Medicare or Medicaid then you and your children can get into trouble very easily. You must be extra careful while handling tender young children about health issues and their consequences. If you don't have enough financial back up then things can even worse. So you must be aware of the available health insurance options on which you can rely on to fight tough health crisis financially.
Whether you are earning sufficient to support your children alone or struggling with finances very much, you need opt for a medical or health insurance under any circumstances. If you income is low and you can meet all the Federal guidelines you can go for Medicaid. As Medicaid is one of the cheapest and thus it is very much affordable for single mothers. Every state has its different guidelines as state is also involved in this program along with Federal. You can check your eligibility status and all other details regarding Medicaid here. Affordable Care Act can be another suitable healthcare option for you if your income qualifies you for applying for this. Healthcare policies are major part to manage finances for single mothers. Keep these options in mind and secure your health through some suitable and cheap health insurance.
Get help with day care: Working single moms find it more difficult to raise children while they need to go out to work every day. So they need to depend on day care to take care of their children while they are out for work. They need to spend a considerable portion of their earnings in day care to take care of their children. The United States Department of Health and Human Services can help you to get some financial aid for your baby's Day Care. There are few other Federal programs like Head Start, Early Head Start from where you can get some financial aids to fund your children's early education process.
Fund for cosy corner: A major part of income goes to fund for home. Whether it is rent or an instalment for home loan, this is a huge amount you need to gather every month to pay this bill. For single mothers this can be very painful. For this you can get some help from HUD. There are few other options as well like Section 8 housing program and Operation HOPE Home Buyers Program from where you can get required assistance. You just need to know the details from their official website and then apply for the suitable one.
Go for a vehicle: If you need to buy a vehicle then you can go for Government approved grants to get financial aid. These grants vary from state to state and you need to contact your local social service offices to know the details and know if you are eligible for the same. As there is a long queue for these grants you should apply early get it in time.
There are few more options like SNAP program or Special Supplemental Nutrition Program from you can get some help to cover expenses for food. If you want go for higher studies you can apply for scholarship for single mothers so that you can grab some better opportunities. You can also go for some title loans if you can payback. As a single mother you are already struggling with finances and juggling between job and home. So government and personal grand can be a great help for you. Keep you goodwill up and keep going with happiness.
Calling all HuffPost superfans!
Sign up for membership to become a founding member and help shape HuffPost's next chapter