Remember that day you moved? Of course you do. You also remember your root canal and every time you got a $5 savings bond in a birthday card.
On what normally would have been a restful weekend morning when you'd have only brunch to look forward to, you and any willing friends and family tossed your life's belongings into beat-up old boxes, plastic grocery bags and oversized duffels. Everything was thrown into the back of a station wagon owned by your cousin's best friend's brother ready to transport to your new apartment.
We've partnered with Apartments.com and come up with five steps you can take to avoid the migraines of your next moving day—and take back your weekend and make it to brunch after all.
Step 1: Gather Packing Materials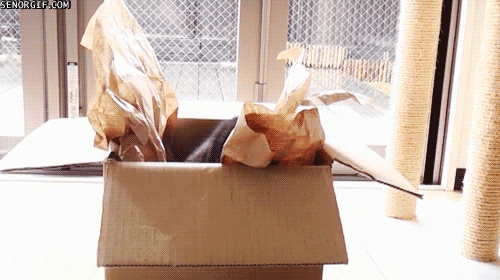 Bubble wrap, Styrofoam peanuts, blank packing paper, insulating blankets, and specially designed, reinforced boxes are luxuries. If you're on a budget, several copies of the Pennysaver, your high school track hoodie, and your grandmother's wool blanket will do just fine. Next time you're picking up your favorite off-brand microwave burrito's in the corner bodega, task for cardboard boxes they don't need as well. Just be sure you're not taking home any unexpected new roommates with the boxes.
Hack It: The boxes from liquor stores will come equipped with divided inserts for instant insulation.
Step 2: Organize and Strategize

They all laughed at you in AP biology when you used a different highlighter for every new unit, but on this day your obsessive color coding will actually payoff. Create a large open space in each room to pack. Place the packing materials needed in each room and include a different color of packing tape in each as well. Leslie Knope would be so proud.
Hack It: Use the rolls of packing tape to color-code your boxes based on the room they will be placed in when unpacking. Attach a different colored length of tape on the doorframes of each room in the new apartment so you and your minions/helpers know where to put the respective boxes.
Step 3: Pack

Get a hold of yourself. You're not defusing a bomb with a paperclip and duct tape here. Use small boxes for heavy items like books so you don't create a container that's too cumbersome. Put solid items on the bottom of the larger boxes to build a strong foundation and lighter knickknacks toward the top.
Hack It: After removing drawers from dressers, desks, or nightstands, keep them full and wrap them in plastic so the contents don't fall out. And you just got 3 hours of your life back.
Step 4: Move

Go room by room and take care of the bedroom and living room before the kitchen and bathroom. Remember that box of moving day essentials? Put that in the vehicle last, so you have easy access to it. Double check that you didn't leave anything behind (even though you undoubtedly will) and say goodbye to the dust bunnies occupying the spaces where your furniture once was.
Hack It: Line up your victims/assistants to create a route for the boxes to the moving vehicle. Everyone does equal work that way and the labor moves more quickly.
Step 5: Unpack

You're so close you can almost taste the unlimited mimosas. After unloading the moving vehicle, you'll have the day's essentials at the ready, and your kitchen and bathroom will be stocked first so you can cook, clean, shower, and blow off the rest of the unpacking if you want to. (We told you boozy-brunch was still in the cards, didn't we?) Make your bed and fill up your closets after your belly has been filled with home fries and eggs.
Hack It: Take pictures of your new apartment prior to moving day and figure out where you want your furniture set up ahead of time so there's time to for froyo after brunch.
Looking for the place that will make the stress and hassle of moving day worth it? Start your search on Apartments.com where you can find millions of apartment listings throughout the nation.