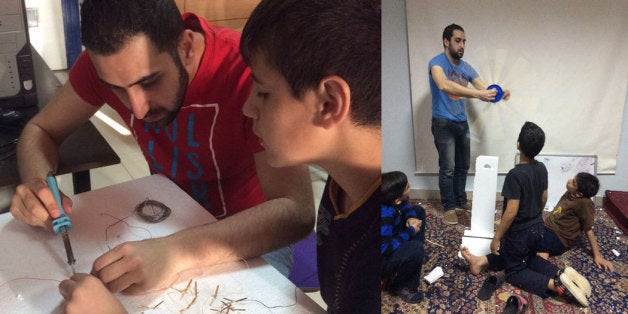 In annual reports ranking the quality of education around the world, Lebanon is consistently high on the list. What those rankings don't tell you, however, is that in some areas of the country more than one in 10 people can't read or write because they lack access to a quality education. Such educational inequity leads to increased poverty, civil unrest, ignorance of human rights, and other social problems. Teach For Lebanon, a partner in the global Teach For All network, exists to address this inequity and work towards the day when all students in Lebanon are receiving a high quality education.
As a Teach For Lebanon Fellow, I teach a group of students at the Sidon Orphan Welfare Society who have been labeled as having little understanding of "moral values" and who face academic, social, and economic challenges. Learning to manage my students' behavior wasn't easy, as they were accustomed to meeting authority with disrespect. But I knew reaching -- and educating -- them would be possible once we found a way to connect.
Teach For Lebanon prepares its Fellows to teach their students their required curriculum, but also to develop critical thinking skills and a vision for achieving their goals and realizing their hopes and dreams for the future. Despite the challenges my students presented, I was determined to seize the opportunity to make a positive change in their lives. As former engineer, I sensed that my video-game obsessed students were intrigued by technology, so I decided to start The Mechanical Engineering Club at the orphanage.
Skeptical at first, my students' interest in The Mechanical Engineering Club increased each week. Like any institution, the members (and I) worked together to define our mission and vision, and the core values at the heart of the club. The members determined that the club would operate according to the principals of democracy and equality, but that a distribution of tasks would be necessary in order to finish projects on schedule. They also designed their own logo and claimed a private activity room at the orphanage.
The Mechanical Engineering Club's first project was a simple electrical board game. I challenged my students to create a game that lights up a bulb when a match is made between two items in the game (for example, an organ in the human body and its name). To accomplish this, each student had to both research the topic he'd chosen for his game, and figure out the necessary mechanics. As they worked, I discovered that my students were motivated to learn more engineering terms than were required -- current and voltage, electrons and electrical loads.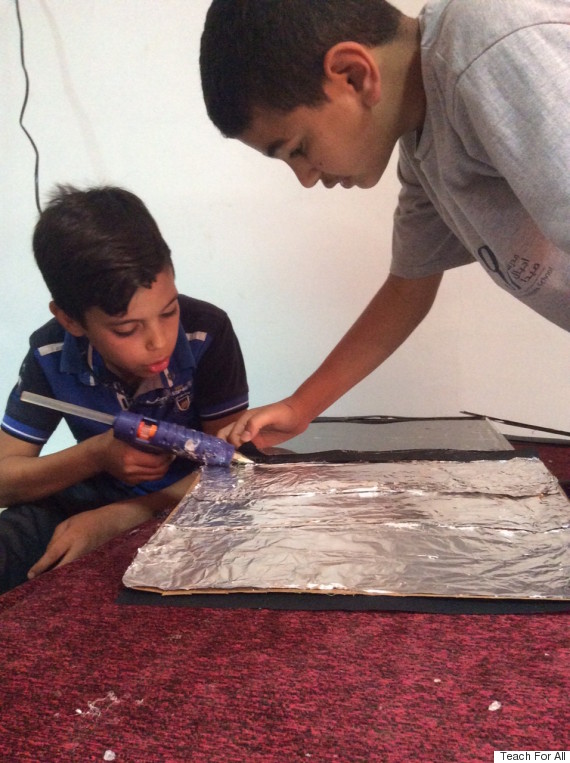 It wasn't long before my students began to prefer spending time at the club to playing soccer or video games--which had been their entire world. "I want to be an engineer and invent something which can help my people in Kana, my village," 13-year-old Ali told me one day. "Next year, I want to invent a helicopter," his 12-year-old friend Daniel chimed in. "Mr. Mohamad says nothing is impossible and the skies are the limits."
For our second project, we decided to address the needs of the world around us and focus on the problem of global warming. I asked my students to research, design, and construct models of windmills, hydropower producers, and solar ovens. By the end of the year, they were building simple obstacle-avoiding mini-cars using Arduino technology and learning first-hand about magnetic fields in electricity generation when motion occurs. These projects were highly challenging for my young students, yet working on them gave them a sense that anything is possible.
The club's positive influence extended beyond its members and outside the walls of the orphanage, to their relatives and even their communities. Every day, students brought me new equipment that their families and friends have given them that might be useful to upcoming inventions. The Mechanical Engineering Club members shared their new knowledge and experiences with their relatives and neighbors, engaged in discussions about engineering and technology -- and even taught others about the dangers of global warming. Everyone, from relatives to the staff at the orphanage, was shocked by what my students were able to accomplish. They had never held high expectations for these children, or considered that they had the potential to create anything of value.
As their teacher, I'm proud to see how my students' priorities have shifted from playing soccer and video games and hanging out in the unsafe neighborhoods of Saida to gaining knowledge and contributing to society. My students have learned to become young inventors, to respect one another and to develop the skills they need to achieve their visions and fulfill their dreams. They have discovered the value of being polite and tolerant, and listening to each other. A plan is already in place for continuing the club when my Teach For Lebanon Fellowship ends. The older students will take on leadership roles and teach the new members who will join. I'm confident that the club will continue to be one of the most interesting activities at Sidon Orphan Welfare Society.
Note: The Mechanical Engineering Club has decided to explore the world of robotics in the 2015-2016 academic year. To do so, they're hoping to raise $3000.00 to purchase five Lego Mindstorms NXT robot kits. If you'd like to contribute to their fundraising campaign, click here. Please specify Mechanical Engineering Club when making a donation.
Related