December 2 marks #GivingTuesday - a growing global movement and a special day dedicated to the power of giving back. This day holds a special place in my heart because it grounds all of us in the spirit of the holiday season, at a time when shopping, seasonal festivities, and holiday cards might otherwise be top of mind. On #GivingTuesday, as individuals, we can unite to send a powerful message of hope: together we can change the world. It reminds me of the Ethiopian adage "Dir biyaber, anbessa yasser": When spider webs unite, they can tie up a lion.
While working with WaterAid in Ethiopia, I saw firsthand both the devastating local consequences of the global water and sanitation crisis, and perhaps more importantly, solutions in action and the difference that investing in the basic foundations of human development can make. I was fortunate to have the opportunity to see for myself how whole families and communities were transformed with the simple, life-changing gifts of safe water, sanitation and good hygiene practices. There is neither health, nor prosperity without safe water and decent toilets. Everyone is affected, but mothers and children pay a particularly heavy price.
A beautiful country of mountains and lowlands, rich in culture and history, with an astonishing 90 languages, Ethiopia is home to some of the most resilient people I've ever met. My time in Ethiopia provided eye-opening lessons and the country became a second home to me. I left with profound admiration for the millions of mothers across the country whose daily search for water for their families takes them to the limits of human endurance, and far too often, even beyond. Deaths while collecting water are not uncommon when deep waterholes collapse, trapping and killing those inside.
In the remote village of Adi Sibhat, in the highlands of Tigray, Ethiopia, women's daily trek for water included hiking along dangerous paths for hours, only to arrive at a small well filled with leeches and insects, from which they gathered water meant for drinking, washing, and cooking. Although the well that the women of Adi Sibhat journeyed toward was their closest source of water, it was contaminated and often had negative consequences for everyone, not only for the health of families, but also their livestock, and by extension, their livelihoods. Swallowing a leech can kill a cow, and losing a cow can impoverish a family.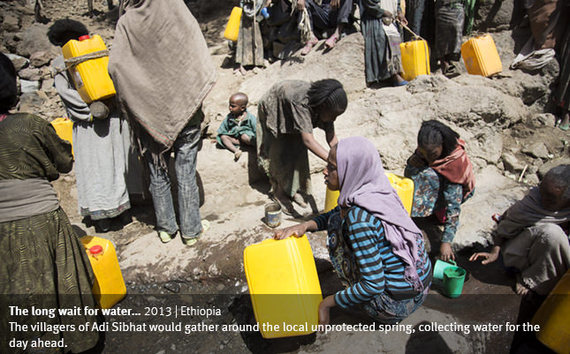 Understanding the local circumstances where we're working is crucial to developing lasting solutions that will bring water to those that need it, for the long term. In the rocky terrain of Adi Sibhat, building a well was not possible; however, a natural mountain spring could be harnessed to bring safe water to the community. It's imperative to learn from the experiences and needs of people living with water scarcity because ultimately they will be in charge of planning, managing and maintaining their water supplies long into the future.
Although WaterAid and local partners contributed the technical know-how, the community did the hard work, providing the "sweat equity" to build the system. It was their heart and determination that resulted in the clean spring water that is now available at the center of the village.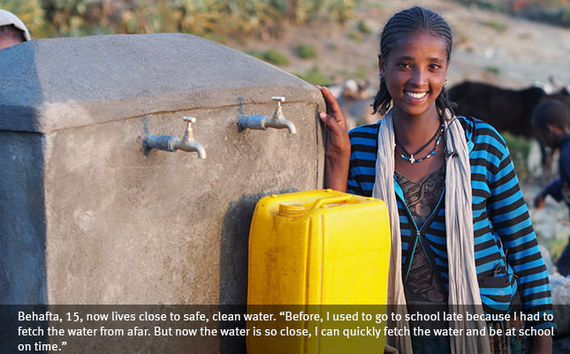 The new water supply is transforming life in Adi Sibhat. People and cows alike are at lower risk from water-related diseases, and women and girls are freed from grueling hours of water collection. That's time they're able to put to productive use, like attending school, farming or starting a small business. Fifteen-year-old Behafta commented: "I used to go to school late because I had to fetch the water from afar. Now, I can be at school on time."
Worldwide 748 million people live without safe water and 2.5 billion live without sanitation. Water-related diseases are among the leading causes of preventable child deaths in the world and approximately 60 million children are born into homes without access to sanitation.
If you share my belief that everyone, everywhere deserves access to clean, safe water, I invite you to join WaterAid's biggest #GivingTuesday challenge ever and help raise vital funds for WaterAid's Child of Mine campaign that will help bring safe, clean water to 100,000 of the world's poorest children. For 24 hours - on December 2 - WaterAid's Leadership Circle and Go Green Environmental Services will match all gifts up to $150,000. Through a combined effort, we can help give individuals like the families of Adi Sibhat a fighting chance not just to survive, but to thrive. Let the spider webs unite.