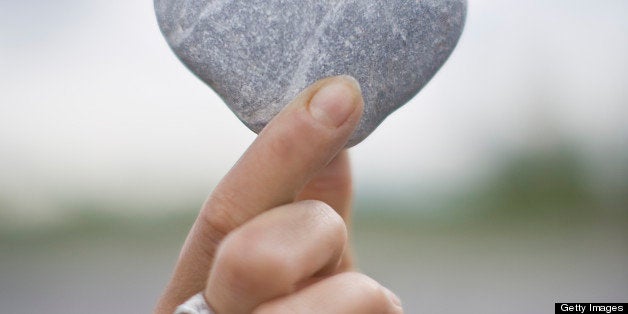 There is one certainty in life -- we are all going to die. How and where we die are the only issues.
Will we die quickly or have a lingering death? We don't know. However, most of us housed people are pretty sure we will die indoors in some health facility or in our own home. In fact, some of us buy insurance so that we are assured of the particular standard of care and facility we prefer in our last days.
However, what about unsheltered homeless people? They live outside and very likely will die outside.
How do I know this? Because over the past several years I have been involved in the end of life care for three homeless friends. But, Karen Lee was the first homeless person I helped die indoors.
I met Karen Lee on July 11, 2010, in Ocean Beach, San Diego, CA. An elderly woman with medium length graying hair pulled back into a rubber band, Karen Lee was sitting on the grass in Saratoga Park. Even from a distance, I could see her distended abdomen.
As I approached her, I wondered how to begin the conversation and decided just to introduce myself, ask her name and inquire how she was doing.
"I'm Karen Lee Creeden," she said, "and I need size 8 shoes. I just got out of the hospital and I have no shoes."
"It would be nice to get some medium-sized warm clothing -- it's cold at night. All I have are the t-shirt and light pants I'm wearing."
I offered to look for these items, but made no guarantees I could find the needed items in the correct sizes.
Upon leaving Ocean Beach, I called family members and friends who I thought would be sympathetic and would have access to the correct sizes of clothing and shoes. Sure enough, they kindly donated the requested items.
When I delivered these gifts to Karen Lee, she was thrilled. She posed for pictures and had fun modeling her new clothes and tennis shoes. Over and over Karen Lee told me to thank her donors for the much-needed items.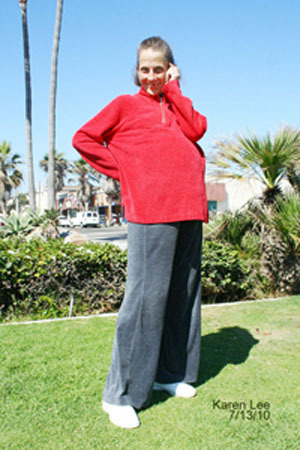 But what to do about her apparent medical condition? I contacted a psychotherapist friend who suggested I ask Karen Lee if she had a social worker and, if so, whether she would give me permission to speak to the worker on her behalf.
Karen Lee did have a social worker and readily gave me her phone number and permission to discuss her case.
The social worker told me what I suspected; Karen Lee was seriously ill and dying. She said she had paid cabs several times to take Karen Lee to hospital after hospital for end of life care, but the hospitals continued to release her.
I offered to go with a friend and take Karen Lee to a hospital and do what I could to get her end-of-life care.
The results of my efforts are outlined in the following thank you letter I sent to all of the parties who were involved in Karen Lee's care until her death 24 days later. My letter is a tribute to all of the people and institutions involved in assuring that Karen Lee, an unsheltered homeless person, died free of pain and indoors. It is also evidence of the steps Karen Lee had to go through to die with dignity indoors.
My thanks again to all of those people who provided end of life care to Karen Lee and to all givers of end of life care everywhere.
August 15, 2010
Dear Concerned Care Givers and Service Providers,

On July 14, after consulting with her social worker, my friend and I took Karen Lee to the local hospital where she received excellent emergency care from the doctor and his wonderful staff. Thank you.

After being admitted to the hospital, Karen Lee was expertly cared for by her attending physician, a hospital social worker, nurses, chaplain and staff. Thank you.

I called the president of Alpha Project and he reassured me that 'no one dies outside' because of the Alpha Project Hospice Program. His chief operating officer made herself immediately available. Although we did not make use of these kind offers of help, I thank you for your much-appreciated assurances at that time.

After her stay in the hospital, Karen Lee spent several days in the San Diego Rescue Mission Recuperative Care Unit under the concerned supervision of the residential manager. Thank you.

During her brief stay in the Mission, Karen Lee met with a program representative of San Diego Hospice and Institute for Palliative Care who gently assisted Karen Lee in enrolling in this program. Thank you.

At San Diego Hospice and Institute for Palliative Care, doctors, social worker, patient advocates, nurses, chaplain, staff and volunteers compassionately helped Karen Lee. Thank you.

I was going to write individual notes of thanks to each of you, but upon reflection, I thought perhaps one note to all of you might be more appropriate because each of you was an indispensable part of the process of helping Karen Lee transition from this life to the next. And I thank you all for being so supportive of me during this time.

Karen Lee was 55-years-old when she died. As you may know, for the last 10 years of her challenging life, Karen Lee was homeless. However because of your care, Karen Lee lived the last 24 days of her life free of pain and indoors.

While at San Diego Hospice and Institute for Palliative Care, Karen Lee wrote the following words on the patient white board in her room: "Do you love me as much as I love you?"

Witnessing your many kindnesses and genuine compassion, I can answer her question, Yes, you each loved her as much as she loved you.

May God bless you for your compassionate service for people in need.

Very truly yours,

Christine Schanes, JD, PhD