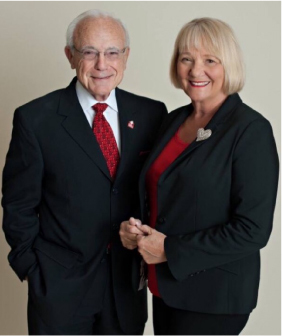 Sitting at her computer one Saturday afternoon, Donna Sublett felt something strange inside her chest.
"I think I'm having a heart attack," she told her husband, Jim. Then she vomited.
The Subletts called for help -- only, that call merely was to the surgeon who lived next door. He recommended they go to a nearby clinic. It was packed, so Donna nudged her way to the front of the line. When she said, "I'm having chest pains," they called for an ambulance. She indeed was having a heart attack, and needed to have a stent implanted to clear her blocked artery.
Four years later, the Subletts were out of town when she again felt chest pains and vomited. She was dealing with a stressful matter, so she chalked it up to that. It wasn't until four days later when they were back home and driving to breakfast that she asked Jim to make a detour ... only, not to the hospital, but to her doctor's office. Things played out the same from there: an ambulance was called, a heart attack was diagnosed and she got another stent.
Fortunately, Donna got the treatment she needed and is alive to share these stories. I appreciate her willingness to let me use these details because they paint a powerful cautionary tale.
The Subletts are smart, successful people, each with a family history of heart disease. And even before Donna's first heart attack, they were supporters of my organization, the American Heart Association. That leads to this frightening reality -- if she and Jim can fall into the trap of downplaying a woman's chest pain, then anyone can.
It's also why the Subletts are doing something about it. A lot of things, actually.
Awareness about heart disease is a major point of emphasis for them. So is prevention. Research, too. And all of it with a special eye on women's heart health.
"Because women have been neglected for so long," Donna said. "Research is so important, of course, but we also need people to understand that it's the No. 1 killer -- of both women and men. And we need to let people know they can do something about it. Before working with the American Heart Association, I had no idea you could prevent heart disease."
Heart disease first rocked Donna's world in 1984, when her 72-year-old father went in for a heart bypass. The operation went well, but five weeks later he died from an allergic reaction to a medication.
Years later, Jim's family suffered a cruel 1-2 punch. On the very same day, both of his younger brothers suffered a heart attack. One died, the other wound up having bypass surgery. This prompted Jim to see a cardiologist for the first time. They discovered an abnormality that seemed to be stable, but was there nonetheless.
Over the years, the Subletts became involved in Heart Walks and Heart Balls. After Donna's first heart attack, in 2010, they began ratcheting up their involvement with the AHA, becoming even more generous benefactors to help strengthen our research agenda and find bold initiatives to accelerate science.
Their passion for research was stoked by a tour of labs at the University of Miami. One of the scientists explained that for every drug that makes it to patients, dozens more are tested to determine which is best. The Subletts recognized the importance of funding smaller projects.
"You never know which one is going to be the star that shines through," she said.
The Subletts also were fascinated by how many scientists traced the first big break in their careers to funding from the AHA. Learning that the AHA was the top funder of cardiovascular research outside the federal government, and that federal funds were shrinking, they decided to give more. They even picked which projects they wanted to support.
"They're all concerned with women's health," Donna said. "Some are scientific development grants, which boost young researchers."
The Subletts live in Fort Myers, Florida, which is home to Florida Gulf Coast University. Because the school opened in 1991, it has a small alumni base. So the Subletts have made it another of their favorite charities, with much of their support going to scholarships for athletes.
The last three years, they've connected AHA and FGCU by hosting a Go Red night at basketball games in February, which is American Heart Month. It's a great platform to educate students and fans about prevention and risk factors.
Red T-shirts go on sale each January, helping create a "red out" effect during those games. Public-service announcements play on the scoreboard, and they've had speakers give personal testimonials, such as a school softball coach talking about losing his dad to a heart attack.
"One year, we had a lot of children and young, skinny women on the court at halftime," she said. "We told everyone, `This is what heart disease looks like.' They were all survivors."
In February, Donna and her daughter Susan are chairing a Go Red For Women luncheon. Their featured guest will be Star Jones.
"The theme is that women have heart problems and can recover to lead normal lives," Donna said. "I also want them to know you've got to make lifestyle changes to avoid getting heart disease. I tell women all the time, `Make sure you get your heart checked!'"