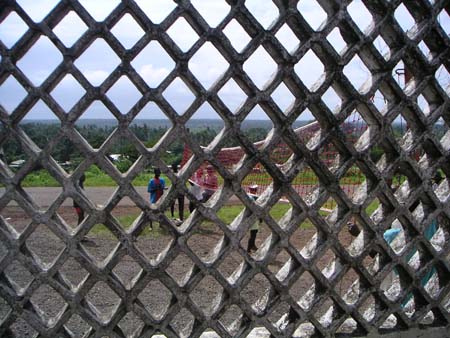 Photo courtesy of Nikki Stone

Just the other day, I was playing a game with my 5-year-old daughter that asked a number of philosophical questions. The purpose of the game was to get young children to think a little more deeply about their lives and their actions. Halfway through the game, a question she asked forced me to pause and reflect on the significance of sports.
"Mommy, what have you done that you are the most proud of in the sports world?"
I think she expected that I'd share the story of winning my Olympic medal. And believe me, it's something I'm very proud of and certainly influenced my future path. But my thoughts instead turned to a moment that I know impacted others in a way that may have completely changed their lives.
In 2004, I was invited to go on a volunteer trip to Sierra Leone with "Right To Play." While there, our group visited a detention center. We were working to establish sport and play programs for boys confined to a small yard and residential building. Many of them were locked up for little more than "loitering" on city streets because their parents had been killed by African rebels.
I was pretty nervous about going to the detention center and even more nervous that the programs we introduced wouldn't be anything that the boys wanted. I knew that what I was doing was important, however, and I just hoped the love I had for sports would be contagious.
When the session ended, the children all filed past us to thank us and shake our hands. I noticed that each one touched his heart before extending his hand to us, and I later learned this was a gesture of boundless respect and gratitude.
Through this small sports program, you could feel the change in their attitude. There was a sense that these children now felt empowered. We had given them hope.
I got to touch the hand of each child who played at the Remand Home that day, and realized how all the fundraising work I've done over the years has helped touch the hearts of so many more.
The day I had won my Olympic medal was due to the belief I had in myself. Undoubtedly,
something to be incredibly proud of. But the pride in my time, work, perseverance and sacrifice to prove my abilities could still be eclipsed by a day that culminated in a simple handshake. A handshake that said, "I now believe in MYSELF, too".
Motivational Tips and Tools

As an Olympian, best-seller, inspirational speaker and The Biggest Loser motivational expert, I'm often asked for tips, tools, quotes and activities to help people reach their goals. I like to end all of my blogs with short tools that are driven from actual advice I've shared.

This week's tip:

Remember that nothing is permanent in life. Never give up hope. It's something simple that deep down we all obviously know. But somehow we seem to forget this when we are at a very low point. Write it down and put it on the wall for the times you really need that reminder.