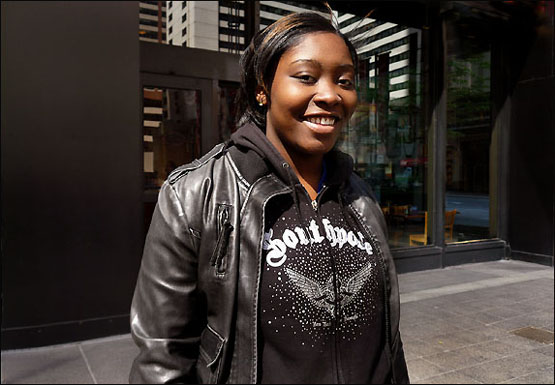 I'm sitting by a midtown office building on this glorious spring day. A young lady stands near me eating her to-go salad. The lid of her plastic salad bowl brushes my jacket sleeve as she puts it down. "Sorry," she says.
"No worries. Why dont you have a seat and enjoy your lunch?"
"I'll get too relaxed and tired, and I have to get back to work." she says.
"We should have it like Italy, with a siesta. They eat lunch and nap for two hours before going back to work."
"That's why they're healthier over there," she replies. "Here it's work, work, work."
I say, "But over there things still get done. Do you work in this building?" I ask.
"Right in there," she says "But not for long. I'm finishing school."
"I'm becoming a medical assistant, then I'm going to nursing school."
She tells me how she tried other schools and came to this out of her desire for a good career and her love of helping people. "My nephew has juvenile diabetes," he says. "He's 12 now and has had it since he was 5. He has a pump."
"How's that working, the pump?"
"It's good. When he first was diagnosed, we had to give him injections all the time. That was hard for us, but now we're all used to it."
"You learn a lot being a caregiver," I say.
"I'm Robert," I say, handing her my card.
"I'm Carresse. Well, I've got to get back to work. It's been so good speaking with you. So unusual if we started talking like this with most people, they'd think we were crazy!"
We smile and shake hands. "Keep me posted!" I say. "I will for sure!" And we each go our way beneath the sunny sky, in the afternoon warmth.
info@kindsightfoundation.org
For more by Robert G. Zuckerman, click here.
For more GPS for the Soul, click here.