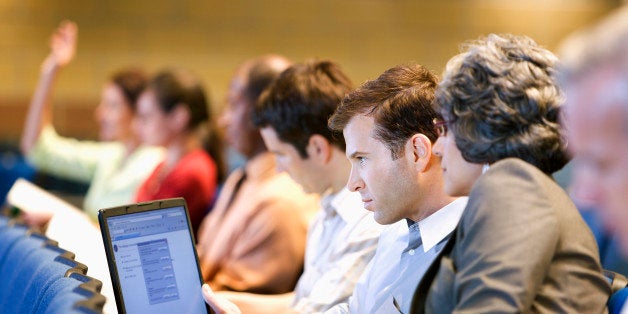 Staying in college and persisting to degree completion is challenging for many students. However, it's particularly difficult for students who also are parents. These students are an important and growing segment of today's college population at just under 5 million, representing more than 26 percent of all undergraduates according to research by Institute for Women's Policy Research (IWPR). The overwhelming majority are women (71 percent) and 43 percent are single mothers. They are more likely than students without children, to have low incomes, with 88 percent having incomes at or below 200 percent of poverty.
It's not surprising given these demographic characteristics, that financial issues, family burdens, and lack of affordable child care are the main reasons these parents leave or stop out of college. The complexity of juggling classes and coursework, competing family obligations and what often are unpredictable work schedules, can quickly overwhelm these students if they don't have appropriate support systems. In its research, the IWPR found that public benefits such as cash and nutrition assistance that would help make college more affordable for these parents are often underutilized, and recommends that improving access to these programs could help these students meet their financial needs while progressing towards their degree. It also recommends that colleges and universities develop more student and campus support programs that acknowledge the multiple demands in students' lives, and help move toward more family friendly campus support and financial aid policies.
One notable example of such a program is Texas Woman's University's Student Pioneers Also Raising Kids (SPARK). The program began in 2005 in response to the need to find affordable housing options for single parents, although soon expanded to include all student parents. Importantly, it is a student organization, run by students and driven by their needs, priorities and interests. One of their most popular initiatives is their Holiday Gift program which helps families afford holiday gifts. Over 1,000 students have been served. "This initiative really helped to anchor the program in our University as it receives widespread campus and community support," said Ms. Amy O'Keefe, Executive Director of Campus Alliance for Resource Education and former program director. "Each child has an identified need, as well as a want - which is a great financial literacy lesson as well."
While the program does do not have a formal financial education program at this time, it is something it plans to include in the future as part of the overall financial wellness strategy the University is developing. The University does offer an emergency fund for parents with children which is coordinated with the counseling, housing and financial aid offices, and is considering adding a financial education requirement to be eligible to receive these funds. The program has offered workshops that help students manage their finances such as Raising Cash Conscious Kids. According to Ms. O'Keefe, student parents who might not be interested in or don't think they have time to attend a workshop on money management are very interested in finding ways to teach their children about money. In turn, they come away with important money lessons for themselves.
Another successful initiative is their Annual Child Care and Employment Fair. Finding affordable child care is one of the biggest issues for these parents, particularly those who have or will be locating to the area. More recently, the program has partnered with its counseling center, as many of these mostly women are older and more likely to have experienced trauma or other life events for which counseling may provide some assistance. Workshops are offered on dealing with trauma, dating, disciplining children, grief and loss, as well has how to cope with multiple roles and responsibilities. They also teamed up the academic support center to help these students create a "roadmap of success" which provides students with an opportunity to make sure they are majoring in the right area, have a good idea of what they want to get out of their college experience, and where they see themselves in the future.
The most successful events are the ones that involve the children along with their parents. Recent examples include a book club, which provides parents and children with certificates based on the numbers of books they read, and a St. Patrick's Day event, which included story time, crafts (assisted by older children), and a picnic. These programs help increase engagement on campus and provide tangible connections between the family and school. Utilizing community resources as also been key. State and community partners come to campus to provide workshops or events on state assistance programs and even how to install child safety seating correctly.
Ms. O'Keefe offered some recommendations for success for other colleges and universities interested in starting a similar program:
Develop a succession plan, especially if one or more of your strong leaders are set to graduate. Try to diversify the group with young as well as older parents or parents with older children. It brings a better synergy and younger students really appreciate the insights of students who have been parenting for a while. Also, include a mix of commuter as well as residential students
Make a plan on how to identify who your parents are. With federal privacy restrictions, there is not an easy way to identify which of students may be parents, so you have to be creative. Be visible and use students at new student or commuter orientation; advertize your events, capitalize on social media channels such as Facebook, and establish relations with key administrative offices or academic programs that these students are more likely to enroll in such as family sciences and education.
Use campus contacts to help you recruit students, such as "meet-and-greets" in residence halls, and present to faculty and academic advisors who may know of students with children.
Work closely with admissions staff who may know of students who have inquired about quality child care or who may be relocating to the area.
This is just one example of the kind of programs that some colleges and universities are using to help student parents transition to college education. Ensuring that student parents stay in school and complete their degree requires a commitment and an array of interconnecting resources including help with the financial aid process, affordable child care and housing, links to community and health resources, outreach and mentoring, and academic support services. Let's hope other institutions of higher education follow suit so that more student parents can reap the rewards of a college education for themselves and their families.
Popular in the Community