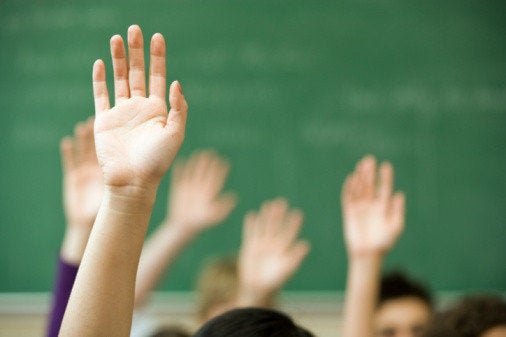 Imagine you arrive at work one day and your boss tells you that the office supplies you need to do your job (e.g., paper, pens, even your computer) must come from your own paycheck. For many teachers, this is reality.
My reality couldn't have been more different.
In 1998, I was working in downtown Miami as a mergers and acquisitions lawyer. Back then, the economy was booming, companies were growing fast, and our law firm was right in the middle of it all.
While I was happy professionally, I wanted to give back to the world outside the law firm. I started mentoring a student at a nearby school for mentally and physically delayed children. During my time in the classroom, I was shocked to see how few resources the teacher had to work with and how often she would bring in materials that she had purchased with money out of her own pocket.
Meanwhile, at work, I was exposed to billions of dollars flowing through corporate America, and thought, "Why isn't there a program that funnels some of these corporate dollars into classrooms where it's needed most?" Then, driving to work one day, I saw a sign for "Adopt A Highway" and it hit me: If we can adopt roads to make them better, we can certainly adopt classrooms to give teachers the resources they need to better educate our children.
And so Adopt-A-Classroom was born. It became a part-time job, a project I ran out of my home and car -- basically anywhere I could make calls and set up meetings. Our first donation came a few months later, and within six months I had left the field of law for good.
You probably know as well as I do the challenges facing America's schools. Shrinking graduation rates. Ballooning college fees. No Child Left Behind. The Race to the Top. But in the midst of all the policies and data points, the importance of providing basic support to teachers is often overlooked. Teachers are mentors and role models who give students the tools they need to succeed in and outside of the classroom. Supporting just one teacher creates a multiplier effect for more than 20 children in a single year.
Each year a teacher spends up to $1,000 of her own money purchasing materials for her classroom -- and may make just over $40,000 a year. In most classrooms, 75 percent of the supplies are purchased by the teachers. As school budgets continue to decline, the pressure teachers face to provide basic materials increases.
Our goal is simple: Help donors find teachers -- and vice versa -- to enable individual teachers to transform their classrooms into vibrant, creative centers for learning, without needing to reach into their own pockets.
There is, perhaps, no greater time of need than in the wake of a natural disaster, like the tornados that ravaged the Midwest earlier this month. Often in these situations, however, well-meaning people send the aid they think a community needs, rather than letting the community decide. Adopt-A-Classroom's goal is always to empower teachers to decide what is most needed in their classrooms and provide them with the resources to make it happen quickly.
In March, Adopt-A-Classroom and OfficeMax launched "Help Henryville" to help the over 40 teachers and 700 students displaced after a tornado destroyed Henryville Elementary School in Henryville, Ind. An immediate $10,000 donation from OfficeMax provided each teacher with $250 to purchase the supplies they need most for their classrooms. And through April 15, OfficeMax is matching every dollar -- up to $15,000 -- donated to the "Help Henryville" campaign.
Think back to your fourth grade classroom: Your favorite drawing that hung on the bulletin board; the blackboard where you battled long division; the books that lined one wall. Now imagine that classroom -- and school -- being destroyed within a matter of minutes. This is what the children and teachers of Henryville Elementary are experiencing. Please consider donating to this school in need by visiting www.adoptaclassroom.org/helphenryville. Your generosity will make a significant difference for Henryville's teachers, and in turn, will help their students get back to the business of learning.
Calling all HuffPost superfans!
Sign up for membership to become a founding member and help shape HuffPost's next chapter