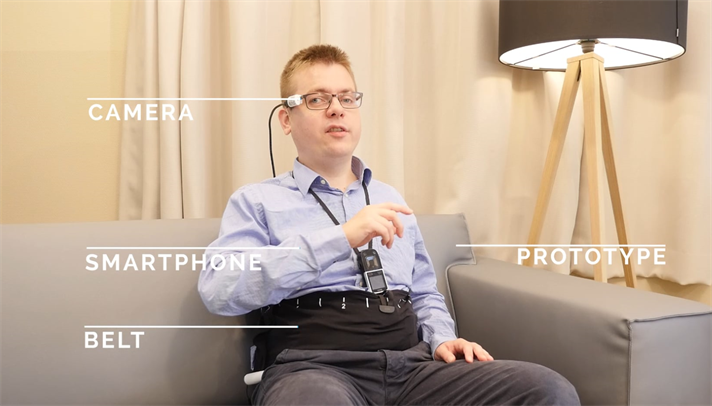 One of the more interesting startups emerging out of the EIT stable are German company FeelSpace. They've developed a wearable technology to help the visually impaired to navigate their surroundings. The device comes in the form of a belt that's fitted with sensors to provide the wearer with vibrational feedback to indicate the direction they should be going in.
It's an interesting technology, but it's far from the only one tackling this issue, with many attempting to go further and restore the sight of those who have lost it. For instance, a recent paper documents work on a 'prosthetic for blind people'.
The paper is the work of the multi-disciplinary NESTOR consortium, and the project has seen the development of a prosthesis equipped with micro-electrodes to simulate the brains of blind people and therefore evoke phosphenes.
"We use electrodes to stimulate the brain in such a way that blind people can have a limited form of vision to see what is happening in the world around them," the authors say.
They believe the project could be crucial for people whose eyes or optical nerves are no longer functioning as they should be, as stimulating the visual cortex is possibly the only option left for them.
Suffice to say, they aren't the only project looking to develop solutions to help people see better. For instance, patients at the Manchester Royal Eye Hospital and Moorfields Eye Hospital in London have been given implants to help them overcome a condition known as retinitis pigmentosa.
Each patient will be allocated a pair of glasses that come with a camera that will capture light and also send wireless signals to an implant located inside the retina. This implant will then communicate with the brain, and help the patients to regain their sight.
"I'm delighted that our pioneering research has provided the evidence to support NHS England's decision to fund the bionic eye for the first time for patients.
Or you've got eSight Corporation, a leader in the development of electronic glasses to help people see. They've recently released a new version of their product, called eSight 3.
The company, which was founded in 2006, claims to offer people who are legally blind the ability to see just as sighted people can, thus dramatically improving their quality of life.
"eSight 3 is a game-changer for the legally blind. My entire career has been spent engineering sight-enabling technologies, so I can say with some authority that eSight's world-class lab is the largest and best engineering team, anywhere in the world, that specializes exclusively in developing medical devices that allow the legally blind to actually see and be mobile," the company say.
The Dutch team are going about things in an interesting way however, and I urge you to check out the video below to learn more about their work.
Popular in the Community