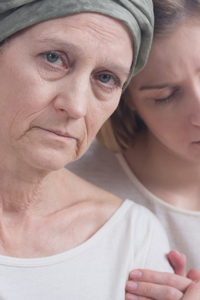 Are cancer drugs worth the cost?
That's the question a controversial Boston-based non-profit, the Institute for Clinical and Economic Review (ICER), convened about last week in St. Louis to discuss. The group, who notoriously "cherry-picks data," often reviews new medications, deems them too expensive, and allows the insurance industry justify limiting coverage for new treatments and pass costs directly onto patients.
Last week's target: non-small cell lung cancer treatments.
Non-small cell lung cancer is the leading cause of cancer death in America and accounts for roughly 85 percent of all lung cancers. ICER's recommendation regarding which medications insurers should cover could gravely impact close to 225,000 Americans and their treatment options this year alone.
However, medical professionals have raised serious concerns about ICER's methodology. A group of five practicing oncologists and lung cancer researchers, including the executive director of the University of Tennessee's Cancer Center, a member of the National Comprehensive Cancer Network non-small cell lung cancer guidelines panel, and professors from Johns Hopkins University and Ohio State University, recently reviewed ICER's report on non-small cell lung cancer.
They concluded that "ICER appears to represent a perspective that is less oriented towards patient benefit than towards motivations that would limit patient access to new therapeutic options. ICER's clinico-economic methods include approaches and metrics that, due to their singular focus on population-level health, would likely fail patients on an individual, clinical needs basis."
Further, given ICER's disproportionate influence on insurers, it is imperative that we know more about this group's agenda and its outsized impact on coverage decisions. Investigations by the Capital Research Center show that a great deal of ICER's funding comes from the insurance industry, making this union a symbol of the dangers of crony capitalism. Thankfully, some patients have had the courage to question ICER's relationship with insurers and its veto power over treatments for everything from non-small lung cancer to liver disease.
According to Donna Cryer, founder of the Global Liver Institute, ICER does not allow enough input from patients most affected by diseases. She says "many other patients were surprised to learn about ICER and that it was analyzing the treatments [for liver disease]." Cryer, who had a liver transplant 21 years ago, continues to raise concerns that ICER will discourage further innovation within this area of treatment and other realms of research.
"ICER routinely issues reports that blame drug makers for high drug prices and allows insurance companies to use its findings to justify refusing coverage for necessary medications.
But while ICER bills itself as an independent researcher, it is deeply rooted in the health insurance industry and its methodology for evaluating drug value is deeply flawed, to say the least."
This challenge becomes all the more obvious upon reviewing ICER's Form 990 (officially, the "Return of Organization Exempt From Income Tax"), which reveals that the group preserves a board seat for insurer Blue Cross Blue Shield and its affiliates. This flagrant conflict of interest—which comes at a time in which the insurance industry rests comfortably on a big increase in profits since the passage of the Affordable Care Act—undermines the very purpose of independence and patient advocacy.
Hence the importance of focusing on the outcome of ICER's conference about prescription medications for non-small lung cancer: if this event offers insurers an excuse to deny coverage for potentially lifesaving treatments, if it provides a veneer of legitimacy for an otherwise inexcusable practice of denial and obfuscation, then we risk surrendering to the very policies that are an economic cancer unto themselves.
We can ill afford more of the same from these institutions. The stakes are too high, and the fallout is too great, for the status quo to endure.
We deserve justice, not more excuses and more attempts to deprive us of the medicines we have a right to receive.
Popular in the Community