Is it possible that we can finally heal the divide that was Vietnam?
I don't pretend to know the answer because I was in the middle of it all. Yet, with another Veterans Day coming fast, it's definitely time to talk.
For me, I look to my oldest daughter Vera for guidance. Her experience is vastly different than mine. A generation apart, she's unclouded by the sounds I knew of rockets and rotor blades ... or the protests of those who marched in the streets across our country.
Vera is a nurse practitioner and was in Hanoi when we facetimed a month ago. It was from there that she said:
"I love this country. I love the people. From the beginning, I've been struck by how open and compassionate everyone is. They accept me without question, first for who I am and then for the nursing. I feel that it is just this kind of openness that has made it possible for Vietnam to accomplish so much and move well beyond the war."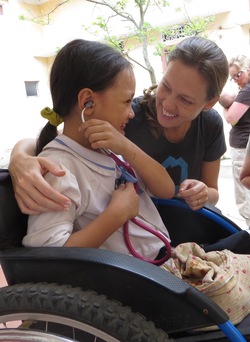 Just the day before we spoke, she had landed at the ultra-modern, new Terminal Two at Hanoi's Noi Bai International Airport to volunteer at the National Hospital of Pediatrics for the third time. Along with other medical professionals from Global Healing -- the NGO that initiated a pediatric emergency medicine and intensive care program -- she devotes time to training Vietnamese nurses in healing and saving lives.
My own Vietnam journey was 46 years earlier when the MAC plane touched down at Bien Hoa airbase and I stepped directly onto the tarmac in the thick heat and humidity. I was an Army officer and helicopter pilot who would be assigned to fly with the 1st Cavalry Division out of Phuoc Vinh, its headquarters firebase carved from the jungle about 35 kilometers to the north.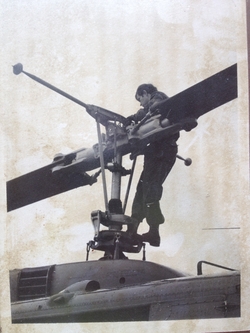 For most of us who enlisted -- as I did -- or those who were drafted, we put on the uniform and boarded the transport plane with a commitment to do what our country asked of us. Whether in the jungle or in the air, we were soldiers. Even when we were spit at or jeered upon coming home, it didn't shake our pride.
At the same time, those of us "in country," as we used to say, quickly figured out that the war would only produce tragedy. Ignoring the lesson from the French at Dien Bien Phu in 1954 would plague the politicians and generals. We saw that firsthand. Whether the landing zone was called LZ Grant or the fire support base FSB Jamie, the moment I rolled the throttle and lifted the collective to take off or those soldiers on foot moved out, the ground was no longer ours to protect.
No war in the history of the United States has been more hotly debated with demonstrations and violence.
And the loss of life in Vietnam was staggering.
"It pulls at my heart to think that Vietnam has a lost a generation," Vera said. "It seems that there aren't many of my age working in the hospital. It's almost as if my generation of the Vietnamese was lost and, with them of course, the children they would have had."
According to The BMJ, formerly the British Medical Journal, war deaths in Vietnam during the height of the conflict, 1965-1974, peaked at almost 200,000 each year. When you do the math over those ten years, numbers like that are almost impossible to imagine. Depending on who is counting, some estimates are even higher.
It's also fact that American losses totaled more than 58,000. Like Vera's observations about a lost generation in Vietnam, there is that here too.
Add to those losses, all the injuries, visible and invisible.
Vera believes that healing the past comes with time, a realistic view of things, small steps by individuals who care and determination to move forward.
Chiding me a bit -- as only daughters can with their fathers -- she wonders whether it is really those of my generation, combat veterans and activists both, who still talk about the Vietnam War. More than likely, many in this country, especially those of her generation and younger, have already put it behind them.
She reminds me that, like Global Healing, there are other organizations that reach out to bridge the past and help build a stronger future. This is vital to changing perceptions and essential to leaving a lasting impact.
All in all, she believes that the individual connections made on a personal level are the most important. They speak to a common bond of caring, helping to heal differences and creating a better future.
So, if Vera is right -- and she likely is -- healing is about caring and pledging to do better. Those are critical steps.
Beyond that, from my perspective, I think it means that we should never forget but also learn from the past.
And it's time to "move on."
REAL LIFE. REAL NEWS. REAL VOICES.
Help us tell more of the stories that matter from voices that too often remain unheard.