Rhi Rhi had a dream: help a school in Rakhine State start a library. Now a school in Myauk Oo, Rakhine, has one!
Most things can be found in Myanmar now (and cheaply) but books are still costly for most Myanmar people or just not accessible. Mindy Walker, who works with the Richardson Center for Global Engagement in Myanmar, tries to get colorful books into children's hands in Myanmar by having her guests max out their baggage limits when they come for business trips, political exchanges or as tourists. "It's easy to get book donations in the U.S. but it is impossible to get them shipped here cheaply so we try to encourage people to pack an extra bag full of books to bring," said Mindy. Her English students then come to sort them into levels and decide where to donate them.
"We send the very simple books to rural areas where the teachers may not be able to read the books or have access to dictionaries to translate them," said Wa Lone, one of her students. Wa Lone is also a co-founder of the Third Story Project, an organization dedicated to creating children's books in Myanmar languages. "The higher level books go to more urban areas where they can find a way to understand what they say or where they are already studying English. Even if they don't know the words, the pictures will help to activate their imaginations. We don't have picture books like these here."
The Third Story Project has created seven books so far in Myanmar languages to distribute free-of-charge to children all over Myanmar. "I have many friends and relatives who want to do book drives to donate books, which is really amazing but I can only take what I can fit in my suitcase. Instead of using money on shipping English books, we ask people to buy the Third Story books to donate in Myanmar, which are beautiful and in the appropriate languages," Mindy said. "...or schlep some used books if you're coming this way."
Rhi Rhi, another member of the Third Story Project, posted on her Facebook page, "three or four months ago, a monk from Myauk Oo wanted me to donate English books for kids. I couldn't afford to buy those kinds of books. Now dreams do come true. Thank so much Mindy and your friends from the Richardson Center and the Aspen Institute's Partnership Opportunity Delegation."
The Richardson Center for Global Engagement partnered with the Aspen Institute to host social entrepreneurs in Myanmar to help bring people-friendly businesses to Myanmar. Each delegation is asked to bring books in their spare luggage. The last delegation, comprised of people who came from all over the world, brought over 200 books that went to schools in Yangon, Rakhine, Kachin and Karen States.
The American Council of Young Political Leaders (ACYPL) partners with the Richardson Center for political exchanges, and when they bring American delegates to Myanmar they also load up on books. "The ACYPL delegation brought pop-up books, board books and ones that had different sounds. It blew their minds," said Mindy. "When Mindy emailed me with a special request - BRING BOOKS - we were excited to help. Books are prized possessions in Myanmar, and access to them is quite limited. For many Americans, we are fortunate to have more books than we know what to do. In short order, we gathered over 200 children's book, middle and high school text books, and school supplies to bring along. It has been inspiring and fun witnessing kids halfway around the world reading and discovering the books my own kids loved," said ACYPL CEO Linda Rotunno.
The higher level books are used in English classes for a lending library. "At every class there are books available to take home and read. We have to bring them back to share with others when we are done," said Aye Nyein Moe, a student learning English in Yangon. "It is very helpful for our English and they are great stories."
So next time you are headed to Myanmar, pack your extra bag full of children's books and this team will find a place for them to go. You can contact them at Mindy@RichardsonDiplomacy.Org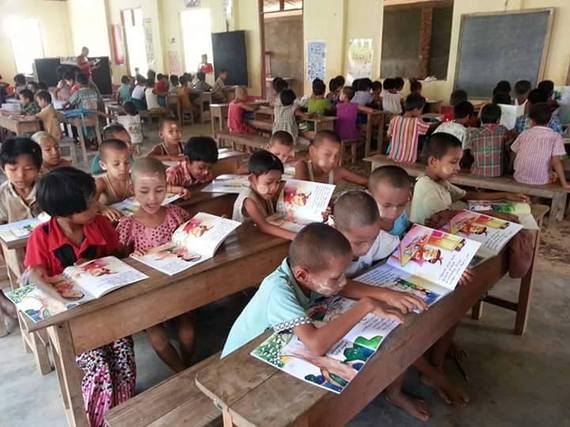 Calling all HuffPost superfans!
Sign up for membership to become a founding member and help shape HuffPost's next chapter