While the national unemployment rate (population 18 and over) hovers at 7.5 percent, Iraq and Afghanistan veterans (Gulf War Era II or Post-9/11 veterans) face a higher rate of unemployment at 10.8 percent. Overall, more than three quarters of a million veterans are currently unemployed, with an additional one million anticipated to leave service this year through 2017.

Entrepreneurship, or self-employment, is a solution for the unemployment situation of veterans that comes quite naturally given skillsets gained through military service. According to the U.S. Small Business Administration (SBA) military veterans owned 2.4 million businesses in 2007, which accounted for 9 percent of all businesses nationwide. Furthermore, the SBA estimates that currently 20 percent of veterans are looking to start, purchase or partner in a small business start-up.
Entrepreneurship and self-employment training for veterans is a focus of the Institute for Veterans and Military Families at Syracuse University (IVMF). The IVMF leverages higher education to design, develop and deliver world-class educational programs for veterans, their families and community stakeholders. The institute's educational programs provide veterans and their families with skills needed to be successful in education, work and life.
The institute's first entrepreneurship training program, the Entrepreneurship Bootcamp for Veterans with Disabilities (EBV), was founded at Syracuse University and trained the first cohort of 20 veterans with service-connected disabilities in 2007. Since then the EBV has grown to a national consortium of schools and colleges across the country offering the program on their campuses. These schools include Cornell, Florida State, Louisiana State, Purdue, Texas A&M, UCLA and UConn, with SU serving as national host.
As of August 2012, the EBV program has trained close to 650 veterans through the EBV program. Of those, 57 percent have launched a venture and over 670 new employee positions have been created as a result of these new businesses, in addition to the entrepreneur's own jobs. Jobs have been created in industries including retail, real estate, health services, construction, professional services, transportation, finance and not-for-profits, among others. These jobs have proven to be sustainable--with 88 percent of graduates indicating that their venture is still in operation. Of those who did not start a venture, 42 percent went back to school to obtain more education.
In 2013, the IVMF, together with other partners and industry stakeholders, is looking to further increase its entrepreneurship training and program offerings in order to develop and implement a portfolio of distance education programs. An example of which is the successful launch of the online career and self-employment training portal for veteran and military family members, VetNet. Using Google+ technology, VetNet is a collaboration between the IVMF, Hire Heroes USA and Hiring Our Heroes. The platform provides three training tracks for those making the transition to the civilian workforce, each powered by one of the three organizations above. IVMF operates the +VetNet Entrepreneur track.
The IVMF is always interested in new opportunities for collaboration, to add value to the veteran and military families' community. An example is our recent partnership with Kiva Zip, through which the IVMF has become a trustee, giving our EBV graduates access to micro-funding, and helping them to overcome one of the barriers of starting a business of their own. An example of this collaboration is Gerald Young (EBV-Purdue, Class of 2009) who used Kiva Zip to raise $2,000 to fund marketing efforts for his company Young G's BBQ Sauce, and recently landed a major contract with Hyvee as a result of that effort.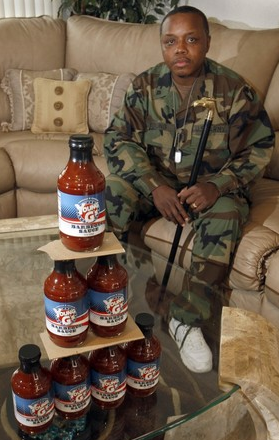 To make a loan to an entrepreneur here in the United States, please visit zip.kiva.org/lend.
Popular in the Community