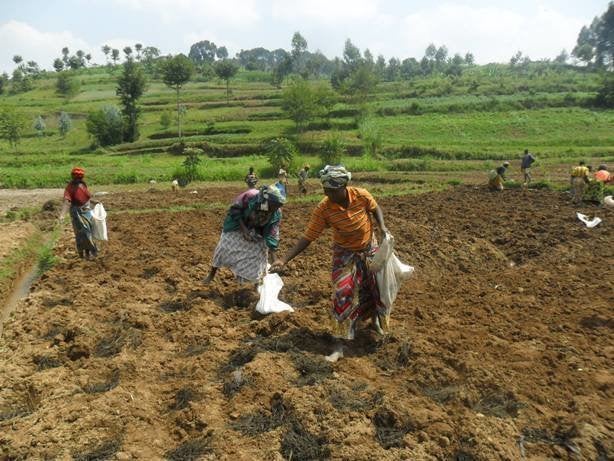 This is part of our new series "Gen: Change," in partnership with Youth Service America, featuring stories from the 25 most influential and powerful young people in the world. Click here to read more about Valens and his amazing story.
"The man who does things makes many mistakes, but he never makes the biggest mistake of all -- doing nothing."
- Benjamin Franklin
The thing is, I really like saying yes. I like new things, projects, plans, getting people together and doing something, trying something -- even when it's corny or stupid. I am not good at saying no. And I do not get along with people who say no.
I hate it when I see young women and girls suffering from poverty, violence and HIV/AIDS. Most of us do. It is a terrible feeling, and it gets worse when you believe you can't do anything about it. You and I may be lucky to have access to education, health care and fair employment.
Many people don't and they get stuck in the circle of poverty, despite of working as hard as they can and doing whatever it is that they can do best. I believe we can do something to change this.
In many rural areas in Rwanda, women and girls have been excluded from the decision-making processes affecting their lives, families and communities, and they are forced to accept prevailing social attitudes and expectations with resignation and surrender. Most women are subjected to discrimination right from their youth and denied access to education and gainful employment, instead being forced into subsistence farming or low-paying jobs. Economic pressures lead girls to engage in vices like sex work and transactional sex.
A number of poor families perceive that a girl's education will only benefit her husband's household, and not her parents. In some cases, girls are not even allowed to go to school at all, because an education is perceived as unnecessary for becoming wives or mothers.
I highlight the plight of young girls forced to drop out of school due to poverty. Due to lack of job opportunities and poor knowledge of other alternatives, they end up being idle and hence, vulnerable to drugs and commercial sex as a way of coping with their circumstances. It is even worse among the girls who are at a heightened risk of rape, unplanned pregnancy and HIV infection.
Out of school, young women and girls in particular are more vulnerable and with their low level of education, they are relatively unaware of the risk factors and have little knowledge of sexual and reproductive health rights and HIV/AIDS. They therefore end up engaging in transactional sex and being in sexual relationships with much older partners who impregnate or infect them, and leave them. Unrecognized by society and without a source of livelihood, maybe infected with HIV and with a child to raise -- not to mention the existing traditional land tenure system which does not allow women to own land -- the girls inevitably turn to street and to prostitution, where they are further exploited and raped.
In Rwanda, female sex workers' lives are complex. This is a lonely life of abuse and neglect. Many are repeatedly raped. According to the 2010 Behavior Surveillance Survey, HIV prevalence among sex workers in Kigali city is 59 percent, rising to over 90 percent among those aged over 35.
Everyday life is stressful: They face many dangers, including police arrest, harassment, intimidation by clients and violence from their regular partners. Many find their lives distressing and depressing. Lots take to drug abuse as a way of coping with their circumstances, leading to addiction and difficulty in taking proper care of their children. Most are desperate to escape the industry but do not know how, feeling totally trapped.
To address the aforementioned issues, I gathered 31 young people to bring their efforts together through Lusa Program (LP), an initiative running in Nyaruguru district of Rwanda for young women, with out-of school girls, adolescent mothers and street girls as the main benefactors.
LP aims at empowering its beneficiaries, through small agricultural cooperatives of 300 members, to take a leading role in prevention and management of these issues for their own advancement and security as well as for the community as well. The program provides access to land, seeds and capital for community gardens, and technical assistance in sustainable agriculture and market linkages.
I hope that empowering young women and girls, in addition to raising awareness on HIV/AIDS and women's rights, will provide these women with knowledge and skills required for their increased participation in prevention and response to poverty, violence and HIV/AIDS, which are major critical issues for their improved quality of life and participation.
Ultimately, the initiative promotes women and girls' health, better economic conditions, and improves their skills in teamwork, leadership, collaboration, problem solving, conflict resolution, accountability, productivity, peer mentoring, initiative, and sexual and reproductive health rights.
For me, it is clear that life is really about what I can do for my society to the smallest tune; the things I could do to create opportunities for less privileged women and girls who have no access to food and basic health needs.
Thinking and taking action has always been a priority for me. In my life, I have always wanted to think and do big, and I believe that in serving people, you empower them to serve others as well.
Support HuffPost
The Stakes Have Never Been Higher
Related
Popular in the Community