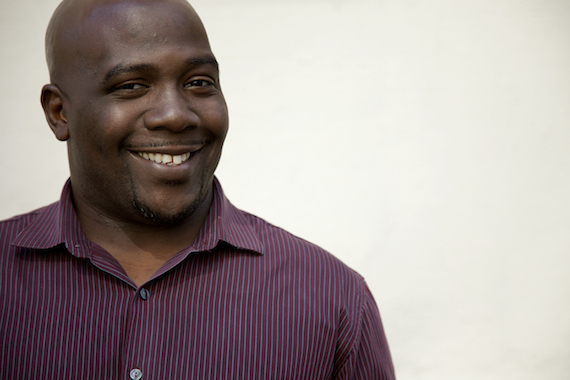 Ranti Ogunleye, photo courtesy of Julie Hassett-Sutton/Frantic Studio via Global Kids
In 1996 I was a freshman in high school on the North Shore of Staten Island. My brother had been recruited by Indiana University to play football so I started to wonder how I was going to get a scholarship. I really wasn't athletic. Global Kids came to my class. They invited students to go to a conference they were hosting. All I cared about was that I was going to get a chance to miss school for the day. Little did I know that this conference would be life changing, that it would alter everything I wanted to do as an adult. To see young people leading workshops on serious topics like war, and to do it in a way that was fun? I wanted more.
I started attending Global Kids meetings two afternoons a week at my school and also the Citywide leadership meetings on Friday in Manhattan. At that time, nobody really believed that young people wanted to talk about politics and foreign policy or sustainability. Global Kids did.
The most important guideline that Global Kids has is called Safe Space. You can't attack people because of what they say or their beliefs. What you can do is challenge their opinions. If you don't do it in this way, then you're not going to be invited back into the space. To open up your mind and challenge the ideas that you've been taught was groundbreaking.
I remember a workshop on homophobia in the mid 1990s. When you're talking about such a subject matter you've got to talk about religion, race, culture, class-- all those things clashing at once. We were able to talk about such serious topics but still feel respected, not feel attacked, and still respect everybody else. You may not like what you're hearing but you respected it. I think everybody left that workshop feeling that whenever they talked, their voice would be heard.
In 1997, we formed a team to go to Croatia. We went to do workshops on democracy, bias awareness, cultural diversity, and peace building with the Bosnian youth in the refugee camps and the Croatian locals. We had to go through the process of being trained as facilitators, to learn about the history of Croatia and the Balkan region. We had to learn about the Dayton Accords.
The war had just ended so it was still really raw in the minds of people. For young people to speak about the war from their own point of view was powerful for them because I don't think they had a medium or a space available where they felt like somebody was listening to them. That was important for them to tell their stories. It was amazing to feel like these young people felt empowered by the workshops we gave.
I thought in my country I dealt with stuff like racism and discrimination. I didn't know that around the world people were dealing with the same issues. I came back renewed. I saw that even though the world felt so large, it was actually smaller than what I thought because people wanted the same things that I wanted, which was a country where people listen to the young people and feel their voices are heard.
This July, I have a chance to go back to the region with Global Kids students as an educator. I want this summer's trip to provide a lens for today's young people to look at the world-- just as it did for me.
In my senior year, I started to apply to colleges and scholarship programs. Carole [Artigiani, Global Kids Founder and President Emerita] had developed a Global Kids scholarship with Ramapo College and I got a full scholarship. I mean, who does that? Who not only gives you all these amazing opportunities to travel across the world to work with the U.N. and refugees but then puts in time and energy to make the connections to get her students into school?
I graduated in 2002 and was hired as a trainer at Global Kids. I got to work in schools in Brooklyn. I felt like a superhero. I felt like, "We're coming here to empower you and now you guys are going to be superheroes, too."
In 2006, I got an opportunity to become a director of the Staten Island branch of the New York Urban League. When I started, I suddenly confronted a fear: How do I do this? What skills do I have? But I realized I had already done it at Global Kids. I've worked in the community. I've developed workshops for hundreds of people. So that fear turned back into hope.
Then in 2010, I was offered the chance to teach at the College of Staten Island as an adjunct professor. Now I'm on my fourth year teaching at the college level.
The work Global Kids does changes the whole community. You can't go through the things that Global Kids puts you through and be the same person. You used to hear things through one voice, now you hear it through multiple voices.
Global Kids makes you bold. You feel like "No" is not an option. You have hope. You see a lot of young people without hope because they feel like nobody listens. Global Kids does the opposite. It makes you feel that you can change things.
Popular in the Community