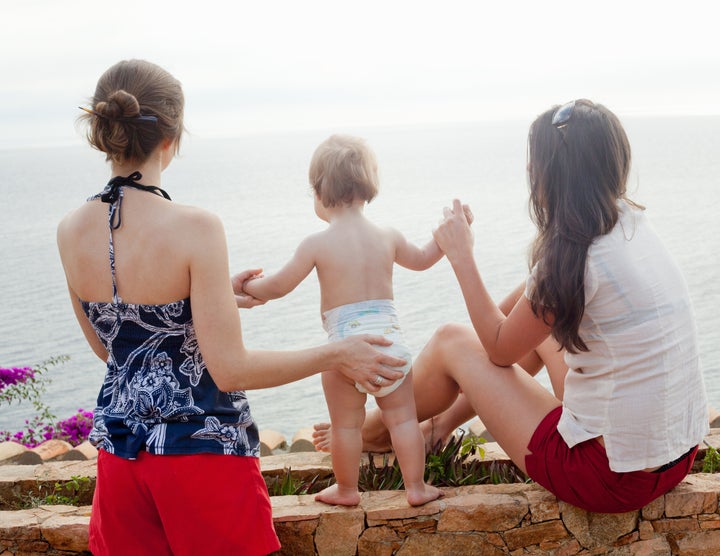 Recently my friend Johnnie introduced me to a woman whom I think every family considering adoption should know, especially gays and lesbians who want to be parents. I certainly wish Todd and I had known her four years ago when we adopted our two kids.
New Yorker Becky Fawcett is on a mission to help as many people as possible afford to adopt, and her vision of family is all-inclusive. Through HelpUsAdopt.org, the nonprofit organization she started five years ago, she helps give out individual grants up to $15,000 to help families with the expenses associated with adopting children. They've helped 73 families so far, to the tune of about $570,000, with the goal of increasing their gifts to $200,000 each year.
Becky wants more gays and lesbians to apply. Currently, of the approximately 400 applications her organization receives each semiannual cycle, only about 10 to 12 are from gays and lesbians. She wants that number to hit 50 this year, and even more in future years. The deadline to apply for the next cycle of grants is Friday, April 12.
"It drives me crazy that we don't get more LGBT grant applications," Becky wrote to me a few weeks ago in an email. "WHY??? WHY???" This prompted me to jump on the phone with her to learn more about HelpUsAdopt.org and its work.
Becky told me about her many costly attempts to get pregnant through various fertility treatments, all of which ended in miscarriages -- and $85,000 in expenses. Down to their last bit of savings, she and her husband Kipp decided that they needed to consider adoption. Nearly four years after they started trying to have a child, they brought home a baby boy, followed four years later by a newborn girl.
After her own ordeal, Becky looked for a way to help other families pay for adoption, but she found that all the organizations had criteria that restricted their grants to straight, married couples, specifically excluding gays and lesbians, as well as single straight people.
"I don't believe in defining family, so I told my husband, 'I can't give a nickel or the time of day to these groups,'" she told me. "That's not how my brain works. I couldn't give any money or support to any of those organizations."
In addition to not limiting its grants to certain types of relationships, HelpUsAdopt.org also supports all types of adoptions. According to Becky, there are no other adoption grants that fulfill such an inclusive list of criteria. Also, their grants don't require application fees.
"We strive to give larger, life-changing, problem-solving grants that put children in homes. We are pure help, with no fees or strings attached, for families of all kinds," Becky told me.
I know firsthand how expensive it can be to adopt. If you ask around, you'll hear that average domestic adoption in America is estimated to cost about $35,000 to $40,000, give or take some change. And that doesn't include travel expenses, meals while away from home and the like.
"A lot of people live a very nice life but don't have a $40,000 to $50,000 lump sum at their disposal," Becky said. "I didn't plan on being infertile! We save up for homes and weddings, but for most people, you don't think to save up for adoption."
Full details and online application can be found at HelpUsAdopt.org. The deadline for applying for the organization's June grants is Friday, April 12, 2013.
Calling all HuffPost superfans!
Sign up for membership to become a founding member and help shape HuffPost's next chapter