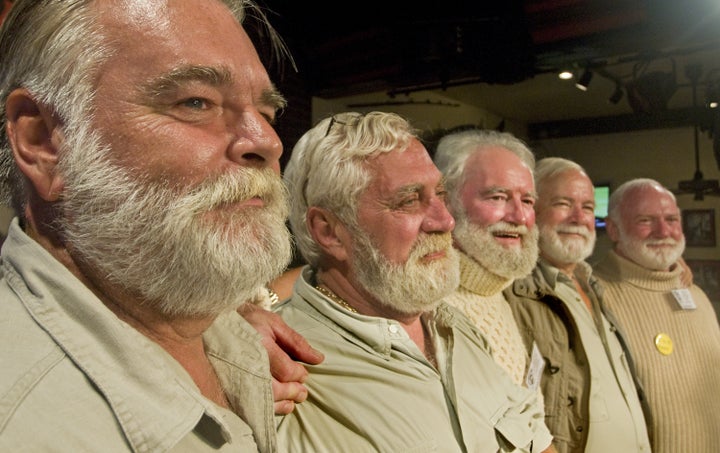 KEY WEST, Fla. (AP) -- A white-bearded 64-year-old Florida man won this year's Ernest Hemingway look-alike contest, an event in Key West's annual Hemingway Days festival that ended Sunday.
Charles Bicht, of Vero Beach, triumphed over 123 other entrants in the late Saturday night competition, a highlight of the annual celebration that honors the literary giant who lived and wrote in Key West throughout the 1930s.
"I've been looking forward to this for 12 years," said Bicht, who credited his win to perseverance after 11 unsuccessful attempts. "Nothing can compare to it."
Look-alike hopefuls in sportsman's and fisherman's garb reminiscent of Hemingway competed onstage at Sloppy Joe's Bar, favored by the author during his Key West years.
After preliminary rounds Thursday and Friday, a judging panel of former contest winners chose Bicht from 25 finalists during Saturday night's final round.
The retired construction project manager said he shared several traits with Hemingway.
"I enjoy women, I fish and I drink, but I don't write," Bicht said.
Bicht also has a tie to Hemingway's former Key West home, now a museum in Key West's historic Old Town. His daughter, who cheered him in the contest during all 12 attempts, was married on the home's grounds during the 2009 Hemingway Days celebration.
Other events included a short story competition directed by Lorian Hemingway, the author's granddaughter, a wacky "Running of the Bulls" and a one-man play chronicling Ernest Hemingway's life and adventures.
The festival's Drambuie Key West Marlin Tournament was won by a Panama City attorney who came to Key West because of the Transocean/BP oil spill.
"They closed my fishing down," said Clayton Syfrett of closures off the northern Gulf coast caused by oil slicks that fouled waters for months. "Normally, I'd be fishing around the oil rigs for yellowfin tuna."
The 450-mile voyage to Key West paid big dividends for Syfrett's angling team when Timothy Trase Travers, of Titusville, caught and released a blue marlin, estimated to weigh 400 pounds, to claim the top $25,000 cash prize.
Besides offshore sport fishing and imbibing at Sloppy Joe's, Hemingway wrote some of his best known works while living in the Spanish colonial home on Whitehead Street. They include "To Have and Have Not," "Snows of Kilimanjaro" and "For Whom the Bell Tolls."
Calling all HuffPost superfans!
Sign up for membership to become a founding member and help shape HuffPost's next chapter