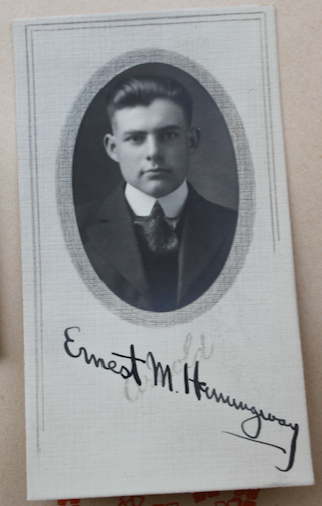 It's been 100 years since Ernest Hemingway walked the halls of Oak Park and River Forest High School and more than a century since he got his start writing fiction for the school's literary magazine, The Tabula.
1917: Hemingway, in his high school yearbook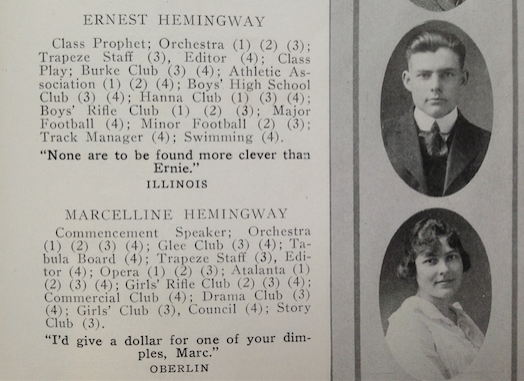 Hemingway's high school portrait, which shows his active extracurricular agenda, including his designation as "Class Prophet" (more on this below). Hemingway played many sports, but excelled at none of them. He also played the cello in the orchestra. Below is his sister Marcelline's portrait. Although she was eighteen months older than Hemingway, their mother put her through an extra year of kindergarten so they could go through school as "twins."
Hemingway on his high school football team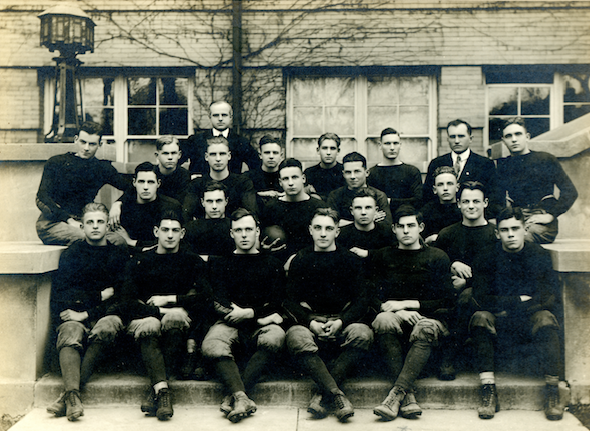 Hemingway is second from the right in the bottom row of the varsity football team photograph. Although he was never a star athlete, he was named to the squad for his senior year. In The Sun Also Rises, Robert Cohn, given the chance to change one thing about his life, says that he would like to play high school football again, "with what I know about handling myself, now." For this, he is accused of having a case of arrested development.
Hemingway's poem to a high school crush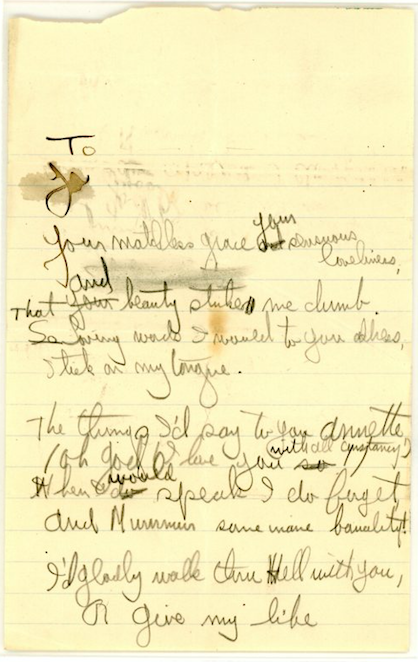 Although he was considered to be primarily interested in sports and his male friends, Hemingway did write a steamy poem to a high school crush, Annette DeVoe. He wrote: "I'd gladly walk thru Hell with you, or give my life." It's unknown if he ever sent her the poem. For a full chronicle of the story, check out this article in the Chicago Tribune.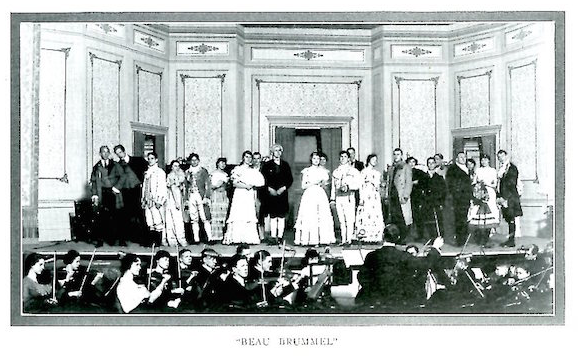 Hemingway played Irish playwright Richard Brinsley Sheridan in his class' performance of Beau Brummel. An uncomfortable looking Hemingway is in a wig, center stage, to the left.
Hemingway on graduation day with sister Marcelline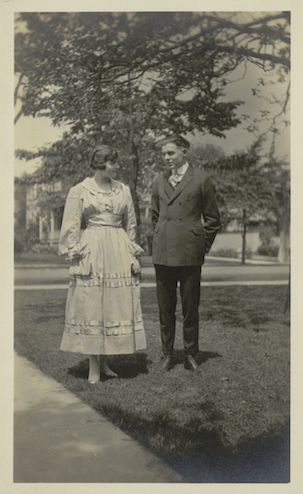 The shared graduation of Ernest Hemingway and his sister Marcelline fulfilled their mother's fantasy of having twins. Until second grade, their mother sometimes dressed them in matching girls' outfits, which has invited speculation about Hemingway's treatment of gender fluidity in his work, most notably The Garden of Eden.
High school teacher Frank J. Platt recalled, "Both were handsome students, humming with vitality and eager for adventures in ideas and action."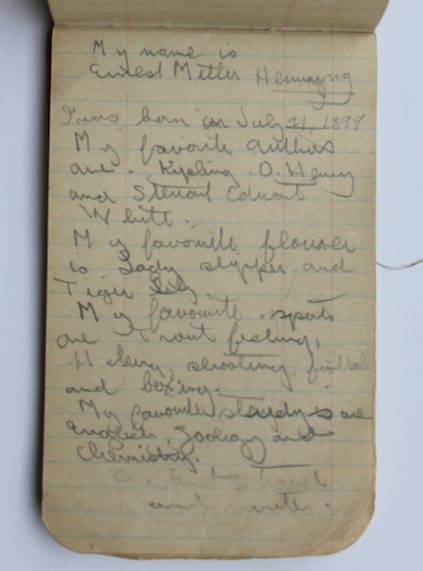 In this undated notebook, Hemingway lists his favorite authors: Rudyard Kipling, O. Henry, and Stewart Edward White. White, a surprising inclusion, was a popular writer at the beginning of the 20th century for his writings on the outdoors. At the bottom, mostly erased, is the most prescient statement ever written by a high school student: "I intend to travel and write."
Hemingway's yearbook photo for the Shotgun Club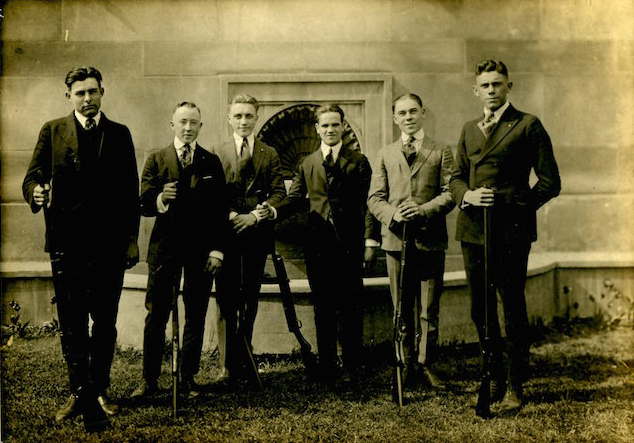 Hemingway and some friends were members of the Shotgun Club, a fake group that Hemingway invented for the high school's newspaper. Classmate Morris Musselman recalled the club, which "listed our names and those of four others as members. The idea caught on, so every week Hemingway carried a yarn on how well the club was doing and how we were whipping all the opposition. It was all phony, of course. There was no club; there were no contests. . . . Hemingway was the only one of us who owned or had ever fired a shotgun."
Hemingway and friend Morris Musselman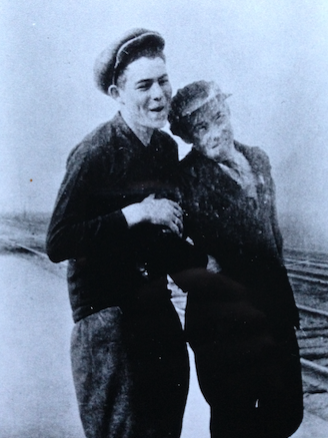 This picture catches Hemingway goofing off with his close high school friend, Morris Musselman, circa 1916. Musselman would go on to be a successful writer in Hollywood under the name of Morris McNeil, writing The Three Musketeers (1939) and The Bride Came C.O.D. (1941), among several other efforts.
Hemingway's Heart Strings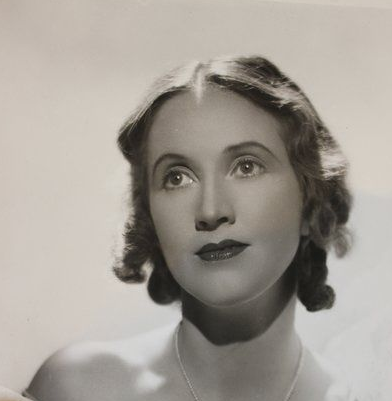 Hemingway wasn't very "attractive to girls or with girls," remembered classmate Marian Kraft Larson, but she added: "Frances Coates was the only girl I remember seeing him with." Although Coates clearly saw their relationship as platonic, the young Hemingway was enamored with her.
Frances' name later shows up in his fiction, and when he was wounded in World War I, he begged Marcelline to persuade Frances to write:
"...tell her that your brother is at death's door...Tell her that I love her or any damn thing."
Hemingway's Class Prophecy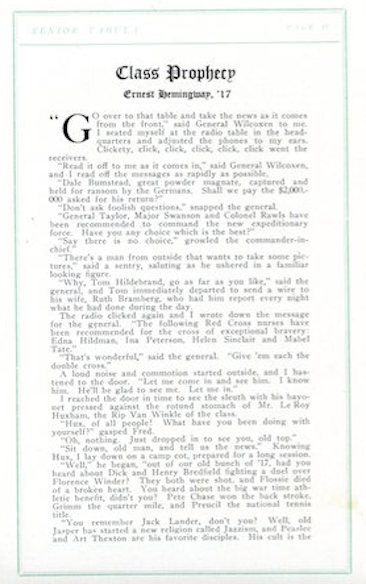 Hemingway's class prophecy was essentially a story in which he name-drops his classmates and predicts their futures. Jack Lander starts a cult called Jazzism; two other young men fight a duel for the heart of Florence Winder; and some of the young ladies appear as Red Cross nurses, rewarded for "exceptional bravery." Hemingway shrugged off college in favor of a job at the Kansas City Star although the Red Cross was already on his mind.
Hemingway on the swim team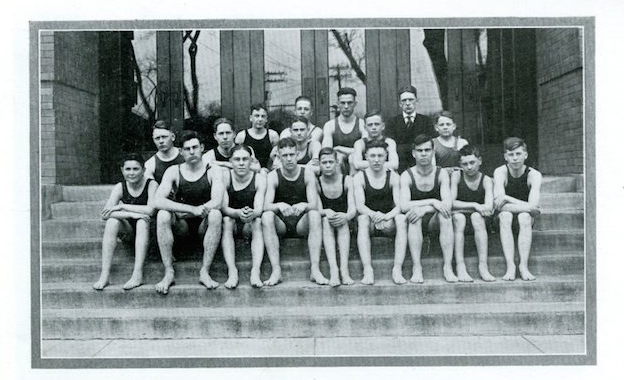 Hemingway is a young man among boys in this photograph of his high school swim team--the only one with hairy legs. He is second from the left in the bottom row.
A sneering Hemingway with family
Hemingway poses with members of his family – including his mother and father – at Lake Charlevoix in Michigan. Hemingway is wearing the insignia from Oak Park and River Forest High School.
A high school Hemingway, on "How to Hike"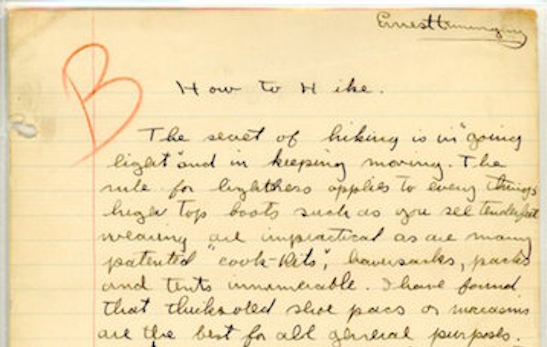 Hemingway received a "B" for his instructional essay, "How to Hike," which boils down to: pack light and keep moving. Hemingway would improve on these notions in his short story masterpiece "Big Two-Hearted River," from the 1925 volume, In Our Time.
Hemingway and his haul of fish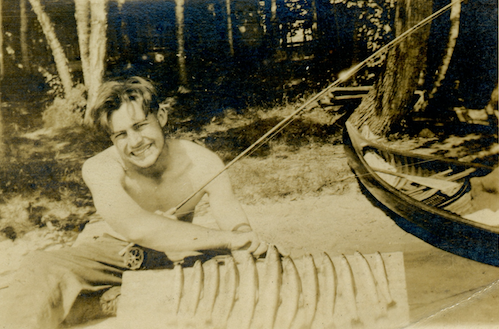 A beaming Hemingway, age 17, glories in a productive day at the lake, his new canoe in the background. According to his sister Sunny, this photograph was taken at their family cottage, dubbed Windemere, on Walloon Lake in Michigan.
Hemingway: creative speller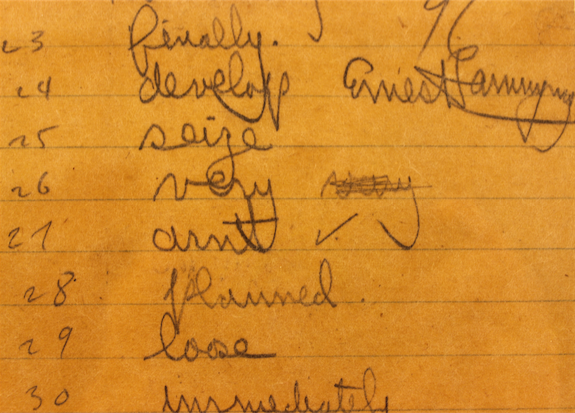 Like his friend and rival F. Scott Fitzgerald, Hemingway was a great writer, but a terrible speller. Legendary Hemingway scholar Philip Young claimed that Hemingway might have passed a fourth grade spelling test "if he put his mind to it."
Hemingway's geography test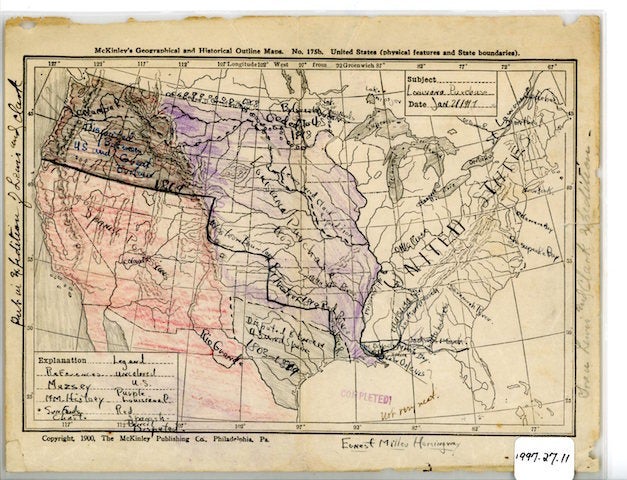 This 1917 geography test challenges the young Hemingway on the Lewis and Clark expedition and the disputed region of Texas. Just south of Louisiana, note the teacher's frosty judgment: "not very neat."
Hemingway, suburban adventurer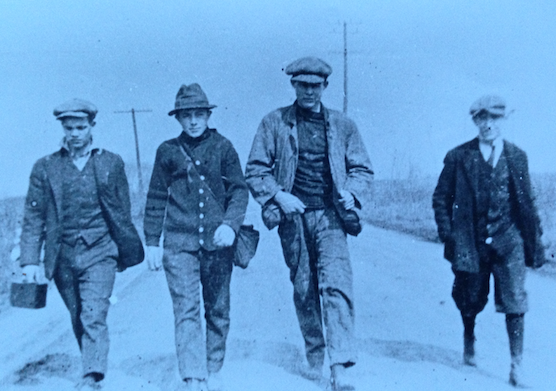 Hemingway, second from right, walking Reservoir Dogs-style with fellow would-be hoodlums Paul Haase, Harold Sampson, and Proctor Gilbert. The high school friends hiked from Oak Park to Lake Zurich, Illinois, in 1915.

Hemingway and his high school friends all adopted Jewish-sounding nicknames. Ernest was "Hemingstein," often punctuating his correspondence with the drawing of a frosty beer stein. Here, he signed a classmate's high school memory book and scribbled this poem: "I've never guzzled beer nor wine / And yet they call me Hemingstein."
Early Hemingway fiction: "A Matter of Colour"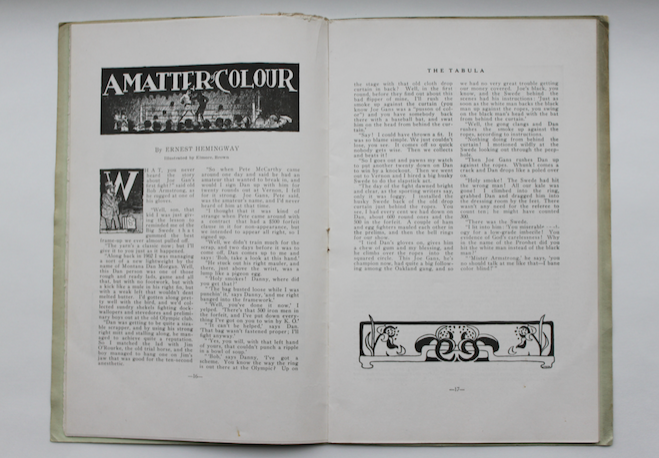 Hemingway wrote "A Matter of Colour," a fictional boxing story in the spirit of his early idol, Ring Lardner, for the April 1916 issue of his high school literary magazine.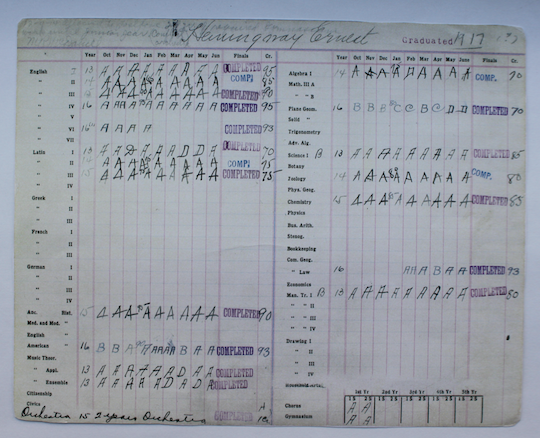 Academically speaking, the young Hemingway was an ace, struggling only in Latin and "Plane Geometry."
Hemingway's alma mater, the Oak Park and River Forest High School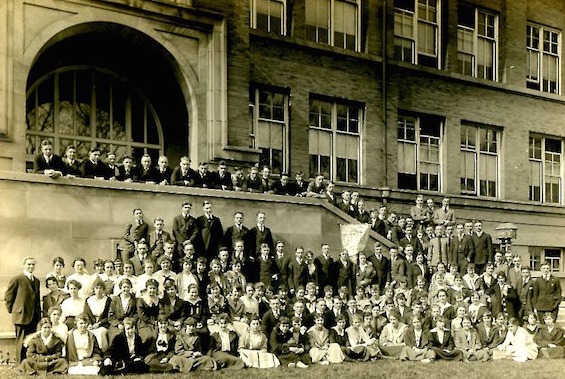 Hemingway graduated from Oak Park and River Forest High School on June 14, 1917, at age seventeen. If you squint, you can see him in the upper left-hand corner, the third figure from the left. Other famous alumni over the years: comedian Kathy Griffin, novelist Jane Hamilton (The Book of Ruth), rapper Ludacris, actress Mary Elizabeth Mastrantonio (The Abyss), Pulitzer Prize-winning poet Charles Simic, photographer Bruce Davidson, Saturday Night Live cast member Cecily Strong, McDonald's founder Ray Kroc, novelist Carol Shields (The Stone Diaries) and Rookie Magazine founder Tavi Gevinson.
Popular in the Community