"Beauty Glossary" is a HuffPost series that breaks down beauty product techniques, treatments and ingredients so you know exactly what you're putting onto and into your body.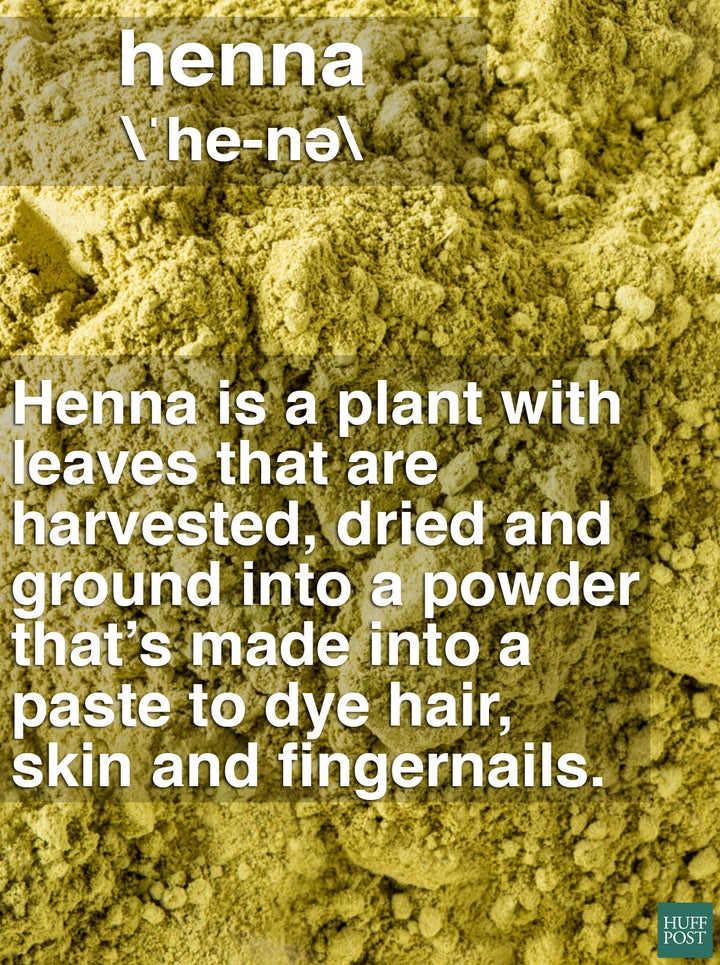 We've been fascinated with henna hair dye ever since we met a New York University data analyst who revealed that the natural ingredient was the secret behind her red hair color. Never in a million years would we have imagined that an all-natural hair dye could result in such vibrancy, and make us reconsider using traditional chemical hair dyes altogether.
But, what exactly is henna hair dye made of?
According to Surya Brasil, co-founder Wanda Malhotra, henna is a plant ("lawsonia inermis") that grows in hot, dry climates. The leaves are harvested, dried and ground into a fine powder that's made into a paste and used to dye hair, skin and even fingernails.
Henna hair dye is much healthier for your hair than traditional hair dye.
"Conventional hair coloring products contain allergenic preservatives, Paraphenylenediamine (PPD) and parabens, which are irritating and can cause severe health issues," says Malhotra."Some may even contain lead and heavy metals." According to the U.S. Environmental Protection Agency, "acute exposure to high levels of PPD may cause severe dermatitis, asthma, vertigo and coma in humans."
Joel Warren, a master colorist and the co-founder of Warren-Tricomi salons, believes that hair becomes healthier and fuller when using a plant-based dye like henna. Plus, Malhotra says it is gentler on strands because it conditions, strengthens and adds color without changing the composition of hair follicles. Her line of henna powders and creams are also free of ammonia and peroxide -- two chemicals that are used in traditional coloring techniques to open the hair cuticle, remove natural hair color and replace it with another one.
Henna hair dye works well with all hair types, but it's especially great for people with fine hair.
Whether your hair is straight, wavy or curly, Malhotra believes applying henna hair dye to your strands will help to condition and smooth the hair shaft, leaving it silky soft to the touch.
Another benefit of using hair dye made from henna is that it helps to stimulate hair growth and strengthen the scalp. This is particularly great for people with thinning hair who desire more volume and fullness.
As henna fades, it creates a more natural look as the hair grows out.
According to Warren, henna hair dye typically lasts four to six weeks. This, of course, depends on how frequently you wash your hair, the hair's structure and even temperature.
Unlike chemical colors that grow out and leave harsh demarcation lines, Malhotra notes that henna typically fades out in a more natural progression. Red tones -- copper, red and mahogany -- tend to fade the quickest. While dark hues like black, browns and burgundies last longer. Blondes usually last the longest because as Malhotra points out they are mostly used by people with blonde or light-colored hair.
To maintain hair that's dyed with henna, Warren advises using products that are intended for color-treated hair and always use a leave-in conditioner.
Related