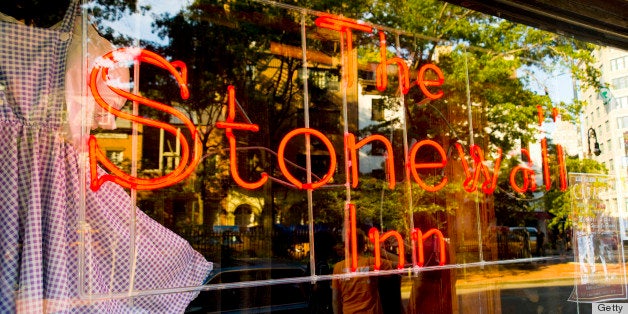 Knock, knock. Nothing. Knock, knock. Silence. Knock, knock. Nada. Finally we hear footsteps on a staircase. The door to this Astoria, Queens NYC home opens ever-so-slowly. "Hola, Que tal," purrs a voice before we even get to see a face.
Finally the visage comes into view. The sight takes us back. Henry Arango, three years shy of turning 90, floats toward us a la Norma Desmond.. He's wearing a floor length silk-chiffonish robe in varying shades of flamingo-pink. An arm as long and as graceful as a swan's neck makes an undulating gesture before pointing to his hair. Arango is wearing a two-foot high brunette wig encrusted with pearls every bit as striking as Audrey Hephburn's coiffure as she makes her entrance to the ball in "My Fair Lady." And emanating from all that hair (like the rays of a Cuban sun) dozens of outrageously long pink and lavender ostrich feathers. Shock and awe. "How do you like it?" he asks coquettishly. "I got them from the Tropicana Nightclub in Havana before I left Cuba." We erupt in gales of laughter.

Henry Arango is a witness to 60-years of gay history. He performed as an impersonator in Havana as a young man. Arango watched the blazing fires and gay voices raised in outrage at the Stonewall riots. He marched in the first gay rights parade. He witnessed gays going from lurking in the shadows of dirty movie houses to speaking out and marching in Washington, D.C. for their rights. And as a proud female impersonator at the renown East Village drag venue, Club 82, Arango sashayed and danced exotically for luminaries from Elizabeth Taylor to Errol Flynn. He's lived through the AIDS crisis, seen the progress made toward gay marriage, and beamed like a proud poppa as more and more gays (including celebrities) have had the courage to come out. But when he arrived from Cuba to New York in 1956 (at 18 or 28, according to which "papers" one chooses to believe) it was a different story.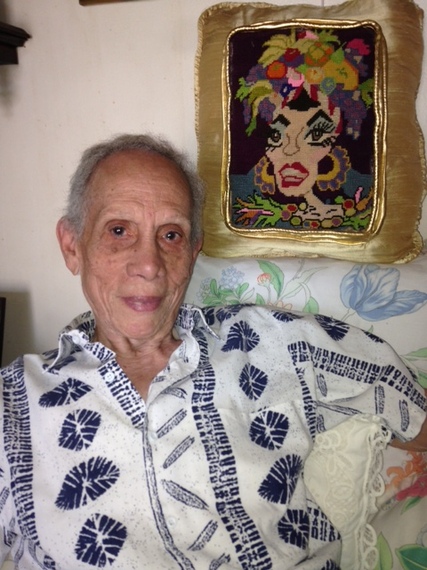 "Gay life was very underground," Arango remembered. "We were considered third world persons," he said. "You could order drinks (at bars) but there was no dancing. Police raided bars frequently. In the sixties, he remembers there were one or two bars on the Upper West Side and a couple in the Village. "Mostly they were run by the Mafia," he says. Gays flocked to 42nd Street movie theaters for furtive sexual encounters in back rows, he recalled. Sometimes, they would meet in public "tearooms' (restrooms). By the time the Stonewall and Julius bars opened in the Village, raids were commonplace. Arango said cops believed transvestites or drag queens(who hung out at Stonewall) were engaging in prostitution. The Stonewall also catered to"hustlers"(male prostitutes), young gay men and homeless youth. But drag queens were a favorite target for harassment by police. "You could not walk around in a dress or wear makeup out in public, " said Arango. "But if you were out (dressed like a woman) as long as you wore men's undergarments under the dress, they couldn't arrest you for prostitution."
Amid such an oppressive climate, Arango flourished as "Adrian," an exotic interpretive dancer and sultry femme fatale at Club 82. "We were impersonators," he says grandly. "The term 'drag queen' was considered trash." One of Adrian's famed routines featured a "Dance of The Seven Veils" where Arango portrayed Salome, the Biblical temptress who asked for the head of St. John The Baptist. Arango borrowed a head from the prop man at the old Metropolitan Opera House. One night he says: "I was waiting for my cue to go onto the stage when someone grabbed my head and ran off. I thought it was one of the waiters but it was Errol Flynn." Flynn, ever the swashbuckler, was a big fan of the revue (featuring lesbians dressed as men, men dressed as women, acrobats and strippers).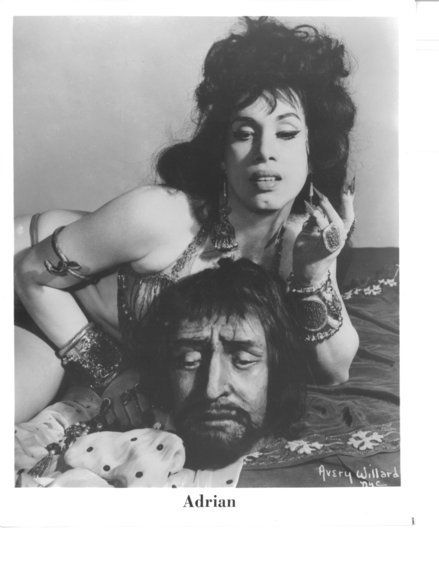 Arango had fled Cuba years earlier after dancing at seedy Havana clubs (El Niche) and upscale ones (Montmartre). He high-tailed out of Montmartre one night when he was performing as Madame Du Barry in a powdered wig. He says men with machine guns burst into the ritzy penthouse club and fired rounds into the audience -- packed with officials of then President Fulgencio Batista's government. Arango says two people were shot and killed. "I knew I had to get out of there," he says with a laugh. By then he claims he had secured an audition at Club 82 in New York. Adios Havana. Hola Nueva York. Fast forward 13 years.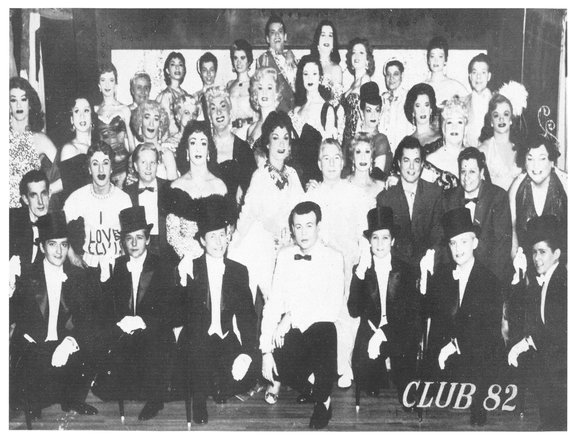 On the morning of June 28, 1969, Arango was taking off his makeup after finishing the last of three shows( 11:30, 1:30 and 2:30) when he says someone ran into the dressing room screaming: "There's a big riot at the Stonewall." Arango said that he and five female impersonators in the revue sprinted from Club 82 to the Stonewall Bar. "We couldn't believe it," Arango said. "One of the drag queens was running through the streets screaming 'we got raided.'" Arango and his friends watched the melee unaware it was the beginning of the modern gay rights movement. "The queens were fighting the cops. The cops were fighting back," he said. "I saw police cars being put on fire. The drag queens were calling names, throwing rocks," Arango said "And some of them were also throwing their falsies at the police. It was just crazy." Arango said the guys dressed as gals had forgotten they were drag queens. "They were now freedom fighters." According to published reports, it wasn't just drag queens joining in the uprising but hundreds of angry gays and residents from the neighborhood. "I was applying for my U.S. citizenship so I didn't want to riot," Arango said. But he and his pals cheered from the sidelines. The riots erupted into angry demonstrations the next evening. There were even more several nights later.
"Things began to change after that," Arango remembered. Within months, activist organizations sprouted. They included not only drag queens but prominent gay doctors, lawyers, teachers and professionals as well as gays and lesbians from every walk of life. And on June 28, 1970 the first Gay Pride march kicked off in New York (and Los Angeles and San Francisco). Arango was there. "We were told by the organizers not to wear any dresses," he said. "I remember as we walked we saw protesters on the side and they were holding a big banner that said "Fags Are Not Welcome." Today, Gay Pride marches are held all around the country in late June (the 45th annual New York Gay Pride march will take place on Sunday). The March not only commemorates events at Stonewall but recognition of gay marriage progress, the fight against AIDS (and those who lost their lives to the virus) and the battle against gay bullying and hate crimes. Arango has been marching or attending every one.
"I'm glad to have lived long enough to see all the changes," he says gesturing with his hands. "Sometimes I've been angry because we (gays, lesbians, transgenders) are human beings. We're entitled to the same rights as everyone."
Arango has been a member of the Theatrical Wardrobe Union Local 764 for five decades. As a "dresser," he's attended to Anthony Quinn and Laurence Olivier (in "Beckett"), Mandy Patinkin in "Evita," and Ruby Keeler in "No No Nanette." He's also dressed Richard Chamberlain and Michael Redgrave, the cast of "Cactus Flower" and "Funny Girl" ( "Barbra Streisand was quiet and very nice"), "Phantom of the Opera," "Les Miserables," and " Woman of the Year". Arango's also been a dresser for numerous other Broadway productions, operas (at the Metropolitan Opera and former New York City Opera) and ballets (the "Nutcracker" at New York City Ballet). He's never retired.
Arango's lost several friends to the AIDS crisis ("A whole group of guys who I knew who came over from Cuba are gone"). But with the sadness he's also felt joy. Arango has applauded strides in gay acceptance, gay marriage (Arango's single) and the coming out of gays including Ellen Degeneres, Anderson Cooper and Ricky Martin as well as prominent athletes. He's especially proud of Caitlyn Jenner "I'm 100 percent behind her, " he says emphatically. "You own your own body."
As for the future , he says he hopes to see gays integrated into every aspect of American life. "People realize we are here to stay." he says proudly. I ask him what's his biggest wish for gays in the 21st century. Without missing a beat he proclaims: "I want to see a gay president. I've seen everything else. Why not?"
Popular in the Community