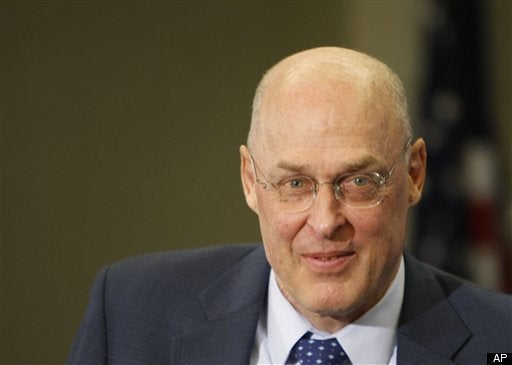 In an appearance to promote his new book, "On the Brink," former Treasury Secretary Henry Paulson last night defended his handling of the 2008 financial crisis, reiterating his belief that the bailout forestalled a global economic collapse. Even "with 20-20 hindsight," he said, it looks like he and his team got "the major decisions" right.
During the interview, which was conducted by General Electric chief executive Jeffrey Immelt at the 92nd Street Y, a cultural center in New York City, Paulson said that he was pained to see Wall Street "suffering" under the public's ire. Banking is "a noble profession" that has lifted many people out of poverty, Paulson said. And he lent words of support to the bank leaders who helped to steer their institutions through the crisis: "This being a New York crowd...you all lived through this," he said. "It impacted all of your lives."
As he has in several recent interviews, Paulson repeatedly emphasized the speed with which he was forced to make critical decisions during the crisis. "When you're working so quickly," he said, "you're always worried about unintended consequences." During the crisis, he said, he felt like he was "boiling in oil," unable to sleep at night and subject to stomach ailments -- a condition he referred to as dry heaves in his book. When British authorities refused to approve Barclays's purchase of Lehman Brothers -- precipitating his remarks that "the British screwed us" -- Paulson said his stomach clenched as he was consumed by "extreme fear."
Paulson joked that he was chief of the Treasury "at a time when it helped to understand markets," but he denied ever playing favorites. Though he previously served as CEO of Goldman Sachs, during the meltdown, he said, he acted as Treasury Secretary only.
When the discussion touched on the Bear Stearns bailout -- which Paulson argued made investors more risk averse -- and the Lehman Brothers bankruptcy, Paulson got defensive. Lehman, he said, was unfortunate, but the government did not have the power to prevent it: "There was one firm that died, and I certainly didn't want it to die," he said. "I don't think anyone could have worked any harder to try to prevent that outcome."
Paulson offered some policy recommendations for Congress, focusing on two key reforms: the creation of a systemic risk monitor vested with "broad responsibilities over the whole system," and resolution authority to liquidate foundering financial institutions.
Earlier this month, Immelt disputed claims in Paulson's book that GE was having trouble selling its short-term debt during the meltdown. The discussion thus had the potential to be especially interesting, but Immelt never raised the issue, and the conversation alternated between a leadership seminar and reminiscence, with the two men exchanging compliments throughout the evening.
Calling all HuffPost superfans!
Sign up for membership to become a founding member and help shape HuffPost's next chapter