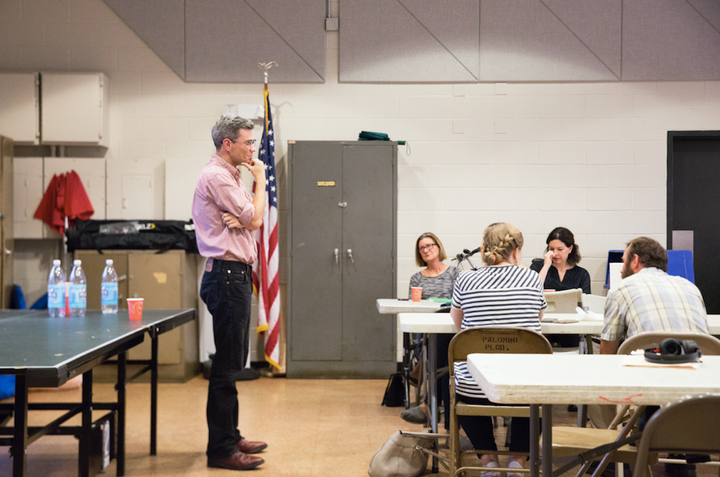 Henry Sias went into law because he needed a practical career where he could "go to the dentist every year." Now, the 40 year-old attorney and co-founder of Philadelphia Lawyers for Social Equity could become the first openly transgender man in the country to become a judge. While there are two openly transgender women judges in the U.S., "the first transgender male judge to serve on the bench would make history," Eric Lesh, Fair Courts Project Director for Lambda Legal, told HuffPost. 
But first, Sias must advance in the May 16 Democratic primary for a seat on Court of Common Pleas, Pennsylvania's trial court. His bid comes at a time when states are debating the rights of transgender people in public spaces, and as the Trump administration walks back protections for transgender students. "It would be a momentous step in achieving a judiciary that reflects Pennsylvania and the nation," Lesh added.
HuffPost recently chatted with Sias about his path from Michigan, where he attended five different elementary schools in six years after his family lost their home, to running for public office in Philadelphia. 
The Huffington Post: Why should Philadelphians vote for you to be a judge?Henry Sias: I have many years of experience working directly with judges and justices, and I understand the First Judicial District from the inside. I learned from some of the finest trial judges in Philadelphia. I will take that experience directly to the bench. I also think that Philadelphians can and should send the message that transgender people belong in Philadelphia, and we belong in Philadelphia's government. My experiences in the courts and in co-founding one of Philadelphia's most successful legal nonprofits of the last decade show me to be someone who will continue to work to improve our courts and maintain them as safe, democratic spaces where citizens can tell their truths, and with those truths, change our community for the better.
A lot of the coverage of this race has focused on your gender identity. How have you felt about that?
When you want to get on the ballot, you have to spend two weeks kind of running around the city getting people to sign your petition — your nomination. And, nobody really likes being approached on a sidewalk by somebody. You're already starting off in an awkward position. And, then you say, "Hey, I'm trans and I'm trying to become a judge." It can't get more awkward from there. Philadelphians were really wonderful during the petition period. They were very nice to me. A couple of guys asked, "Well, why does it matter that you're trans?" Like, "why are you bringing this up?" And, about that I would say two things. First, in the age of Google, you don't have the option not to. You can either control how it comes out or you can let somebody else control it. So, it's better, from my perspective, to have some control over how it comes up because I know it's going to.
But, everybody deserves representation in government. And, I think it would be helpful to the other judges to have a colleague who can be a resource if, for instance, they have somebody in their courtroom, maybe someone who's genderqueer. They're not necessarily going to know how best to keep the space respectful for that person. They can come to me and I can be a resource. So, that's just one of the many reasons why we need all sorts of people involved in government.
Right now, transgender people experience a lot of employment discrimination. So, I think it would be very powerful for Philadelphia to elect somebody into government who's out and who's trans, because it sends the message that the city, the people in the city understand that trans people belong in the city, we belong in our community.
How do you think having more trans and queer people working within the judicial system could have an impact on various kinds of laws, like HB2 in North Carolina, where the underlying sentiment is to remove trans people from public life? 
Trying to exclude systematically a group of people from public life is the same way that aggressive catcalling is often part of the sort of systematic attempt to make women feel unsafe in public life, to make them feel that they shouldn't be out in public life unless they have a guy with them. We think of ourselves as being this open democratic place, but when you have people who feel fear when they leave their house that's not so open and democratic. So, we need to do everything we can to push back against that culture.
So, I would love to participate in my own little way, in pushing back against the narrative that transgender people are basically liars. That we are deceiving others. Obviously that has implications all over the place but in the court system, when your participation is often about whether you're telling the truth, whether you're a reliable narrator of your own experience, it's important to push back and eliminate the idea that transgender people are sort of fundamentally false or that we're not reliable narrators because of who we are and what happens to us. So I think having transgender people involved in the legal system in the courts in government helps to push back against that systemic discrimination.
Have you thought about what the visibility that would be gained if you were elected would mean for young trans people across the country who, if they saw you as a judge, could say to themselves, "Wow, that's an option for me"?
I think it's really, really important that we have people who are trans, who are visible, and who can demonstrate to younger trans people that there is a great future out there for them. That we are loved, that we can contribute to our communities and have our contributions seen and appreciated.
But, there needs to not be any limit to their ambitions for their future. It used to be that even parents who did not think of themselves as at all homophobic or transphobic would sort of go through a grieving period when their kid came out because they would think 'Oh, now my kid is not going to be loved. Now, my kid is never going to have someone in their life to take care of them or they're not going to have the opportunity to spread their wings and have this beautiful career that they weren't taught they were going to be able to have.' But, that's not true anymore. The more we can show people that that's not true, the better. 
This interview has been edited and condensed for clarity.
PHOTO GALLERY
48 Transgender Pioneers
Calling all HuffPost superfans!
Sign up for membership to become a founding member and help shape HuffPost's next chapter