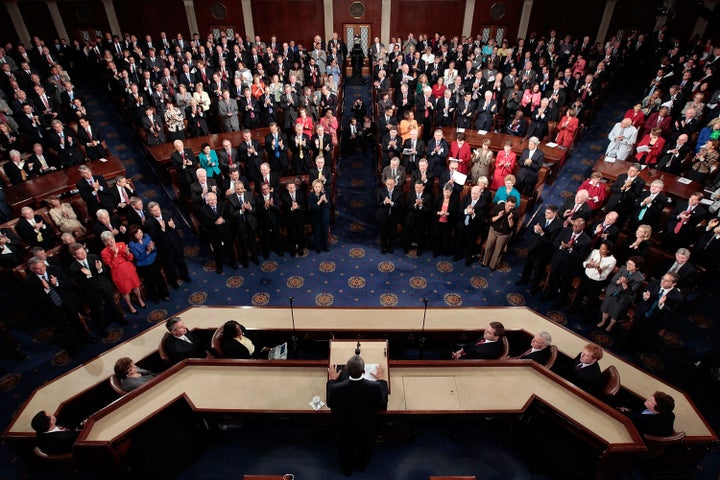 WASHINGTON -- During the 112th Congress, the Republican House majority has taken aim at issues ranging from labor protections to women's right to choose. But it may be the environment that's hardest hit by Republican efforts to reshape the federal government.
Since the beginning of the current Congress in January, the House of Representatives has passed 125 bills that undermine environmental protection. Taken together, these votes make this "the most anti-environment House in history," according to Rep. Henry Waxman (D-Calif.), ranking member on the House Energy and Commerce Committee.
The list of bills, compiled by Democratic staffers on the committee, includes legislation limiting the regulatory authority of the Environmental Protection Agency by prohibiting it from regulating carbon emissions from power plants, votes to defund enforcement of the Clean Air Act and the Clean Water Act, and efforts to target federal agencies such as the Department of Interior and the Department of Energy.
On Monday, Waxman unveiled an online searchable database, which breaks down anti-environment votes taken by the 112th Congress into categories: clean energy, climate change, nuclear power, pipeline safety, pollution prevention, and public lands and coasts.
"The House has voted to block action to address climate change, to stop actions to prevent air and water pollution, to undermine protections for public lands and coastal areas, and to weaken the protection of the environment in dozens of other ways," said Waxman in a statement.
Environmental groups see the votes as directing attention away from the disastrous economy.
"House Republicans are showing how far they will go to please big polluters," said a spokesman for the Natural Resources Defense Council (NRDC). "Instead of focusing on jobs and the economy, they are busy stopping all rules to clean up the air and save lives."
Frances Beinecke, president of the NRDC, said Congress this year has gone further in pushing anti-environment legislation than even the Congress led by then-Speaker Newt Gingrich in 1995.
"At the time, 17 policy riders that went after the EPA were proposed," Beinecke said in a blog post. "This year close to 40 have been proposed going after smog standards, wildlife protections, and clean water."
In addition to these votes, the House before the August recess stalled the Interior Department and environment appropriations bills over a number of anti-environment riders, which the Sierra Club called "the worst single attack on our nation's air, water, wildlife and land to date."
The legislative efforts have been mostly partisan in nature: On the bills compiled in Waxman's database, 97 percent of Republican votes were cast for the anti-environment position while 84 percent of Democratic votes were cast for the pro-environment position, according to a July press release sent out by the Democratic staffs of the House Natural Resources Committee and the House Energy and Commerce Committee.

Support HuffPost
The Stakes Have Never Been Higher
Popular in the Community