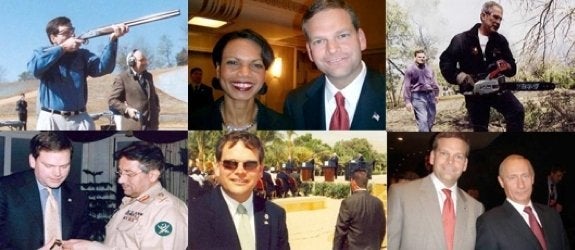 Rep. Henry Waxman (D-Calif.), chairman of the House Oversight and Government Relations Committee, is wasting no time, and has announced that he will investigate Stephen Payne, a GOP lobbyist with ties to the Bush administration who allegedly solicit donations for the library in return for meeting with top administration officials.
Payne was the subject of an article in the Sunday Times of London this past weekend, including video. Payne, a major fundraiser for the Bush campaign in 2000 and 2004, is seen telling "Eric Dos," a Kazakh politician whose full name is Yerzhan Dosmukhamedov, that he can help arrange meetings with top Bush officials for Askar Akayev, the former president of Kyrgyzstan, who is now in exile in Moscow in return for donation to the yet-to-be-built Bush library. Payne suggested Dos get Akayev, or more precisely his children, kick in "maybe a couple of hundred thousand dollars, or something like that, not a huge amount but enough to show that they're serious." And Payne's firm would also pocket several hundred thousand dollars for its help.
Unfortunately for Payne, the Sunday Times had a reporter secretly videotaping his meeting with Dos, and now Waxman is looking into the matter.
Popular in the Community