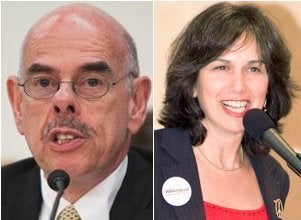 Rep. Henry Waxman (D-Calif.) has played an outsize role in the primary contest between Blue Dog Rep. Jane Harman (D-Calif.) and progressive challenger Marcy Winograd as the two battle for a House seat representing part of Los Angeles.
Waxman, who represents an adjoining district to the north that encompasses Beverly Hills, began a campaign to discourage high-dollar Jewish donors from supporting Winograd, insisting that "[i]n Marcy Winograd's foreign policy, Israel would cease to exist. In Marcy Winograd's vision, Jews would be at the mercy of those who do not respect democracy or human rights. These are not trivial issues; they cannot be ignored or overlooked. Jane's victory will represent a clear repudiation of these views."
Waxman, a generally progressive Democrat, is chairman of the House Energy and Commerce Committee. Winograd, who like Waxman is Jewish, is highly critical of Israeli policy toward Palestinians, including the blockade of Gaza. The Harman-Winograd primary is Tuesday.
In a recent interview with The Atlantic's Jeffrey Goldberg, Winograd fired back, questioning whether Waxman pledges allegiance to the United States or to Israel first.
"I appreciate Henry Waxman, the fact that he pioneered generics, that he's concerned about the environment," said Winograd, when asked about Waxman's criticism of her. "However, on foreign policy we have strong differences. I would hope that all of our lawmakers would pledge allegiance to this country as the country they represent."
"Are you saying Waxman isn't loyal?" Goldberg asked.
"I don't know. That's a question you have to ask him," she said.
So HuffPost asked him: "I'm loyal to the United States of America and I resent the fact that she would raise that issue in the course of her discussions of why she should join me here," Waxman said in an interview on Capitol Hill.
"On the domestic front, you have advocated for the protection of constitutional rights. It is therefore disconcerting to learn that you would lend your name and financial support to a woman who lobbied the New York Times to suppress reports of the Bush administration's crimes involving illegal wiretapping and who ultimately became the chief Democratic Party defender of hose unconstitutional methods.
"This is not the definition of a patriot."
Later in the letter, Winograd argues:
"In your letter, you praise Harman's 'leadership on national security' yet fail to mention Harman lobbied for the Iraq war while shirking her oversight responsibility on the Intelligence Committee, ignoring warnings in the National Intelligence Estimate that discounted fictitious accounts of weapons of mass destruction. You also failed to mention that it was Harman who was briefed on the Bush administration's use of torture, only to shirk her responsibility to denounce torture. Such a lack of oversight further endangered our troops.
"This is not the definition of a patriot."

REAL LIFE. REAL NEWS. REAL VOICES.
Help us tell more of the stories that matter from voices that too often remain unheard.