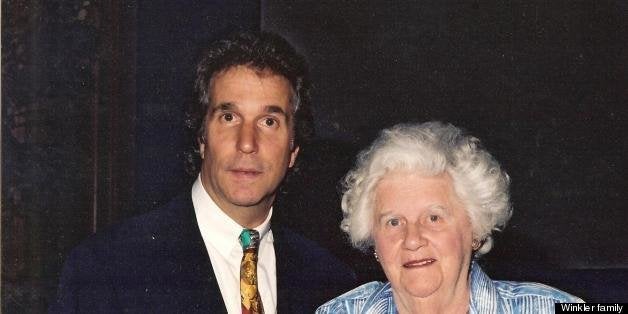 The iconic "Happy Days" star Henry Winkler has a lot on his plate these days. The actor who shot to stardom in the 1970s has won over a new generation of fans with his roles in the cult classic "Arrested Development" and USA's "Royal Pains." He's also continued to churn out books for his popular Hank Zipzer series about the misadventures of a boy who has dyslexia, just like Winkler.
For the last few years, Winkler -- now a grandfather at age 67 -- has been speaking out about the health benefits of Botox injections, insisting the "revolutionary" treatment could have greatly benefited his late mother after she suffered for 10 years from upper limb spasticity following a stroke. [Winkler is paid for his services as a spokesperson for Botox maker Allergan.] Spasticity is a debilitating condition that affects about one million Americans. Winkler took on the role as his mother's caregiver after she lost her independence and now wants to raise awareness around his story to help others.
Last year he joined the National Stroke Association as part of its Faces of Stroke campaign to remind other caregivers about the importance of their role on the healthcare team.
Below is an abbreviated version of our interview with Winkler.

Tell us about your mother and about the treatment that you believe could have helped her.

My mom had a stroke in 1989 and died in 1998. She was born in 1913 and had escaped Nazi Germany and so had already been through a lot of trauma. And then came the stroke. The first thing people say is "Why me?" But then you get over that stage and look for treatment. Sometimes the therapy is not as all-inclusive or as reparative as you'd like it to be.
But now there is a treatment that could have helped her?

I was approached a few years ago to be the spokesperson for the therapeutic use of Botox for upper limb spasticity. My mother had this. It's when the upper limb muscles freeze so that it looks like a person has chicken wings. It is very painful. Sometimes the fingernails grow into the palm, because the person cannot open his or her hands. The patient who already has suffered the affects of the stroke feels completely embarrassed by this and their quality of life is greatly diminished. I heard about the Botox treatment and all of a sudden I thought to myself, "Wow, what if my mother had had the opportunity to have this therapy?"
So you saw how successful the treatment is with your own eyes?

I met a man who had a stroke many years back -- he's now 58. For the first time he can actually rest his arm at his side. Your limbs are no longer frozen in place. This is incredible. My mother never had access to this and that's why I'm now the spokesperson. My mother became a beached whale. She would not allow herself out into the world even in a wheelchair because she was so embarrassed. There are about a million stroke victims who are suffering at this very moment.
Were you your mother's primary caregiver?

I was in California, and my mom lived in New York, so I was a part-time caregiver. Thankfully, my sister was with my mother and she was a wonderful caregiver. It was hard to do it at a distance. I would go to New York to be with her. I watched her lose the will to live.
I know you've always been an advocate for children ... and now you are an advocate for this. It's great that you can use your fame to speak out about causes you believe in.

I was supposed to just be a spokesperson for a year but now it's been three years. I really believe in this. And when it comes to kids, I want them to know that they are powerful and that how they learn has nothing to do with their brilliance. I received a great honor in Britain [Honorary Officer of the Most Excellent Order of the British Empire (OBE)] for my work with kids over there having to do with dyslexia. That was a very humbling experience.
Of course, I also have to ask you about the new season of "Arrested Development."

Mitch Hurwitz (the show's creator) is one of the three or four geniuses that I have worked with in my life. He plays three-dimensional chess because these episodes were shot without everybody being in the same room at the same time because everyone, five years later, is appearing on other shows and living different lives. To corral everyone was like corralling 100 kittens. So he literally pieced it all together as if we were all there at the same time.
What do you think about "Arrested Development" being on Netflix?

It's a big deal that it's on Netflix. This is a whole new way of watching TV. You can get all your episodes at one time and you can piece them out or watch them in a day or two. You no longer have to wait week to week to week. You can have them all in one place and watch them again and again. You can't get this show all in one sitting, however. There are so many jokes in the jokes and around the jokes that you need to savor the show very slowly like a delicious Kobe steak.
Do you have a favorite line or memory from the show?

I don't have a favorite line. There are too many. Twitter is ablaze with best lines and moments. People love it. I have lots of memories of course. Jason Bateman is very logical. He knows if something he said on one page of the script doesn't really work with something he said on another page. He'll say "we need to reconcile that." He's very precise.
What shows do you love to watch in your limited spare time?

I have a few favorites. I love "The Good Wife." I also love "Banshee" on Cinemax. Alan Ball who did "Six Feet Under" does "Banshee" and he's just great. I also enjoy "Suits." Of course I love the two shows I'm on: "Children's Hospital" starts in June and then I'm going back to shoot the dad on "Royal Pains."
What do you believe is the secret for living a long and happy life?

I live by two words -- tenacity and gratitude. Tenacity gets me where I want to go and gratitude doesn't allow me to be angry along the way. I really love that I'm on this earth and that is the truth.
REAL LIFE. REAL NEWS. REAL VOICES.
Help us tell more of the stories that matter from voices that too often remain unheard.
BEFORE YOU GO
PHOTO GALLERY
13 Resources For Caregivers