Ageism may be alive and well in Hollywood -- at least according to some -- but "Happy Days" alum Henry Winkler is still nabbing some seriously coveted gigs. "The Fonz" recently celebrated his 70th birthday and his plate is full with not only acting roles, but also with his work as a co-author in the New York Times' best-selling "Here's Hank" series for children. Winkler kindly took the time to chat with Huff/Post50 about his upcoming book, his everlasting appeal and how he's made his marriage work for over 35 years.
Here's an abbreviated version of our interview with the delightful Henry Winkler.
What prompted you to start the "Here's Hank" series? You've said you were reluctant given your own struggles with dyslexia.
I didn't think I could write a book. I believed what everyone said to me when I was younger -- that I was stupid, that I wasn't living up to my potential. But then I thought 'You know what, let's see what happens.' My mantra used to be, "if you will it, it is not a dream," which has since become "I will try."
I met Lin Oliver, who is a wonderful writer, and then together we hatched Hank Zipzer, the story of my life having a learning challenge.
How important was it for you to help other children, like yourself, who have struggled with dyslexia?
I'll tell you what is amazing. About two years ago, I had an interview with a young girl, a senior in high school. It was her last project and she did it on tape because she's dyslexic. As we talked about it, it hit me that my story in 1962 was not a hair different than her story in 2014. And we shared stories and it astounded me that we are so all the same.
We honestly set out to make kids laugh. It just happened that while they were laughing, so many kids, dyslexic or not, said 'How do you know me so well?' You can put in any challenge in place of it -- height, bad skin, not being able to play sports, being socially awkward, you can put in anything -- and the fact that Hank is so inventive and so resourceful makes kids really happy.
Speaking of kids -- you have a few grandkids yourself now. How has that changed you?
I have four grandkids -- 6, 4, 3, and 9 months. Honestly, it brings great joy into your life, becoming a grandparent. I would have to say that your life is enhanced, not necessarily changed, by grandchildren.
The other day, I drove my 4-year-old grandson, Ace, to preschool, listening to Bruce Springsteen because that's his favorite! So, I have seen "the Boss" live, and now my grandson prefers him and also loves the Beatles and Billy Joel.
You're 70 now and your career started decades ago, yet you're still well-known to younger people, not just the baby boomers. How do you explain how well you can connect with people of all ages?
I've never thought about it. My children keep me current and vibrant. When I ride with my youngest son, he plays new music for me and then I download it. I love First Aid Kit, Sia, Bruno Mars is very cool. When I met him, I said, 'Hey, I will take a grenade for you!'
We've heard a lot of actresses, even actors, speak out about ageism in Hollywood. How have you felt growing older in the industry?
It is a problem in America. Ageism. I don't know what it is, but youth is worshipped as opposed to just lived. The boomer babies are a wonderful participatory group of human beings and yet it is the 18-to-35-year-old that is coveted by television as if the boomers don't spend money or watch commercials. Only in America, do we fear age. It's revered almost everywhere else, from the igloo to Milan.
I am very lucky. Men my age sit at home waiting for the phone to ring ... I have been unbelievably fortunate. I just had the greatest time on "New Girl," I just worked with Johnny Depp in Funny or Die. Johnny Depp is a generous, warm being. I have no idea what it was going to be like working with him. I had never really met him ... or maybe I did 40 years ago when he was a kid starting out and now he's a gigantic movie star all over the world. It was a joy working with him.
I don't feel it ... well, I feel it in my knee! [laughs] When I stand up, if I've been sitting for a long time on a plane, I have to have a nice chat with my knee and plead with it to just get it started down the aisle. But aside from that, I am active. I travel, 87 percent of my time. We're starting "Children's Hospital" again, we're writing our 33rd novel, I speak across the country and Canada, I just finished the last season of "Royal Pains," I traveled through Asia for 35 days shooting a show for NBC that will be on sometime this summer called Better Late Than Never. We traveled through six cities, with five cameras and discovered a culture we didn't understand. I'm really having the most wonderful time!
You definitely have a full plate!
I have a very full plate and I define 'appreciative.' I never thought of retiring. it never entered my mind to retire. It still does not. I live by tenacity and gratitude.
Last question! Last time we spoke with you we asked you about longevity. But now we have a different secret to ask you. You've been married 38 years now ... soon to be 40. In a place like Hollywood, how have you made your marriage last so long?
One is will. Two is seeing who your partner is, not seeing who you want them to be. Three is listening. I think if a partner feels heard, I think that creates like serotonin. A really good feeling and good will.
Every longtime relationship is work. A longtime relationship doesn't just flow like a river. There are twists and turns. You have to want to be in it. And I promise you, the center of your relationship is your ear. Not your brain, not your heart. It's your ear.
Beautiful advice. Is there anything else you'd like to add that I haven't asked about?
Just that, I hope that if any of the people reading this have grandchildren, this new book is a gift that will make them laugh. Outside of my children and grandchildren, and maybe my puppies, I am the proudest in my life of these books.
Related
Before You Go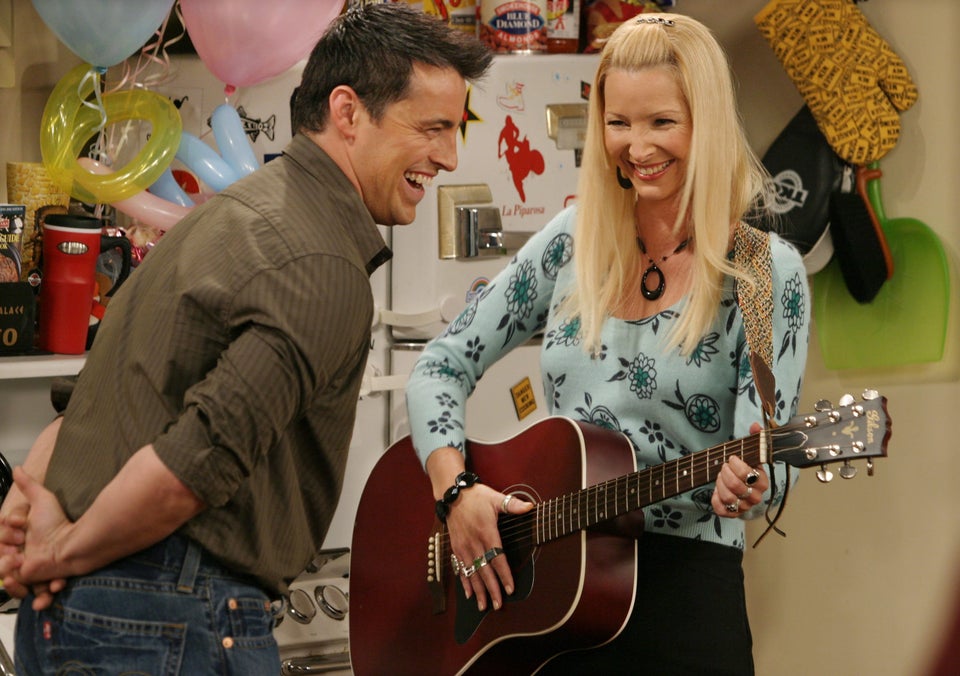 When TV Stars Reunite!
Popular in the Community