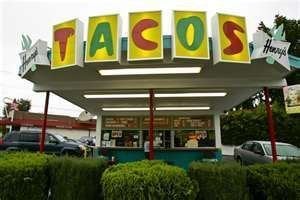 Henry's Tacos was set to serve its last taco Saturday at the corner of Moorpark Street and Tujunga Avenue in North Hollywood.
A last-minute deal to sell the stand fell apart this week, said Henry's Taco owner Janis Hood, who hopes to see the eatery open elsewhere.
"51 years," said Hood, blinking back tears on Saturday, standing outside the stand her grandfather helped build decades ago.
In the last few weeks, two local businessmen Matt Pyken and Steve Rose sought to buy the business.
But Hood said a number of contractual issues bothered her, including the sale price, causing her to pull out of the deal.
Instead, she plans to transfer ownership of her family's business to Omar Vega, a 21-year employee of Henry's Tacos.
"I just thought, 'Why not pay it forward?"' Hood said of her decision. Vegas will look for a new site for the stand, she said.
Henry's Taco was built by Hood's grandfather Henry Comstock in the early 1960s. It's been operated most recently by Hood, who ran into a dispute last year with landlord Mehran Ebrahimpour, who owns the property.
Hood nominated Henry's Tacos for historic landmark designation, hoping to preserve the stand's architectural legacy. She believes Ebrahimpouro objected to the landmark nomination because it could affect the property's sale or future development.
Amid the back and forth, Councilman Paul Krekorian, who represents the area, didn't push for the historic designation. Eventually the landmark nomination lapsed. Without historic protection, the classic Googie-style hut could face the wrecking ball.
The closure comes despite a high-profile campaign to save the restaurant. Celebrities like Elijah Wood and George Lopez have stopped by the stand to lend support, as did Los Angeles mayoral candidates such as Jan Perry. Thousands of people signed an online petition launched to save the stand.
Without historical designation, it's unclear what will happen to the hut. Hood said she'd heard Starbucks and Coffee Bean were interested in the site.
As news of Henry's Tacos closure spread, a line of customers quickly gathered on Saturday. Sisters Carrie Jager, 59, and Kathy Snow, 62, both grew up in North Hollywood, and both returned for one last trip.
Jager drove from her home in Bakersfield; Snow from her place in Agoura Hills.
"It was just part of our life," said Jager, eating a burrito. As a 17-year-old in high school, she spent a year working at Henry's Tacos.
"We spent a lot of time here," nodded Snow.
One side of the stand was covered in brown paper, allowing customers to scribble farewells to Henry's Tacos.
Wrote one fan: "So long and thanks for all the tacos!"
dakota.smith@dailynews.com
twitter.com/dakotacdsmith ___
(c)2013 the Daily News (Los Angeles)
Distributed by MCT Information Services
Calling all HuffPost superfans!
Sign up for membership to become a founding member and help shape HuffPost's next chapter
BEFORE YOU GO