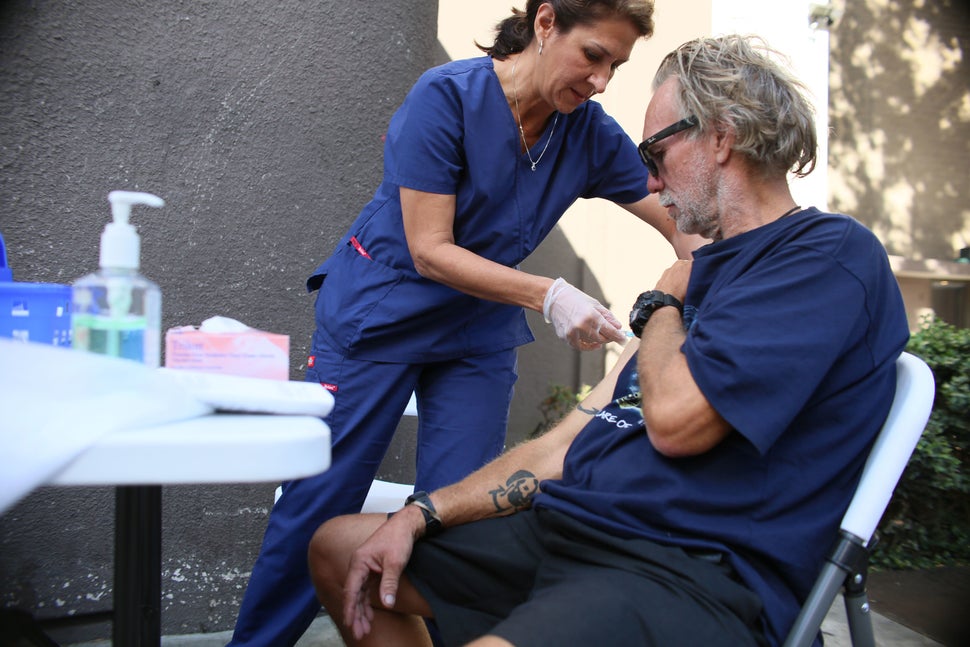 An outbreak of hepatitis A tearing through San Diego's population of homeless people and illicit drug users captured national media attention in September. But it was only one in a series of hepatitis A outbreaks public health officials have seen erupt across the country this year, sending the number of U.S. cases soaring 28 percent from this time last year.
Hepatitis A, a virus spread by fecal contamination that can lead to a potentially deadly liver infection, is considered preventable. Rates have dropped dramatically in developed countries, thanks to a vaccine approved for use in the U.S. in 1995.
But this year's unexpected surge has led to a "constrained supply" of the vaccine needed to stop it, according to the U.S. Centers for Disease Control and Prevention.
Experts have been unable to pinpoint the reasons for this year's explosion of cases from Michigan to Colorado, other than noting unsanitary conditions in some of the homeless and illicit drug-using populations that are primarily affected.
″You're seeing an increasing numbers of homeless people in encampments, and these types of arrangements have unsatisfactory sanitation and hygiene facilities available," said Dr. Jeff Duchin, the public health officer for Seattle, which has the nation's third-largest homeless population but has not seen a hepatitis A outbreak. "So it's kind of like a refugee camp in that sense in that it's perfect for the transmission for disease spread through fecal matter."
Homeless populations are particularly vulnerable to the disease, as they are unlikely to have received the hepatitis A vaccine. Most Americans over age 30 are not vaccinated against the disease.
Neither the CDC nor the Department of Health and Human Services responded to multiple requests for comment on this year's outbreaks.
'No Real Rationale' For Outbreaks
Adding to the complexity, this year's outbreaks don't have an identifiable source. Typically in the U.S., hepatitis A outbreaks originate from contaminated food. Once the feces-infected food is eliminated, the outbreak can be stopped.
San Diego's outbreak ― which has infected 536 people and killed 20 ― and other eruptions of the disease this year, have "no comparison" with typical hepatitis A outbreaks, Dr. Wilma Wooten, director of public health services for San Diego County's Health and Human Services Agency, said.
These eruptions of the disease aren't spread by food, but instead by unsanitary conditions among the homeless and drug-using populations affected. In San Diego, that translated to a lack of accessible bathrooms and showers. Public health officials have been handing out plastic poop bags and washing the streets with bleach in order to combat further spread, complementing a massive vaccination effort.
"People lose track that this is not like your food-borne illness, where most of the people that are impacted have insurance and can go to the pharmacy," Wooten said.
Public health officials are also seeing an uptick in outbreaks among gay, bisexual and other men having sex with men.
"There's no real rationale for where it happens in one place rather than another," Duchin said. "The rapidity at which [hepatitis A is] going through the population and potentially getting into the general community is a real threat."
The Danger Of Vaccine Shortages
San Diego has distributed more than 90,000 doses of vaccine among its homeless and drug-using populations.
Nationwide, however, the vaccine shortage may be jeopardizing prevention efforts as the CDC works to prioritize vaccine distribution where it's needed most.
A first dose of the vaccine is 90-percent to 95-percent effective, and a second dose practically guarantees immunity. But second-dose campaigns are being put off until the spring in San Diego. According to the CDC website, second-dose efforts can be delayed in times of vaccine shortages.
Duchin said he was alarmed when the CDC told him it was only allocating Washington state 40 doses of vaccine per month. That limited supply will likely force Seattle to stop preventive efforts aimed at inoculating high-risk homeless people, Duchin said.
Vaccines were on backorder until this week, and both companies said they hoped to begin resupplying stocks in November.
A Lack Of Critical Funding
The outbreaks also are soaking up funding for state and local health departments. San Diego County's health department has spent $4 million combatting the outbreak so far, and anticipates spending an additional $1.5 million each month until it is under control for vaccination and information campaigns, according to Wooten.
The CDC gets "a pittance" of $34 million for prevention of all viral hepatitis, Laura Hanen, interim executive director and chief of public affairs of the National Association of County and City Health Officials, said.
That works out to about $90,000 per state to fight hepatitis A, B, and C. And even the cheapest treatment for hepatitis C costs in the tens of thousands of dollars.
"Overarchingly viral hepatitis prevention has been woefully underfunded given the size of the folks affected by hepatitis A, B and C," Hanen said. "The challenge since the economic downturn occurred is we are living under exceedingly tight [public health] budgets."
Hanen blames an erosion of public health and infrastructure resources for allowing outbreaks to pick up steam. Since 2008, public health departments nationwide have lost 43,000 employees, she said.
"If you don't prevent, you pay a lot more in outbreak investigation and treatment," Hanen said. "We tend to only pay attention when there is a crisis, and I think that's the challenge with hepatitis and vaccine-preventable diseases. So, when you disinvest in prevention, you have to expect there will be an increase in outbreaks. And therefore, we have to spend even more money than if we had maintained a robust investment over time."
Duchin warned the lack of investment in prevention could lead to more disease outbreaks.
"We are stretched thin on the federal and local level to combat such an outbreak. We don't have resources for these types of [prevention] activities, and it's very challenging," Duchin said.
"It's really a matter of when someone in our community comes into contact with someone who is infected and sets off a chain reaction."
Related