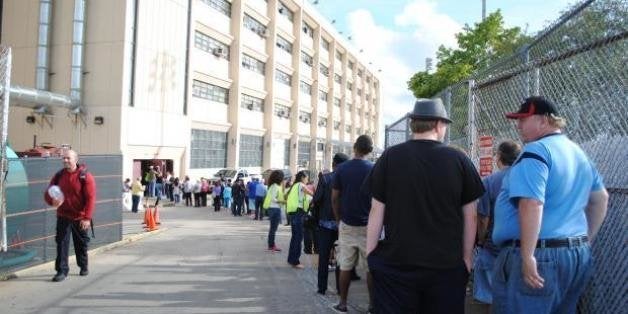 By Claire Cameron and Jess Wisloski
WILLIAMSBRIDGE — Within two hours of opening its doors, a city vaccine clinic hoping to target potential victims of a hepatitis A outbreak at a Bronx restaurant — that sickened five with the disease — had administered roughly 400 shots and had a line of hundreds waiting to be seen, organizers said.
Members of the Medical Reserve Corps, a national network of health workers, had been brought in to help cope with the demand following Friday's news that four patrons of New Hawaii Sea Restaurant and one worker had fallen ill with the liver disease, according to the Department of Health.
The restaurant, which operates a sit-down eatery with Chinese and Japanese fare as well as offering take-out and catering services at 1475 Williamsbridge Road, has been shut down and would not reopen until all the workers have been vaccinated, Dr. Thomas Farley, the city's Health commissioner announced Friday.
The city urged anyone who had eaten food from New Hawaii Sea from September 7 and 19 to get vaccinated against hep A as soon as possible, since it is the only way to safeguard against an infection.
"We are trying to get as many people as possible," said Sam Miller, a DOH spokesman, who noted they were working in a tight time frame."
"After two weeks' time the vaccine isn't effective, so if you were there before, the vaccine isn't going to help you," he said. "Anyone experiencing symptoms that ate there before [then] should go to their doctor immediately."
Hepatitis A, which can cause jaundice, fatigue, abdominal pains, nausea and diarrhea within a month of exposure to the virus, is transmitted by pathogens from fecal matter that are then consumed. If a victim is vaccinated within 14 days of consuming the particles, an infection may be prevented, the Department said. 
Dawn Marie D'Emidio, who waited in line for two hours Saturday, said she ate at the restaurant immediately before the city shut it down.
"I asked the bartender why they were closing, and he told me the Department of Health had said there was an outbreak, and I was so shocked," said D'Emidio. "I said, 'You let me eat in here and you knew?'"
D'Emidio suffered sickness and vomiting in the hours following her meal, she said, but although she worried it was hep A, she thought it was most likely food poisoning. Either way, she'd changed her mind about returning to the longtime neighborhood fixture.
"I  don't think I'll be back. I've been going since I was a little girl," she said. "Food poisoning is one thing, but something that can kill you, I don't think so."
Another customer in line, Tina Sevignano, said she'd also been going to New Hawaii since she was little.
"I have had great times there, I've even thrown parties there. But I don't think we will be back," she said. "If you can't trust your employees to wash their hands, that's really a sad state."
But another local patron, John Garcia, said he would likely return...only after the place had been cleaned up. "We've never had an issue there before, though it'll take some time to get back to normal," he said.
"But you can't get that kind of food easy around here, and it is really good stuff."
Clinic Location: Herbert Lehman High School, 3000 East Tremont Avenue, Bronx, NY 10461 Dates: Saturday, Sept. 21, Sunday Sept. 22, and Monday Sept. 23.place.
Times:  2 to 8 p.m. on weekend, 6 p.m. to 10 p.m. Monday
Calling all HuffPost superfans!
Sign up for membership to become a founding member and help shape HuffPost's next chapter