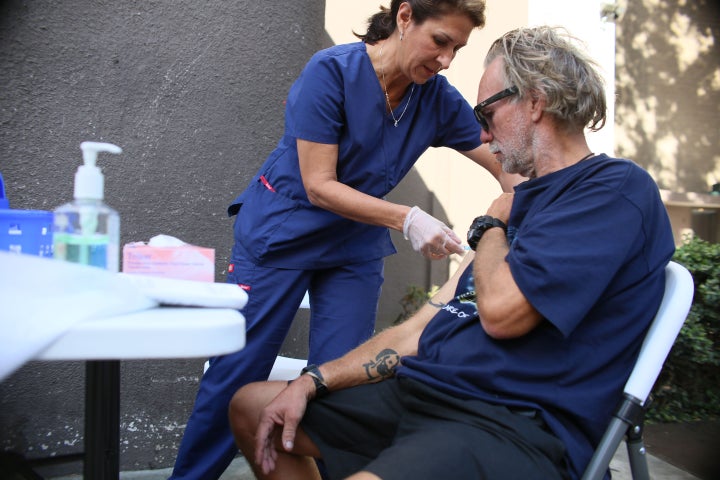 San Diego's huge outbreak of hepatitis A ― a preventable but deadly virus that is spread through contact with human feces ― captured national media attention in September. The city began washing streets it believed were contributing to the problem with bleach and initiated a local vaccination campaign among the communities most affected. Soon, it was out of the national conversation.
But similar outbreaks have continued throughout the country, still largely among the homeless and illicit drug-using populations who are most vulnerable to the disease, with few national headlines in sight. Meanwhile, the Morbidity and Mortality Weekly Report out of the Centers for Disease Control and Prevention ― which the agency itself calls the "voice of the CDC" ― has not provided accurate year-end numbers for hepatitis A, making the disease appear less widespread than it truly is.
A HuffPost analysis of CDC and California Department of Health data has found that from 2016 to 2017, hepatitis A cases shot up 48.7 percent nationwide ― an unprecedented spread of the sometimes deadly virus. That contrasts with what the CDC has reported in the MMWR: a mere 5.4 percent increase.
The CDC declined to publicly comment on the 48.7 percent figure.
But public health experts across the country point to a combination of forces that are driving the nationwide outbreak ― the vulnerable homeless population, whose numbers rose last year for the first time since 2010; rising illegal drug users, who often don't seek or are unable to access medical care; and a lack of alternative sanitary services for those who don't have housing.
"We're continuing to have an affordable housing crunch, which means you have more homeless people. And oftentimes communities close the public bathrooms because of the opioid epidemic and people overdosing," said Laura Hanen, interim executive director and chief of public affairs of the National Association of County and City Health Officials. "Some of that is likely contributing to what we're seeing."
What results are outbreaks like San Diego's, which numbered over 580 cases from late 2016 through this March, including 20 deaths. Responding to the disaster has cost San Diego County's health department more than $9.5 million. Michigan has seen its own outbreak spread across the state, culminating in 777 illnesses and 25 deaths since it began in a southeastern pocket of the state in August 2016. Louisville, Kentucky, which is the latest city to face an outbreak, has 128 sick and one dead since declaring that outbreak in November 2017, health officials told HuffPost.
"My guess is that we're closer to the beginning than the end" of fighting the outbreak in Kentucky, said Dave Langdon, a public information officer for the Louisville Metro Department of Health and Wellness.
While cities across the country are battling these outbreaks, public health experts have been frustrated by their inability to grab headlines.
"It's difficult to keep public health, and especially public health for poor disenfranchised people, on the frontlines" of public consciousness, said Dr. Jeff Duchin, the public health officer for Seattle. The city has the nation's third-largest homeless population but has not yet seen a hepatitis A outbreak.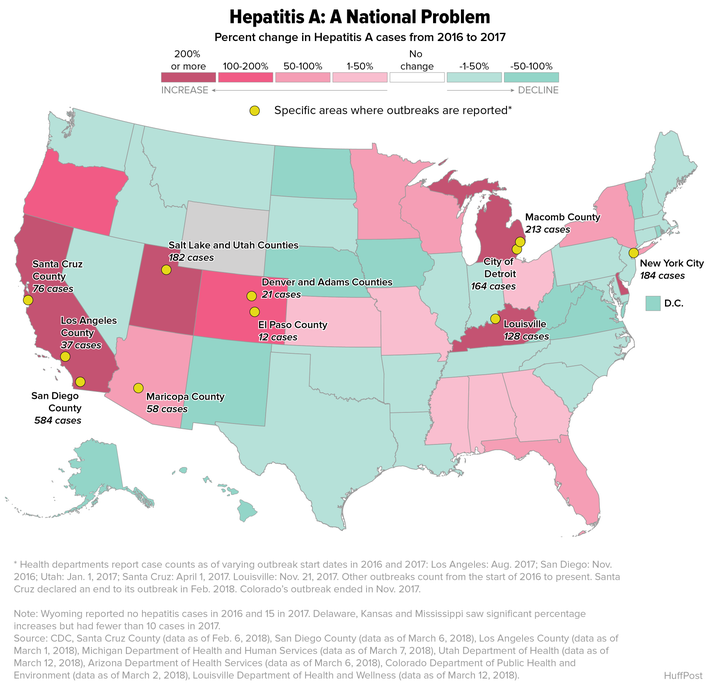 Historically, hepatitis A cases in the U.S. have been caused primarily through contaminated imported food, such as the 2016 outbreak related to frozen strawberries or the 2013 outbreak related to pomegranate seeds.
But the spread of the disease by contaminated fecal matter ― which is not uncommon in developing countries with large populations who don't have access to sanitation services ― hasn't been seen in the U.S. in the modern era until this past year.
And most Americans don't realize they're susceptible to hepatitis A, which can take someone out of work for six to seven weeks battling the virus. The vaccine that prevents the disease is now required by some states for school-age children, but was only approved for use in 1995 ― meaning that adults over the age of 30 have typically missed the vaccination window.
Most people with hepatitis A don't know they have it at first because visible symptoms ― like fatigue, nausea and eyes yellow from jaundice ― don't appear for weeks, even as the disease has been attacking the liver. In the meantime, a person could have been unknowingly spreading the virus.
All it takes to catch hepatitis A is touching a bathroom door handle after someone who has been infected, not washing your hands, and then eating lunch.
And as Maria Price, director of Louisville's St. John Center for Homeless Men, noted, "Our concern with hepatitis A with someone who is healthy is one thing, but the men we serve often have lots of physical vulnerability already, so that's the last thing they need."
Price stressed that just washing one's hands isn't exactly easy for those sleeping on the streets or living in "congregant settings that are so risky."
In Michigan, while the case count has slowed, the spread across counties has not. What was once considered a problem for southeastern Michigan is starting to envelop the whole state, with cases popping up in 33 counties and cities.
"I hesitate to even say cases are slowing ― it's still such an elevated number that it's worrisome that it's something that could flare up if it hits the wrong population," said Jay Fiedler, manager of the Surveillance and Infectious Disease Epidemiology Section at the Michigan Department of Health and Human Services.
Yet, even in Michigan, many haven't heard about the extent of the outbreak.
"It doesn't have the name or the draw like Ebola or West Nile or Zika or all these things that people … think of as a big threat," Fielder said. "I'd venture to guess we've been more impacted and probably lesser known given the timing. California spiked earlier and garnered some national attention, and we've kind of flown under the radar a little bit despite trying to get the word out there as much as we can."
"It's difficult to keep public health, and especially public health for poor disenfranchised people, on the frontlines."
The missing data in the Morbidity and Mortality Weekly Report's numbers likely isn't helping. For months, the CDC has listed California as having no reported cases cumulatively in 2017 despite the state's accounting for the majority of the spike last year. That meant that according to the final MMWR for 2017, cases of hepatitis A had only increased by 5.4 percent nationwide.
A mishap in the transfer of figures by the California Department of Public Health into the CDC's new data collection system for the MMWR led to that mistake, according to Dr. James Watt, chief of the department's Division of Communicable Disease Control.
When HuffPost contacted the CDC about the error, officials there pointed to the fluid nature of the MMWR case counts, which are not considered the final counts for outbreaks (those often come six months to a year later).
The California Department of Public Health informed HuffPost that the state's number of hepatitis A cases for 2017 would have read 869, if the department had input the data properly, instead of zero as it did in the MMWR released Jan. 5, 2018. That would bring last year's total U.S. cases to 2,984. And that's a 48.7 percent increase from the 2,007 cases reported in 2016 ― a massive jump.
Moreover, the numbers aren't spiking solely because of California. Upticks in states like Colorado, Utah, Arizona, New York and Kentucky have contributed as well.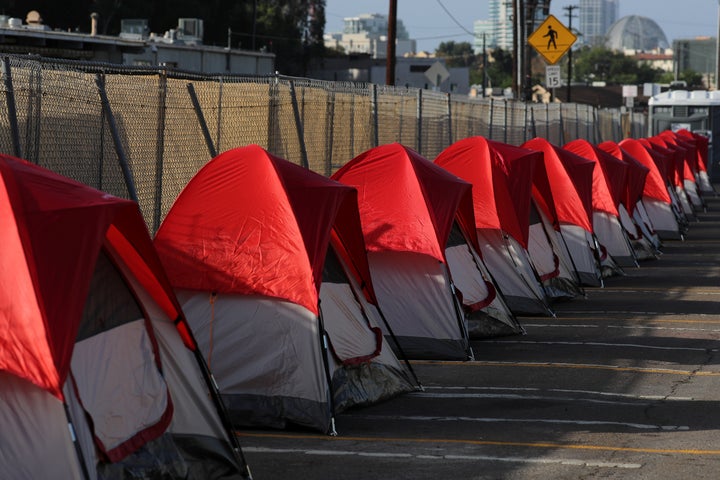 While the case zero has not been determined in San Diego and other areas, experts have linked some of the strains.
The strain found in Louisville is the same as the one in San Diego, according to Langdon, the Louisville public information officer. Utah's outbreak has also been linked to the California outbreak, while Michigan's has not, said Dr. Wilma Wooten, director of public health services for San Diego County's Health and Human Services Agency. Some epidemiologists, she said, have linked the outbreaks based on travelers among the infected populations.
The unexpected spike in hepatitis A meant that manufacturers were unable to provide a sufficient number of vaccines for the populations that needed them. Merck and GlaxoSmithKline, the two pharmaceutical companies that make the hepatitis A vaccine, have upped production in response. The vaccine is now being handed out readily by public health departments to people in high-risk areas suffering outbreaks. San Diego has distributed over 100,000 doses, Michigan over 90,000, and Louisville some 6,000.
Still, vaccines are not enough. Infectious outbreaks are going to keep happening among the homeless and drug-using populations as long as they don't have access to clean water and sanitation, according to Hanen of the National Association of County and City Health Officials.
She condemned what she calls the "pittance of money" ― about $90,000 per state a year ― provided by the CDC to address viral hepatitis.
Duchin, the Seattle public health officer, agreed. "It's a huge challenge for us ― we unfortunately don't have the funds we need to do the fundamental work. We have had shrinking resources for many years and our team is extremely overworked and overextended," he said.
And the monetary situation could get worse. Hanen noted a potential threat to the CDC's Section 317 Immunization Program, which has been instrumental in paying for vaccines in outbreak areas. According to Hanen, the president's budget this year called for a $50 million cut to the vital funding stream. Funds were already cut by $4 million last year.
Reductions in public health spending point to a larger problem nationally, Duchin said.
"It's always challenging with public health because no one cares about prevention," he said. "No one wants to hear about what is happening to stop an outbreak ― that's not sexy or interesting."
CORRECTION: A previous version of this story indicated the vaccine that protects against Hepatitis A is required for school-age children. In fact, not all states require the vaccine for children attending school.
Popular in the Community