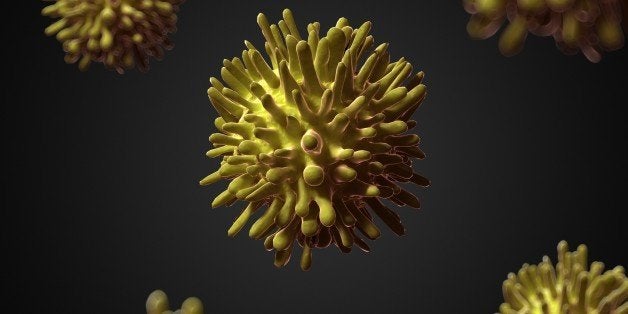 April 10 (Reuters) - A combination of two anti-viral drugs developed by Bristol-Myers Squibb Co cured 90 percent of previously untreated hepatitis C patients and 82 percent of those who failed to respond to prior therapy, according to results from a late stage study presented on Thursday.
The Phase III trial of more than 700 patients called Hallmark-Dual tested a combination of Bristol's daclatasvir and asunaprevir over 24 weeks of therapy in patients with genotype 1b of the virus that causes progressive liver disease.
The cure rate was also 82 percent among patients unable to tolerate treatment with the older standard drugs interferon and ribavirin and 84 percent in patients who had cirrhosis, which accounted for nearly a third of those in the trial.
Patients for whom the virus was undetectable in the blood 12 weeks after completing 24 weeks of treatment were deemed to have achieved sustained virologic response (SVR), which is considered cured.
"Not only was the daclatasvir and asunaprevir regimen highly effective among study participants, it was also very well tolerated, even among sicker patients with more advanced liver disease," Professor Michael Manns, the study's lead investigator from Hannover Medical School in Germany, said in a statement.
The study results were presented at the annual meeting of the European Association for the Study of the Liver (EASL) in London.
Genotype 1 is the most prevalent and considered the most difficult to treat form of the virus. Genotype 1b tends to be more common in Europe and 1a is more widely seen in the United States.
Several drugmakers, including Gilead Sciences Inc, AbbVie and Merck & Co are developing a new generation of all-oral hepatitis C treatments that do not include interferon or ribavirin, which cause miserable side effects that have led thousands of patients to put off treatment to wait for the highly touted new drugs.
In clinical trials, the new drugs have demonstrated cure rates in excess of 90 percent while cutting treatment duration to 12 weeks with few side effects, leading to Wall Street forecasts of multibillion-dollar annual sales in what is shaping up to be a fiercely competitive market.
Prior to the recent approval of the first of Gilead's new drugs, standard treatments cured about 75 percent of patients and required either 24 or 48 weeks of therapy.
Bristol this week applied for U.S. approval of the two drug combination and said it expects to file for approval of a three-drug combination early next year.
Based on earlier studies, Bristol's three-drug combination is likely to further boost cure rates with 12 weeks of treatment, which would be more competitive to results seen so far from rival drugmakers.
Patients in the Hallmark-Dual trial received 60 mg of daclatasvir once a day and 100 mg of asunaprevir twice daily. The drugs belong to new classes of medicines that work in different ways to prevent the virus from replicating.
The discontinuation rate due to adverse side effects was between 1 and 3 percent, the company said. Headache was the most common side effect, and serious side effects, such as elevations in liver enzymes, were seen in 5 percent to 7 percent of patients.
Liver enzyme elevations were reversible and resolved following treatment, the company said.
About 170 million people are believed to be infected with hepatitis C worldwide. If left untreated the disease can lead to cirrhosis, liver cancer or need for a liver transplant. (Reporting by Bill Berkrot; Editing by Cynthia Osterman)

Popular in the Community