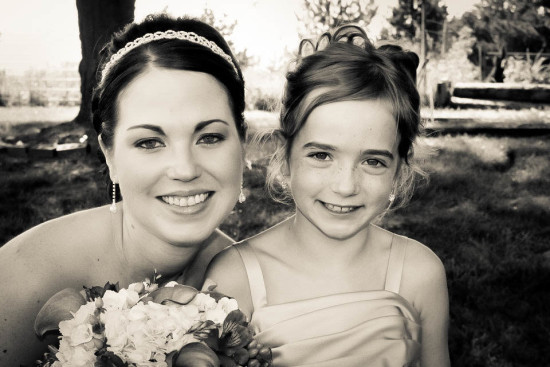 It was the first time I had slipped into my wedding dress since the day I bought it. Paired with the most beautiful birdcage veil, crimson, satin gloves pulled to my elbows, matching jewelry and shoes, my excitement and happiness was overwhelming. Molly, my ex-husband's fiancé was dropping my youngest daughter off to try on dresses. Neither of my children had seen me in my wedding gown until that balmy Saturday morning.
My oldest gushed over how beautiful I looked. "Mom, I can't wait until your wedding day!"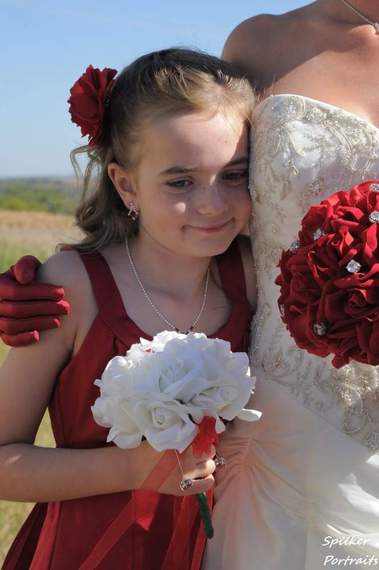 Molly had taken Cami to her softball game that morning for me, and decided to walk her into the bridal store rather than dropping her off. Only seven at the time, Cami was still pretty small. They turned the corner, Molly struggled with her son in his heavy car seat, and Cami scanned the sea of satin and tulle for my face. I stood on the pedestal, beaming at her. I could not wait for her to see me in my princess dress. I expected squeals and hugs. She took one look at me, burst into tears, and locked herself into one of the dressing room stalls. I stood rooted to the pedestal, still in shock. Molly and I made eye contact. We were beginning to talk on the phone a bit more regularly, occasionally comparing parenting notes and strategies concerning the girls, we were tip-toeing around a more open co-parenting relationship.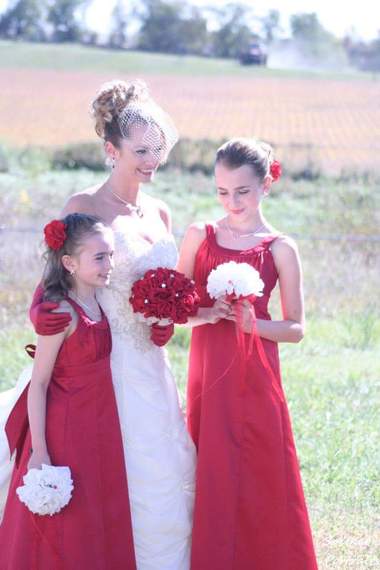 All eyes on Molly, I stepped down from my pedestal and knocked on the door. Quiet sobs and whispers answered me from the other side. The silver and navy shoes visible from the bottom of the dressing room door slid closer to the wall. I pleaded with her to open the door.
"No. I don't want to talk." My heart sank. Give her some room. She'll come around, I told myself.
My mom pounded on the door, and Cami sobbed. It was suggested to me to force my daughter to come out, which would have turned the entire day into a horrible memory for both of us. I realized she had never seen me in my wedding dress until she walked in that morning. I knew she liked my husband-to-be, but I think seeing me in my dress shattered the fantasy of her father and I reuniting she had tucked in the back of her mind.
The bridal attendant inquired how she could help. I tried to think of ways to get my daughter to talk. We only had the appointment for a short amount of time. Cami asked for Molly. But Mommy is here, I wanted to say. I took a deep breath, and swallowed the words. This is okay, I told myself. She needs someone to talk to -- another mother that is not her mother. There is room for both of us.

I explained everything to Molly, reassuring her I was comfortable with her talking to Cami. She sat her young son's car-seat down, glanced at me and my entourage again, and knocked on the locked dressing-room door. She mouthed the word "sorry" before slipping behind the door.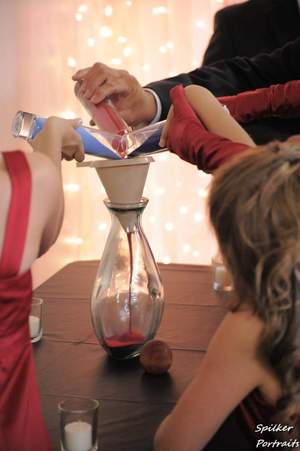 I decided to change back into my regular clothes. Molly emerged from the stall, waving me in. She apologized again, and I told her I was just glad Cami had someone to talk to. Molly left the bridal store and Cami opened the door for me. She confided what happened when she saw me in my dress, her feelings about both of her parents marrying other people, and I was able to convince her to try on her dress. Without Molly, Cami might not have opened up. Molly later shared she worried at first about stepping on my toes. She knew trying on my dress with the girls was an important day for us, (which is one reason she and I became friends -- she has the biggest heart). We also both knew when Cami requested to talk to Molly personally for the first time, it was a huge step toward acceptance.
During our wedding ceremony, my husband, Bob and I had a sand ceremony to represent the blending of our four lives into one committed life together. Every year on our anniversary, all four of us take turns layering sand in the bottle. The different colors of swirled sand signifies another year committed our family. It is important to us to show each other we are in this for the long-haul, all of us together. Learning to share my children was difficult at first, but sometimes parenting requires more than one approach, more than one opinion, and more than one mom or dad.