It was eight years ago when I first met this remarkable couple who had married after graduating Harvard together. Alex Forrester and Alfa Demmellash, two of the top social entrepreneurs of their generation, started their own non-profit called Rising Tide Capital in order to help low-income people and struggling entrepreneurs start the small businesses that would transform their lives and communities. Alex and Alfa's brainchild is now a spectacular success and is one of the top entrepreneurship education programs in the world, with a $2M dollar budget and nearly 1,000 graduates to date.
Since that first meeting, I've heard bits and pieces of their story, but I decided to sit down with them to get the full story in the hopes that it might inspire some of you to pursue a dream regardless of the obstacles you may face.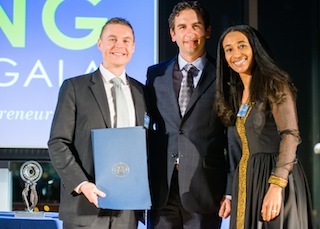 Alfa spent the first twelve years of her life in Addis Ababa, Ethiopia--ten of those years without her own mother, who had escaped the dictatorship to work as a waitress and seamstress until she could bring Alfa to the US. In Addis Ababa, she lived with several of her cousins, also temporarily orphaned,at her grandparents' house, being cared for by her young aunt. While her early childhood was unconventional, the terror did not begin until she was eight years old when her biological father kidnapped her, keeping Alfa hostage for an entire year until he released her in a remote village near Asebe Teferi. (I was held in the outskirts of the capital city and released in A.T.) Alfa's parents married when her mother was just 18 years old because of her pregnancy; and they divorced three months after her birth. Her father was an abusive man, and tortured her daily causing Alfa to lose hope that she would ever be free again.
Then, after about a year in captivity, he released Alfa in the middle of the desert. Alone in the boiling hot afternoon sun, she could see nothing for miles in the distance, except for large trucks on the horizon. Knowing the roads would lead to a city, Alfa walked until she was able to hitch hike on an 18-wheeler back to Addis Ababa. If by her own instinct or just pure grace, she found her way back to her grandparents' house at just eight nine years old.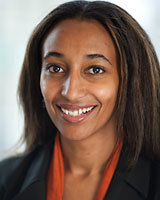 By this time. Alfa's mother had saved up enough money to get her daughter to the US but Alfa's abusive father refused to sign the papers allowing her to leave the country. After three years of pleading with this man, Alfa had to find the strength to walk into her father's office, facing the man who had held her hostage for a year, and force him to save face and sign off on her departure.
Without delay, her aunt walked her to the airport but when Alfa got to the gate, the airline personnel would not let her board alone since she was underage. Knowing she had to leave the country before her chance expired, she grabbed the nearest adults and begged them to act as her accompanying traveler. It was a courageous adventure to the US: a 16-hour flight through Frankfurt, where she had to negotiate an overnight stay on her own--all without the benefit of speaking English.
But, on July 26, 1992, Alfa made it to Boston's Logan Airport and back to the mother she had not seen since she was two years old. With tears in her eyes and with deep emotion, Alfa recalls her mother showing up with gifts prepared for a two-year old--little cartoon items, a Beauty and the Beast towel set. In her mother's mind, she was still a little girl and it took her a long time to realize that she was a teenager.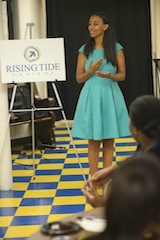 After seven years in the US, Alfa confronted her father in Ethiopia as a rite of passage before she began college. During the conversation, enraged at being confronted about his abusive behaviors, he offered for Alfa to change her name. She told him her plan to change her last name to that of her stepfather. He said, "Even if you make it big someday and speak at the UN, I don't care if it's my last name following you. Go ahead and change your last name." Alfa was surprised by his comments since she had not paid much attention to her last name beforehand. She felt her college graduation was the perfect opportunity to honor her grandfather and step father as her chief educators, by surprising them with a name change taking her grandfather's name as her middle name and her stepfather's last name. Her grandfather had come all the way from Ethiopia to see his granddaughter graduate from Harvard and was shocked to hear 'Alfa Melesse Demmellesh' called as she walked across the stage to receive her degree.
While at Harvard, Alfa studied Government and was particularly interested to learn about the underlying political, social, and economic dynamics that led to the unrest that had separated her from her mother for so many years. These studies led her to travel to Rwanda in 2002 to study the genocide and its aftermath.
During this time, she came to the realization that economic opportunity was a fundamental component of stable societies and preventing violence. The turning point that led her to start Rising Tide Capital in the months after graduation came when she started dating her now husband Alex Forrester a classmate at Harvard. Together, they spent countless hours discussing politics and social justice. Their conversations led them to research the emerging fields of social entrepreneurship and microfinance.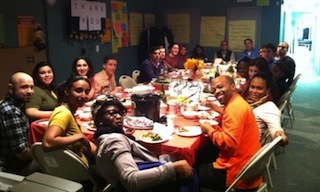 Rising Tide Capital was born when they realized that the story of Alfa's mom was a story about the power of entrepreneurship to create economic opportunity that transformed the life of Alfa's family. If they could find a way to invest in the success of people like Alfa's mom, they could have an impact that could affect multiple generations of families, while creating jobs and economic opportunity for others in low-income communities.
Shortly after they launched Rising Tide Capital, they walked into my office to get advice on how to start and grow their organization. I was so pleased to have become friends with them and watch with pride as Alfa--nearly 10 years after her father told her he didn't care if she changed her name, even if she made it big one day and spoke at the UN--did just that, addressing the United Nations Global Summit for Women on the role of microfinance in women's economic empowerment.
In a small office with in Jersey City, Alfa and Alex radiate confidence and energy. I sat stunned at Alfa's remarkable journey to get to this place, and the beautiful love that exists between them. As she reflects on her life and the challenges of emigrating to this country, Alfa encourages students like herself, who had to learn a second language, to do their homework and don't relax! And, if you want to make friends, have your own sense of style, be who you are, and stand firmly on that.
Calling all HuffPost superfans!
Sign up for membership to become a founding member and help shape HuffPost's next chapter