When I walked in the Robert Berman gallery the other Saturday, I was drawn immediately to the main (back) room by these magnificently tall black sculptures. Most seemed to writhe upward from the floor in a attempt reach the sky, as if the force of wind and gravity was shaping them into totems as I watched. They move. They reminded me of the wave-worn caves that populate our coast. Topanga, Malibu, Zuma, Rincon, Jalama....Chumash country.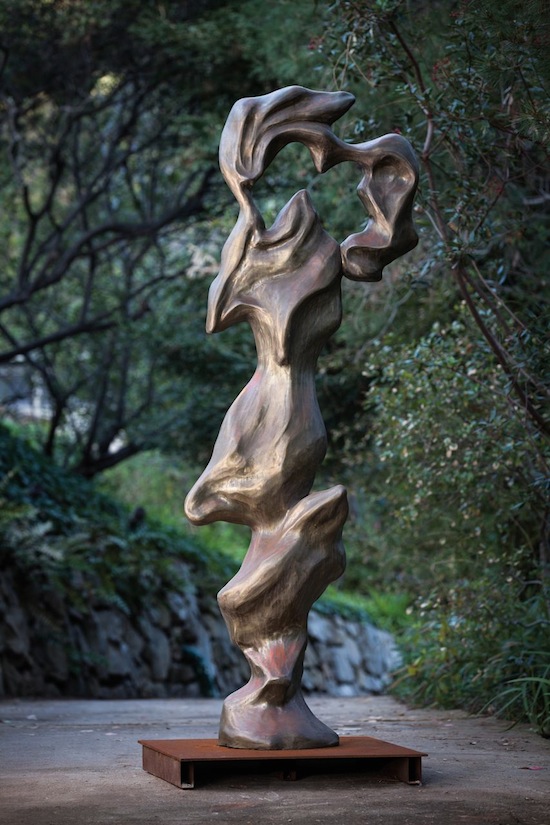 Genesis 3, 2011
Bronze
Photograph by Philipp Scholz Rittermann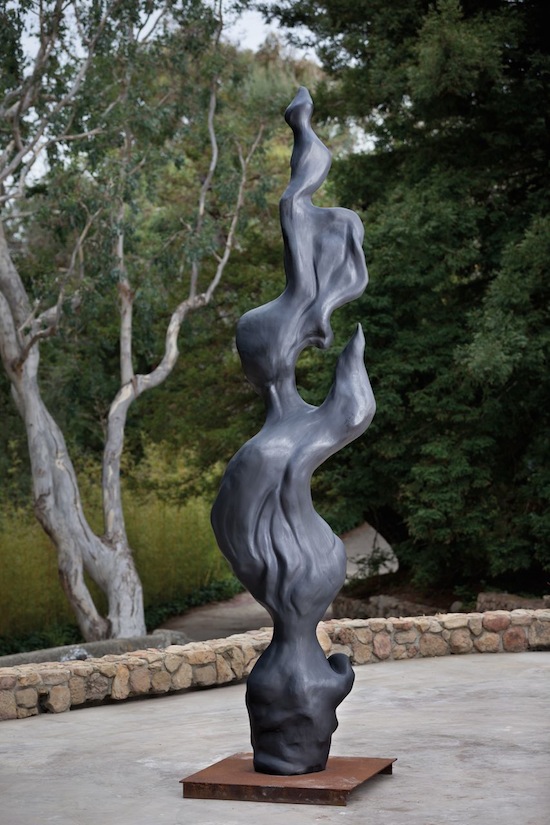 Photograph by Philipp Scholz Rittermann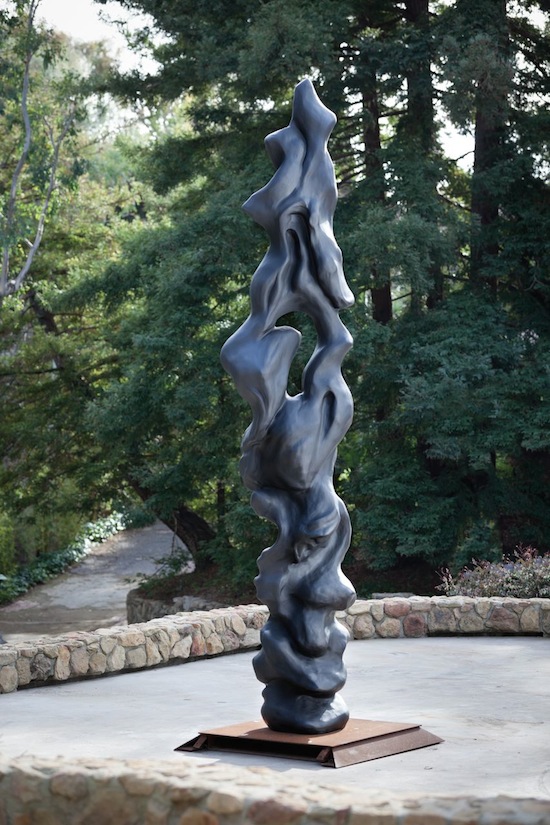 Photograph by Philipp Scholz Rittermann
Sure enough, the videos projecting on the walls of the back room affirmed the vibes. On the left was a simple video of one of the sculptures looking at me -- and out over the waves crumbling on the beach. No cuts, just a real time to contemplate. It's a familiar feeling, just sitting there watching, listening, needing nothing else but a bit of breeze to confirm one's connection to that gorgeous blue. I watched the middle video for awhile as Mr. Alpert dripped coffee on a canvas or two and wiggled the brown juice into it's place on the surface -- the beauty in watching him do it was the fact of allowing things to play out as the materials, surfaces and motions dictate. Nothing preconceived. "When I paint or sculpt," he says, "I don't have anything in mind. I don't have a goal in mind other than form. I'm looking for that form that touches me and when I find it I stop."
The history of working this way precedes Jackson Pollack and Sam Francis, in the works of automatic drawings of Andre Masson and others, perhaps spurred on by Kandinsky. It continues with present day artists such as Suzan Woodruff, Andy Moses and Jennifer Wolf, and not least by the latest photographs from Fatemeh Burnes. The great thing about the tradition is that it doesn't require a proscribed series of elements to exist or be real. That's the cool thing about Herb Alpert's work -- it works on so many levels precisely because those levels are allowed to breathe, to become, to be borne of their own volition, through the artist's humility, if you will. As Herb would put it, it comes from "the feel." He says, "For art to appear, the artist must disappear."
I went back into the main room, and sat on the hard metal bench, looking up and around. Things were growing in front of me. I wanted to touch them, rub them, feel their curves. A couple of shorter forms drew me closer, looking simultaneously like the precious barrel of a wave breaking over me or a someone putting their thumb and forefinger into a circle -- like, "...it's perfect, right where it is, man."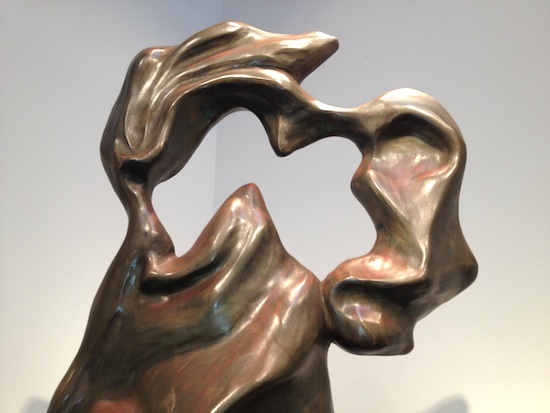 Photograph by the Author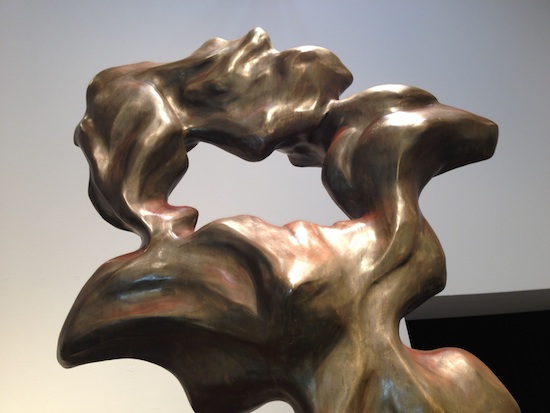 Photograph by the Author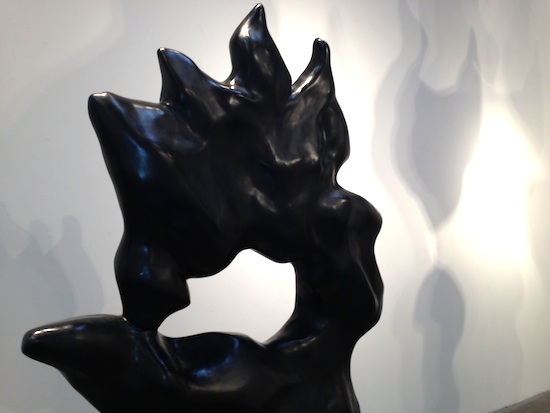 Photograph by the Author
I sat back down and just watched these things work their magic. After a time, I got up and walked back through the exhibit and noticed that the coffee paintings, if you want to call them that, looked like they were doing some of the same things -- almost like they were created in some sort of reverse order, turning back on themselves, sort of flipping over on themselves right to left, yes...just like a right point break wave. Gorgeous.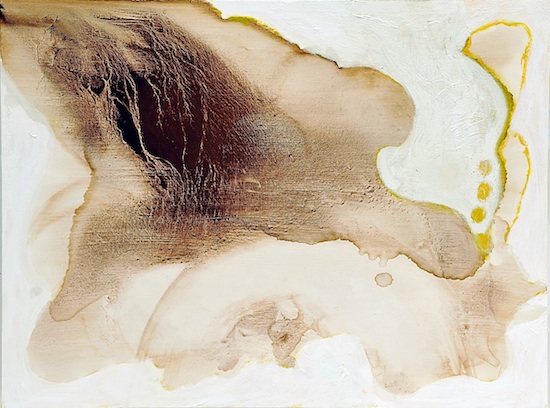 Photograph by Gerry Wersh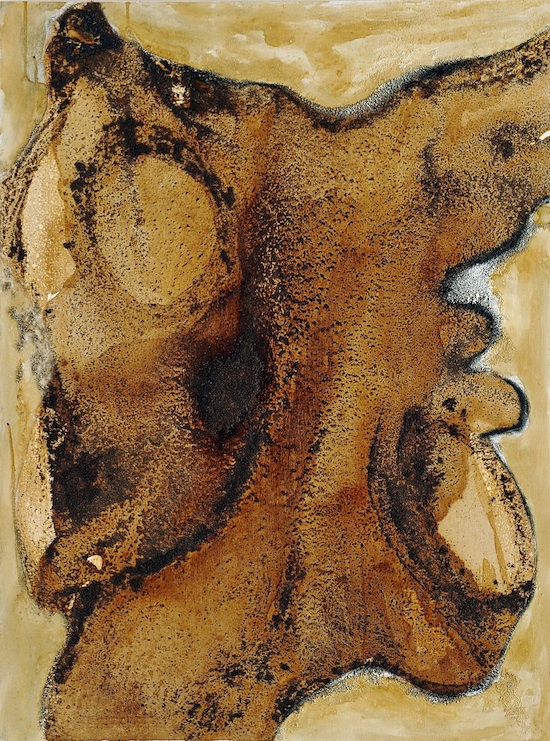 Photograph by Gerry Wersh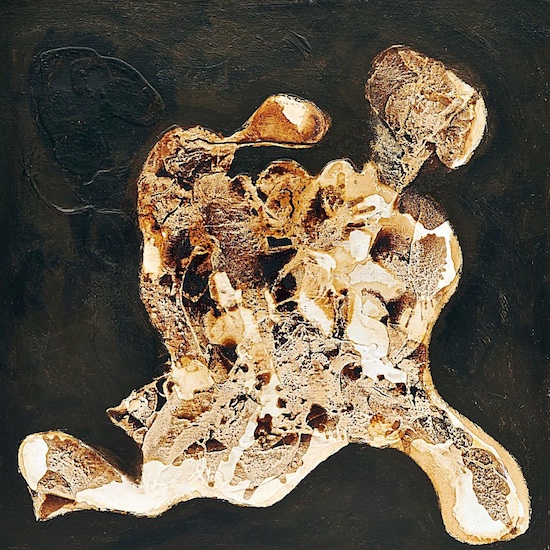 Photograph by Gerry Wersh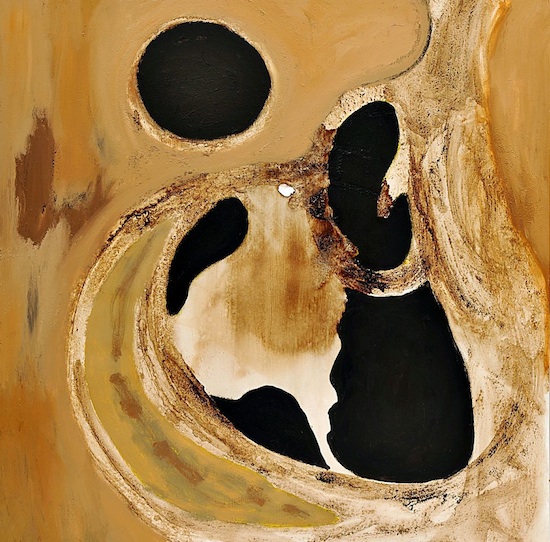 Photograph by Gerry Wersh
Herb Alpert's work is on a plane basic to the natural order of things, of being on or near the water, the sand, the worn warm earth. It's real.
The Herb Alpert show "In*ter*course" continues through June 29th at The Robert Berman Gallery at Bergamot Station Art Center, 2525 Michigan Ave. Suite B7, Santa Monica, CA 90404.
Related
Popular in the Community