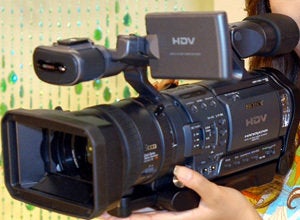 What makes our life fulfilling, particularly in today's economy, where the word "uncertainty" is a mantra that surrounds us? I never really considered this until I met Herb and Dorothy Vogel.
Through them I found that the answer was simple: passion and love. They succeeded with these two things, in the world of art collecting no less, where money and social status tend to rule.
In February 2002, I was working as a field producer for an educational program featuring the artists Christo and Jeanne-Claude. We were shooting their exhibition at the National Gallery of Art in Washington DC, and I noticed that all the works came from the Herb and Dorothy Vogel collection. I did some more research and became so intrigued by their story. A postal clerk and a librarian, who built a world-class art collection, a collection that was crammed in their one-bedroom apartment in NYC, who never sold a piece, and let go all the works to the museum? I couldn't believe it was true.
At the end of the shoot, I went to the museum bookstore and bought a catalog of their collection. I didn't know what to do with the story at that point. The catalog stayed in my bookshelf and their story stayed at the corner of my heart for the next two and half years. In 2004, I happened to meet them in person at an event. Their presence was so powerful, although they were both small in stature. I introduced myself and told them I was interested in telling their story. They invited me to their apartment one week later and that's when it all started.
HERB & DOROTHY tells the extraordinary story of Herbert Vogel, a postal clerk, and Dorothy Vogel, a librarian, who managed to build one of the most important contemporary art collections in history with very modest means. In the early 1960s, when very little attention was paid to Minimalist and Conceptual Art, Herb and Dorothy Vogel quietly began purchasing the works of unknown artists. Devoting all of Herb's salary to purchase art they liked, and living on Dorothy's paycheck alone, they continued collecting artworks guided by two rules: the piece had to be affordable, and it had to be small enough to fit in their one-bedroom Manhattan apartment. Within these limitations, they proved themselves curatorial visionaries; most of those they supported and befriended went on to become world-renowned artists including Sol LeWitt, Christo and Jeanne-Claude, Richard Tuttle, Chuck Close, Robert Mangold, Sylvia Plimack Mangold, Lynda Benglis, Pat Steir, Robert Barry, Lucio Pozzi, and Lawrence Weiner.
After thirty years of meticulous collecting and buying, the Vogels managed to accumulate over 2,000 pieces, filling every corner of their tiny one bedroom apartment. "Not even a toothpick could be squeezed into the apartment," recalls Dorothy. In 1992, the Vogels decided to move their entire collection to the National Gallery of Art in Washington, DC. The vast majority of their collection was given as a gift to the institution. Many of the works they acquired appreciated so significantly over the years that their collection today is worth millions of dollars. Still, the Vogels never sold a single piece. Today, Herb and Dorothy still live in the same apartment in New York with 19 turtles, lots of fish, and one cat. They've refilled it with piles of new art they've acquired.
While making the film we unearthed over 1000 archival photos, hours of footage, and selected images from over 4000 artworks by 200 artists in the collection. Six months into the production I was battling the fact that Herb and Dorothy don't always talk about their collection or explain the reasons why they have chosen certain pieces. When I asked them why certain pieces entered their collection, they would answer "because we liked them," or "because they are beautiful." Then Lucio Pozzi, the first artist I interviewed for the film, opened my eyes. His response to my dilemma was: "That is why the Vogels are very special. Why should you explain art? Herb and Dorothy only look, look, and look. That's their way of communicating with art and artists." Then it struck me that art doesn't need to be intellectualized, just shared with a willing audience. I look forward to sharing their incredible story with you.
HERB & DOROTHY (Arthouse Films) opens in New York on June 5 at The Beekman Theatre and Cinema Village. The film will be release nationwide in early July.
For further information please visit www.herbanddorothy.com
HERB & DOROTHY is directed by first time filmmaker Megumi Sasaki. The film received the Golden Starfish Award for the Best Documentary Film and Audience Award from the 2008 Hampton's International Film Festival. It has also received Audience Awards from the 2008 SILVERDOCS Film Festival and the 2009 Philadelphia Cinefest. Palm Springs International Film Festival named HERB & DOROTHY one of their "Best of Fest" films in 2009.

Calling all HuffPost superfans!
Sign up for membership to become a founding member and help shape HuffPost's next chapter