Herbal Essences has taken a step in making one of its products more accessible for people who are blind or have low vision.
On Thursday, in honor of World Sight Day, the company announced a redesign for the packaging of the brand's Bio:Renew line of shampoos and conditioners.
The new bottles, which will be available in stores in January 2019, feature two textures on the bottom back side that indicate whether they're shampoo or conditioner so people with visual disabilities can easily figure out what product they're using though touch rather than sight.
Shampoo bottles will have textured stripes. The word "shampoo" and "stripes" both start with the letter "S," which makes it an easy way for people with visual disabilities to remember that this texture means shampoo. Conditioner bottles will have textured circles, being that both words start with the letter "C."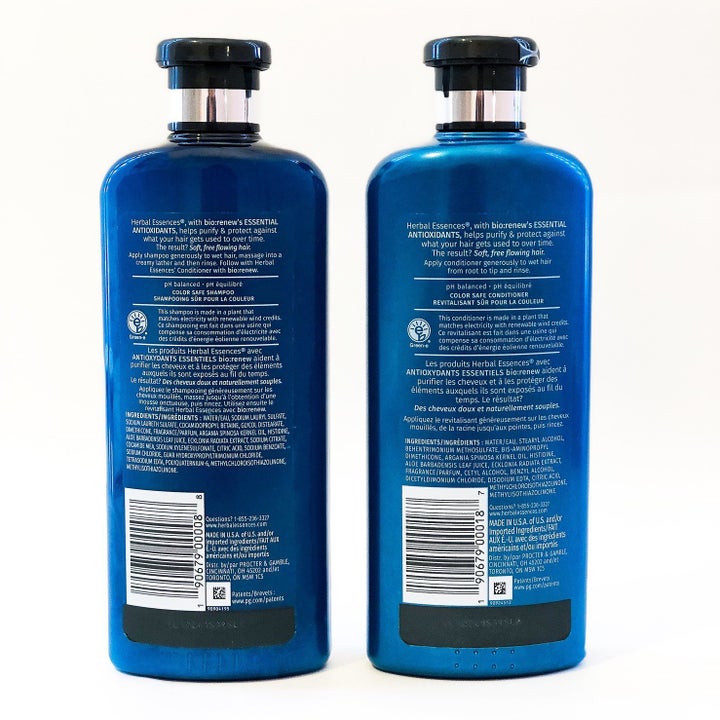 Using a mnemonic device is a smart way to appeal to consumers who have low vision because many don't know how to read Braille.
And the addition of this thoughtful detail makes sense.
Sam Latif, who lost her sight at age 16 and works as a special consultant for inclusive design at Herbal Essences' parent company, Proctor & Gamble, is the mind behind this innovation.
But even though the change is an improvement, a lot of information on the bottle — like ingredients, instructions and what type of conditioner or shampoo one is using and for what hair type — is still inaccessible to people with low or no vision. The change will also only be available on Bio:Renew shampoos and conditioners, and not on the brand's other product lines.
"We see this new packaging as a small but necessary and meaningful step in making our products more accessible and to meet more of our consumers' diverse needs," a rep from Herbal Essences told HuffPost via email.
The company also said they're currently testing this new packaging to gauge consumer response.
Another boast Herbal Essences makes in regards to this redesign is that the shapes will be helpful for people who don't speak English. However, the mnemonic device that helps users remember which shape is which doesn't necessarily translate to other spoken or written languages, including Braille.
Though this product is an improvement, it is by no means a complete solution to the problem, despite how others may spin it like in the video below: