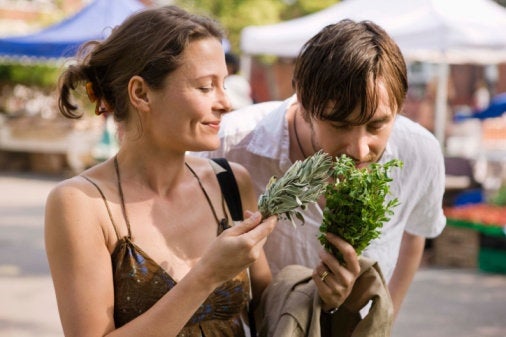 When faced with a perceived threat, your body undergoes biochemical changes that trigger feelings of anxiety. The symptoms of anxiety include, but are not limited to: restlessness, obsessive thoughts, trembling, difficulty breathing, sweating, faintness and muscle tension. The Gale Encyclopedia of Alternative Medicine reports that unwarranted anxiety may be the result of a past trauma, stress, a phobia, substance abuse, an overactive nervous system or an underlying disease. Some herbs may help in the treatment of anxiety, but consult your doctor before discontinuing current medications/therapies or beginning new ones.
Stress Reduction
Some herbs may offer direct relief from anxious feelings. The Mayo Clinic lists kava, valerian, passionflower and theanine as potentially helpful in the treatment of anxiety. Among these herbs, kava kava is the top choice, although preliminary tests indicate it may result in liver damage, especially for those with an existing liver condition. Exceeding the dosage recommended by your doctor may increase your risk of side effects.
Gale suggests St. John's wort and gotu kola for reducing stress and for easing anxious feelings.
Herbs are sold as supplements in the United States and the FDA does not verify the claims of those who sell the herbs. However, some herbs have medicinal effects and a certified herbalist or a doctor of naturopathy should evaluate your symptoms and offer dosage instructions.
Adaptogens
Adaptogens, herbs that allow you to adapt to your anxious feelings, may provide relief from the physical and emotional symptoms of anxiety. Gale suggests some potentially beneficial herbs, including chamomile, milk thistle, skullcap, oat straw, licorice root, borage and Siberian ginseng.
Chinese Herbal Medicine
Traditional Chinese Medicine (TCM) incorporates herbal remedies with other treatments to address the patient's entire body and energy flow. Chinese green tea and the cordyceps mushroom also figure prominently in treating anxiety. Consult your doctor before starting an herbal program that includes Chinese herbal preparations.
References
"Gale Encyclopedia of Alternative Medicine, Volume 2"; Jacqueline L. Longe; 2005
Mayo Clinic: Is there an effective herbal treatment for anxiety?
Chiro.org: Adaptogenic Herbs


As Co-Founder of The Daily Plate on LIVESTRONG.COM, Joe Perez has made it his mission to empower people to eat smarter and to lead healthier lifestyles. "Curious Joe" works with editors, experts and contributors to feature health, fitness and diet articles and tools that empower its community.