Sometimes, it feels as if there are only so many ways to brighten up a boring salad. An unusual ingredient here, a crazy concoction of dressing there -- it's different, but it's not really different enough to be exciting. Enter this super-fresh crowd-pleaser. Made with fresh herbs, crumbled feta, a touch of lemon and colorful cabbage, this lettuce-free salad is a zesty, flavorful alternative you'll be thrilled to serve and eat.
Fresh Cabbage, Mint and Feta Salad
Recipe created by Deborah Madison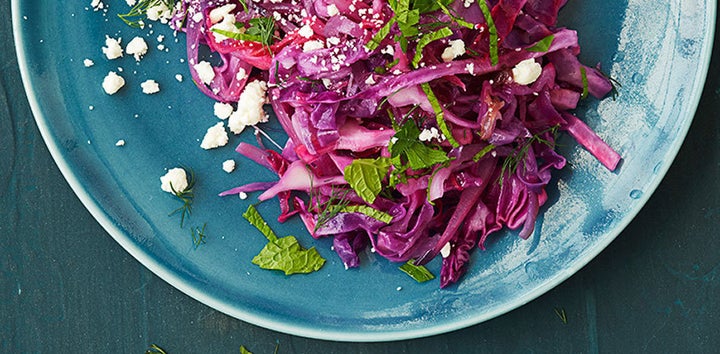 4 c. (1 pound) red cabbage, thinly sliced
1 medium red onion, thinly sliced
1/2 c. (1 1/2 oz.) crumbled Feta cheese
2 Tbsp. chopped fresh parsley
2 Tbsp. chopped fresh dill
2 Tbsp. chopped fresh mint
1 tsp. sea salt, plus more to taste
Ground black pepper, to taste
Heat olive oil in a large skillet over medium-high heat. Add the red onion and cook, stirring often, until softened (about 4 minutes). Add garlic and cook until fragrant, about 1 minute more.
Add the red cabbage and 1 tsp. salt to the skillet, and cook until the cabbage has wilted and just starting to soften (about 2 minutes). Remove the skillet from the heat.
Add freshly squeezed lemon juice to the cabbage-onion mixture, and season with salt and pepper to taste. Add the chopped parsley, dill and mint, and stir to combine. Transfer to a serving bowl.
Top with crumbled feta, and serve warm or at room temperature.
Calling all HuffPost superfans!
Sign up for membership to become a founding member and help shape HuffPost's next chapter