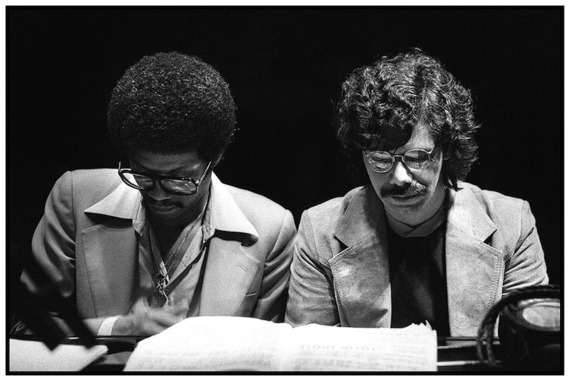 By Dan Ouellette, Senior Editor ZEALnyc, November 8, 2016
"It's special playing with Chick," said Los Angeles-based musical polyglot Herbie Hancock in New York last week to take in a performance of Hamilton. "After all these years, it's always great. It's fun and challenging. He's always thoroughly prepared but loose."
While the Blue Note is wall-to-wall Chick Corea to celebrate his 75th birthday, the one-night concert of piano duos with fellow superstar Hancock (November 19) promises to be the gem of the batch. (A word of caution: This show will undoubtedly sell out.)
"I've had a timeless friendship musically with Herbie since we first met in the '60s," Corea told me last year after the pair had triumphed for its duo show at Carnegie Hall. "Years may go by, but we're always in touch and aware of each other. Herbie was in New York several years before me, so he was always an inspiration. We both love this kind of adventure to freely improvise. In recent years, every time we had seen each other, we were both busy with personal projects. So when it came to this, it was a personal success."
"We're connected in a lot of real ways," says Hancock reflecting on their paths as young musicians. "Chick replaced me with Miles Davis [in his '60s band], and I replaced him in [Latin percussionist] Mongo Santamaria's band in 1963. Those were key points in our lives."
But they had never played together until 1977. Both had launched seminal electric jazz bands in the early '70s fusion era--respectively, the jazz-rock group Return to Forever and the funked-up jazz ensemble Headhunters. And they were recording for Columbia Jazz during its '70s heydays. As president of the label, Bruce Lundvall suggested that the two pianists should get together and see what happens.
Initially Hancock was reluctant as he writes in his autobiography, Possibilities. "We decided to see if there was magic," he wrote about the first meeting they had at Corea's house where he had two pianos set up and ready to go. They immediately clicked in an improvisational session that Hancock said was "very open." So both the pianists--eschewing electric keys for acoustic pianos--hit the road, traveling through seven countries and garnering five encores when they played at Montreux. Their brilliant collaboration was documented on the top-notch 1978 double-LP album, An Evening With Herbie Hancock & Chick Corea: In Concert. That was released on Columbia under Hancock's name, while another live album from that same tour, CoreaHancock, was issued in 1979 under Corea's name for Polydor.
Since those early dates, the two friends jetted into supersonic motion with their own stellar--and busy--careers, only rarely getting the opportunity to play duos. Last year, Chick and Herbie revisited the magic for a worldwide tour that included an April stopover at Carnegie Hall.
Just walking on the stage together, the two garnered a standing ovation. Neither of them had touched their pianos yet, but it was a jazz fan's dream to see them together after each had done so much to contribute to jazz history, surging ahead in their vibrant solo careers as Grammy Award-winning leaders. The Carnegie concert took place a few days shy of Hancock's 75th birthday and two months prior to Corea's 74th. But age, as Corea expressed, is not a factor when it comes to artists who are not only banking on the past but are also creatively--and often innovatively--diving into the future with an ebullient vision.
With two grand pianos on stage facing each other, they made their concert a regal recital. But first, they engaged the audience by excitedly reflecting on being in New York where their significant careers started.
Then Corea said, "I'll bet the audience doesn't know what we're going to play."
Hancock added: "But they know that we don't know what we're going to do." He paused and said, "You thought we were joking?"
After which they manned their 88s and like kids on a playground began to riff off each other in a torrent of improvised passages--no charts in sight at the moment (some found their way to the pianos later). They looked at each other; they listened to each other. They played dainty and mysterious, then pounced and scurried and rushed. Hancock would stop and Corea would fly and vice versa. But the best moments came when they countered, at times doing call-and-response runs, looking at each other, smiling and marveling. It was journey music with conversations along the way--sometimes getting lost and then finding their ways, with the only question being where--and how--the trip would conclude. Nonetheless they magically landed safely.
While they played a new piece written by Corea specifically for their duo performance, they veered into more familiar territory (read: crowd favorites) for the remainder of the show, beginning with a sumptuous rendering of Miles Davis's "All Blues" from his classic 1959 album Kind of Blue. Again the two played off each other, one plunking out the bass lines while the other showered notes. Each dove into mad dashes across the keyboard, embellishing the piece with startling harmonies and tumbling fleet-fingered rolls.
After huddling to discuss what to play next, the pair launched into a remarkable doubleheader of Hancock's early '60s tunes recorded on Blue Note Records, "Cantaloupe Island" and "Maiden Voyage." Gentle lyricism buoyed into charged dynamics with pockets of chilling beauty and ripples of speed--again in a spirit of conversation rather than competition, evidenced at the conclusion of the 80-minute show with hugs and handshakes.
After another standing ovation, Hancock and Corea returned for the requisite encore, with the latter inviting the audience to "sit in" with them in Carnegie Hall as a vocal choir for his standard piece "Spain." Each pianist played a series of reflective and rolling sections and used the "choir" (two sections of male voices on each side of the auditorium and three sections of female voices) as a pause point before dancing together again. It was almost like a little game as the participation parts would circle back. Again, the accent was on fun and play, as it had been the entire evening.
Expect this same thing at the Blue Note--in an intimate and predictably tight space. Corea gives a clue as to what to expect: "I like communication. That's my way of giving--my version of the Golden Rule. I want the audience to be able to receive new ideas, not just ideas that are familiar. For me, it's like saying, come on an adventure. Feel comfortable and relaxed and not feel threatened. In some of our improvisations, we don't even know where we're going. But that's the adventure."
As for the songlist, Hancock says: "Chick might want to do some of the same things we played on our last tour last summer, but maybe he'll bring something new. He plays all the time, which I don't do. He practices a lot because he does a lot of classical music. So his chops are always up, he writes all the time--and he writes great stuff."
Will Hancock contribute anything new? "Me? I don't have the time," he says with a laugh. "I wish I could be more than one person. One person: no, I can't do it because I'm working on my next record, and then I send in the clone." After another hearty laugh, he says, "But I can't. He's a buddy of mine. We're close. We don't even have to contact each other all the time. It's just there. That's the best."
Cover: Herbie Hancock and Chick Corea (late 1970s); courtesy of artists
____________________________
Dan Ouellette's "Editor's picks" for upcoming live performances in NYC:
For all the news on New York City arts and culture, visit ZEALnyc Front Page.
Calling all HuffPost superfans!
Sign up for membership to become a founding member and help shape HuffPost's next chapter