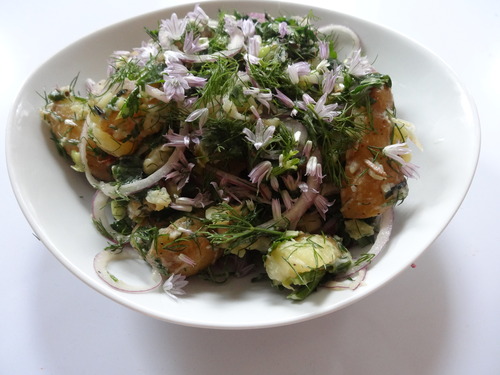 Between the frilly dill and the unexpected crunch of the cornichons, this potato salad is a right winner. Pretty, too. I tested it the other evening on some friends and the dill was popular. Dilly!
This salad does well to sit and percolate for a little while (make in the morning for an evening dinner) but is absolutely fine to be eaten immediately if that's the way your schedule has worked out.
With any leftovers you have, heat up a glob of olive oil to a very hot temperature and throw in the remainders of the salad. Sauteed potato salad is quite lovely.. get the outside of the potatoes a little crisp in the oil and serve.
2 lbs of little potatoes (fingerlings work well)
1/2 cup of chopped cornichons
1 red onion thinly sliced
1 cloves of grated garlic
1 bunch of chives chopped
handful of edible flowers if you have access (chive flowers, nasturiums, etc)
Feeds a crowd of 10 or so.
Boil the potatos until they are cooked through.
Meanwhile, make the sauce. Mix up the creme fraiche and the sour cream. (I like having a mix of the two .. a little tangy but not too tangy). Add the chopped herbs, the garlic, onion, lemon juice, salt and pepper and cornichons. Mix. Set aside.
Once potatoes are cooked, let them cool and then muddle them up a bit, breaking the skin so that the potato has more surface area from which to absorb the sauce. Fold in the sauce and then turn out into a bowl. If you have some edible fleurs around, sprinkle those on top.