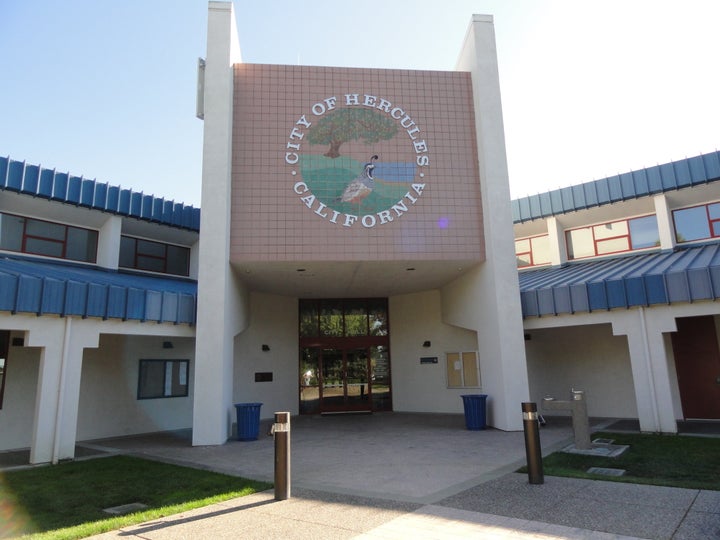 Reporters Bob Porterfield and Jackie Ginley are exploring the financial challenges facing Hercules for The Huffington Post and Hercules Patch.
HERCULES, Calif. -- Last June, as a heat wave swept through the San Francisco Bay Area, the City Council of this troubled East Bay town gathered around long conference tables and debated how to cut the fat from what was already looking to be a very lean budget. Despite the rising mercury, it was chilly inside Hercules City Hall, and as the hour approached midnight, some folks donned jackets.
The Hercules Municipal Utility, which kept the air conditioning cranking at City Hall that night, was the subject of a heated discussion. For the better part of the decade, Hercules had subsidized the utility, hoping that one day it would become a profit machine that would help fatten the city's general fund.
But over the course of a decade, HMU bled money.
Today, the utility has become a drain on the city's treasury, and its residential customers pay more than other Hercules residents served by competitors. And Hercules is hardly in a position to subsidize HMU -- it's struggling beneath a mounting deficit that's forced it to lay off a third of its employees, including police officers.
"HMU, admittedly, is a huge problem," Municipal Services Director John Stier told a weary Council at that June meeting. "We're a little kid playing in a big pen."
"We need to look at why Hercules is in the power business especially since the thing is running in the red and is projected to keep going that way for years," an HMU customer, Susan Keeffe, commented on Hercules Patch following the outage. "Why is my electric rate 17% higher than PG&E?"
HMU rates are higher because the utility's growth has been balanced essentially on the backs of residential ratepayers and taxpayers. Over the past decade, Hercules has spent more than $16 million building a utility that today consists of little more than nine miles of underground cable, switching boxes and a vacant piece of land that was supposed to house a substation.
It is an enterprise awash in IOUs. In the process of serving 840 customers, the utility has saddled Hercules with more than $13 million in bond debt. And since 2003, Hercules' redevelopment agency has loaned the utility almost an equal amount of money -- this in a town of only 24,000 residents that has a general fund budget of just $14 million.
HMU is just one of a clutch of publicly funded projects in Hercules that have failed to come to fruition even though the city has paid large sums to many companies involved in trying to launch each and every one. Patch is examining several of these endeavors as a way of understanding how it came to be that Hercules, a town that had every reason to embrace and benefit from prosperity, instead finds itself flirting with financial disaster.
"Hercules is obviously financially in tough straits and could well become a classic case of all the wheels on the wagon spinning off," says Dr. Robert L. Bland, chairman of the University of North Texas Department of Public Administration and an authority on local government budgeting and financial management.
In addition to recent layoffs, Hercules has slashed basic services and eliminated community events, such as the Farmer's Market and the annual tree-lighting ceremony. Its redevelopment agency is $18 million in the hole, and the credit-rating agency Standard & Poor's has downgraded two of Hercules' bond issues to junk or near-junk status.
"We have them on credit watch negative," says Sussan Corson, a rating analyst at S&P. Many California cities are in similar positions, and ultimately the ratings will move up or down "depending on what management does to remedy the problem," Corson notes. "We are waiting to determine what actions they're going to take."
On a basic level, the HMU debacle is plain to see -- after years of planning and spending, Hercules still doesn't have a self-supporting utility. But on a more complex, less visible and arguably more troubling level, HMU also represents how tangled municipal finances became in an era when borrowing money was easy and city leaders apparently found it easy to flout basic rules governing public budgeting.
In California, all local budgets pivot around a "general fund" budget that is supposed to be inviolate. The general fund pays for such basic services as policing, street repair and parks, and isn't meant to be used for anything more speculative. For special projects or riskier ventures, California towns have redevelopment funds and enterprise funds. Money from the general fund is not supposed to be mingled with or used to support anything that falls into the purview of those latter funds, according to state regulations.
In practice, however, many California towns, including Hercules, have done just that. And in Hercules' case, analysts say, the HMU project featured an unusually frequent and hard-to-follow blurring of lines between the use of general fund monies and other development funds -- all involving local businesspeople and southern California financiers to whom Hercules paid relatively handsome fees in the service of what appears to be a lost cause.
Hercules hatched HMU in 2000 during an energy crisis in California in which some big suppliers, like Enron, were accused of manipulating the market. In the wake of those troubles, Hercules began asking itself a very simple question: Why buy expensive electricity from the big power companies when it could supply its own and, presumably, pocket the profits?
Buying electricity was getting more costly by the day. In the summer of 2000, consumers saw electricity prices spike to as much as 800 percent of what they had been the summer before, and rolling blackouts were the order of the day.
Hercules, once home to the nation's largest dynamite plant, was looking to redefine itself. Pacific Refinery, the city's largest employer, had shut down five years before, and its massive hillside storage tanks were being replaced by new homes with manicured lawns and million-dollar views of the San Pablo Bay. HMU held out the promise of independence and profit.
Developers transformed acreage written off as an industrial wasteland into "Victoria by the Bay," an upscale neighborhood of some 800 homes. And every one of those houses was hooked up to Pacific Gas & Electric Co., northern California's leading power supplier. If that new subdivision marked the dawn of a boom era for Hercules, as many believed, then why not capitalize on a growing market for electricity with a locally-owned and operated utility whose revenues flowed to city coffers?
"The projections were very rosy," said Hector Rubio, an architect who serves on a local finance committee. "They looked at the best-case possibilities and never considered any alternative to that."
Rubio is also an HMU customer and recalls that a few years ago he went 10 months without receiving a bill from the fledgling utility. "It was unreal not knowing what to expect," he says. "Mismanagement has turned what could have been an opportunity into a fiasco."
Popular in the Community