To say Anthony Bourdain was a "good writer" is to do him a disservice. Though he was a chef, restaurateur and TV host, it was his writing in the 2000 book Kitchen Confidential that launched him to fame.
Bourdain was a master, bringing his culinary expertise, wry wit and worldly education to the craft of food writing.
The 61-year-old died on Friday, much to the sadness of the worlds he inhabited so wholeheartedly. Bourdain wrote several books and plenty of essays, and they contain so much wisdom that they're worth revisiting again and again.
Here are some of his most quotable literary moments.
From A Cook's Tour: Global Adventures in Extreme Cuisines:
Once you've been to Cambodia, you'll never stop wanting to beat Henry Kissinger to death with your bare hands. You will never again be able to open a newspaper and read about that treacherous, prevaricating, murderous scumbag sitting down for a nice chat with Charlie Rose or attending some black-tie affair for a new glossy magazine without choking. Witness what Henry did in Cambodia ― the fruits of his genius for statesmanship ― and you will never understand why he's not sitting in the dock at The Hague next to Milošević.
I wanted adventures. I wanted to go up the Nung river to the heart of darkness in Cambodia. I wanted to ride out into a desert on camelback, sand and dunes in every direction, eat whole roasted lamb with my fingers. I wanted to kick snow off my boots in a Mafiya nightclub in Russia. I wanted to play with automatic weapons in Phnom Penh, recapture the past in a small oyster village in France, step into a seedy neon-lit pulqueria in rural Mexico. I wanted to run roadblocks in the middle of the night, blowing past angry militia with a handful of hurled Marlboro packs, experience fear, excitement, wonder. I wanted kicks ― the kind of melodramatic thrills and chills I'd yearned for since childhood, the kind of adventure I'd found as a little boy in the pages of my Tintin comic books. I wanted to see the world ― and I wanted the world to be just like the movies.
From Kitchen Confidential: Adventures in the Culinary Underbelly:
Do we really want to travel in hermetically sealed popemobiles through the rural provinces of France, Mexico and the Far East, eating only in Hard Rock Cafes and McDonalds? Or do we want to eat without fear, tearing into the local stew, the humble taqueria's mystery meat, the sincerely offered gift of a lightly grilled fish head? I know what I want. I want it all. I want to try everything once.
Also from Kitchen Confidential:
So who the hell, exactly, are these guys, the boys and girls in the trenches? You might get the impression from the specifics of my less than stellar career that all line cooks are wacked-out moral degenerates, dope fiends, refugees, a thuggish assortment of drunks, sneak thieves, sluts and psychopaths. You wouldn't be too far off base. The business, as respected three-star chef Scott Bryan explains it, attracts "fringe elements," people for whom something in their lives has gone terribly wrong. Maybe they didn't make it through high school, maybe they're running away from something ― be it an ex-wife, a rotten family history, trouble with the law, a squalid Third World backwater with no opportunity for advancement. Or maybe, like me, they just like it here.
From The Nasty Bits: Collected Varietal Cuts, Usable Trim, Scraps, and Bones:
Travel changes you. As you move through this life and this world you change things slightly, you leave marks behind, however small. And in return, life ― and travel ― leaves marks on you. Most of the time, those marks ― on your body or on your heart ― are beautiful. Often, though, they hurt.
From Medium Raw: A Bloody Valentine to the World of Food and the People Who Cook:
I have long believed that it is only right and appropriate that before one sleeps with someone, one should be able — if called upon to do so — to make them a proper omelet in the morning. Surely that kind of civility and selflessness would be both good manners and good for the world. Perhaps omelet skills should be learned at the same time you learn to fuck. Perhaps there should be an unspoken agreement that in the event of loss of virginity, the more experienced of the partners should, afterward, make the other an omelet — passing along the skill at an important and presumably memorable moment.
I'm through being cool. Or, more accurately, I'm through entertaining the notion that anybody could even consider the possibility of coolness emanating from or residing anywhere near me. As any conscientious father knows in his bones, any remaining trace elements of coolness go right out the window from the second you lay eyes on your firstborn. The second you lean in for the action, see your baby's head make that first quarter-corkscrew turn toward you, well … you know you can and should throw your cherished black leather motorcycle jacket right in the nearest trash bin. Clock's ticking on the earring, too. It's somehow … undignified now.
Before You Go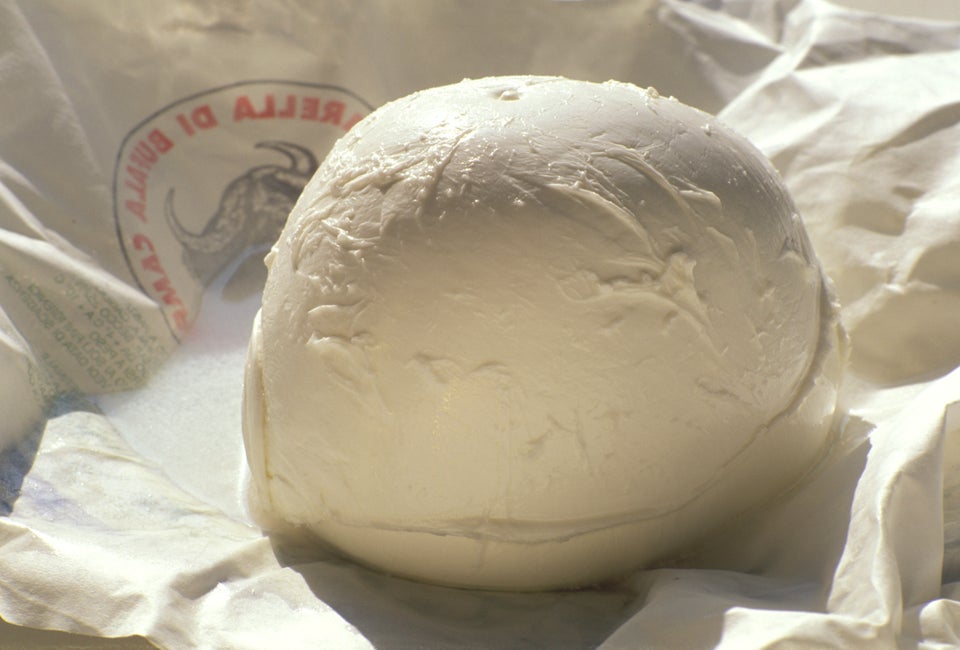 5 Foods Anthony Bourdain Always Keeps In His Kitchen
Popular in the Community