Kanye West, with his bizarre White House meeting Thursday with President Donald Trump, gave fresh proof that the line between celebrity and politician is truly no longer a thing.
West, sitting across from the president at the Resolute Desk in the Oval Office, went into a nearly 10-minute speech, wearing Yeezy boots and his famous "Make America Great Again" hat.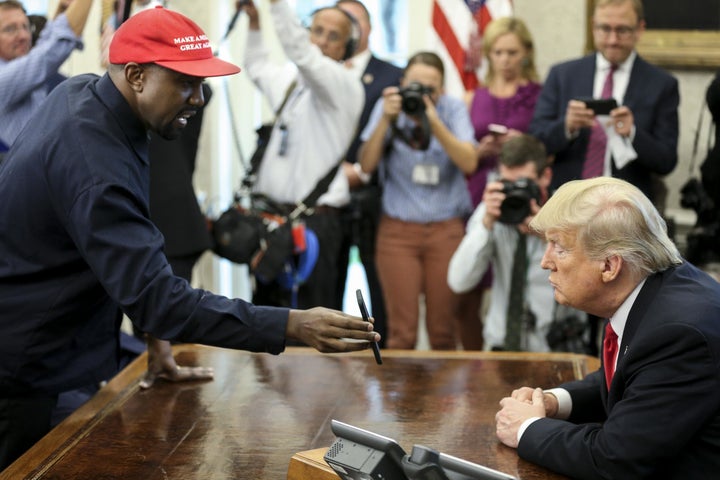 Here are some of the wildest comments West made during his soliloquy:
1. "This is our president, he has to be the freshest, the flyest, the flyest planes, the best factories and we have to make our core be in power."
2. Trump "might not have expected to have a crazy motherfucker like Kanye West supporting him."
3. West said he would potentially run for president "only after 2024."
4. "I love this guy." [Followed up with a hug.]
5. "The problem is illegal guns, illegal guns is the problem. Not legal guns. We have the right to bear arms."
6. "Let's stop worrying about the future, all we have is today. ... Trump is on his hero's journey right now."
7. "There was something about when I put this hat on it made me feel like Superman. You made a Superman, that's my favorite superhero, you made a Superman cape for me."
8. "One of the moves I love that liberals try to do ― a liberal would try to control a black person with the concept of racism because they know we are a very proud, emotional people."
9. Talking about the Constitution's 13th Amendment, which forbids slavery: "Why would you keep something around that's a trap door? If you're building a floor, the Constitution is the base of our industry, of our country, of our company. Would you build a trap door that if you mess up and accidentally something happens, you fall and you end up next to the Unabomber? You got to remove all that trap door out of the relationship."
10. "I think the way the universe works is perfect. We don't have 13 floors, do we?"
12. "You are tasting a fine wine. It has complex notes to it."
13. "My dad and my mom separated, so there was not a lot of male energy in my home, and also I'm married to a family where, you know, there's not a lot of male energy. It's beautiful though."
14. "I love Hillary. I love everyone, but the campaign 'I'm with her' just didn't make me feel — as a guy."
Trump said at one point that West "can speak for me any time he wants. He's a smart cookie. He gets it."
When West was finished speaking, Trump told the reporters around them: "I tell you what ― that was pretty impressive. That was quite something."
West responded: "It was from the soul. I just channeled it."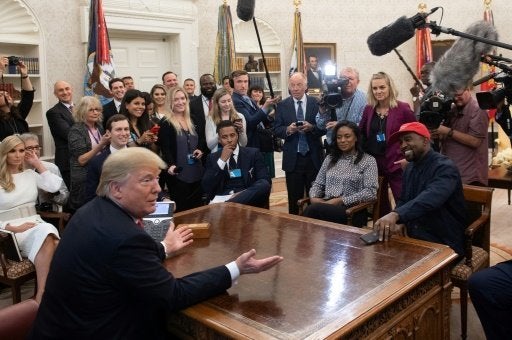 White House press secretary Sarah Huckabee Sanders announced the meeting earlier this week, saying that "West is coming to the White House to have lunch with President Trump and he will also meet with Jared Kushner. Topics of discussions will include manufacturing resurgence in America, prison reform, how to prevent gang violence, and what can be done to reduce violence in Chicago."
Last month, West appeared on "Saturday Night Live" wearing the red MAGA hat and promoting Trump. After the show ended, he treated the studio audience to a pro-Trump, anti-Democrat rant that was booed and later slammed by cast member Pete Davidson as"one of the worse things I've ever seen working here."
West, husband of reality TV star Kim Kardashian, has been extremely vocal about his enthusiasm for the president, frequently posting about Trump on social media.
Support HuffPost
The Stakes Have Never Been Higher
Related
Popular in the Community