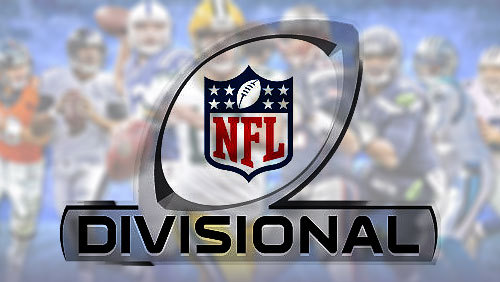 The NFL Divisional Round Playoffs are about to get underway. Starting on Saturday, we'll get to see four teams from each conference duke it out to determine what two teams advance to the Conference Championships and inch their way one step closer to the Big Dance.
Last week's Wildcard Round was telling. The Curse of Cincy continues, with the Bengals getting ousted entirely by fault of their own due to a horrible fumble followed by several penalties that put the Steelers in a position to score a field goal late in the game and add one more year to Cincinnati's 25-year playoff drought.
The Chiefs turned heads in Texas, where they made fast work of the Texans in slaughterhouse fashion, shutting them out 30-0. The Seahawks got away with a close one in a squeaker against the Vikings that was only really won because Blair Walsh had a moment of desperation and missed a usually automatic 27-yard field goal. Then there was Green Bay, out to prove that they are still relevant, with a solid win over the Redskins.
Next up is a more intensified pairing of teams. The weakest seeds move on to play the top seeds at home. The playoffs were designed this way to protect the top seeded teams. For example, if a team wins their conference during the regular season, they get a first-round bye, home field advantage and they get to play the weakest seed during the divisional round. It's kind of like an added perk for having a good season (and perhaps a sneaky way for the NFL to help assure that the top seeded teams have a greater chance of moving up the bracket).
Without further ado, here are your Saturday and Sunday matchups with predictions.
Chiefs at Patriots (-5), 4:35 p.m. ET (CBS): After annihilating the Texans in a showing that was hard to watch if you are a fan of this team, the Chiefs made it clear they are here to compete. Following a 30-0 stomping last week, you can bet they are ready to do battle in New England. But, with Tom Brady healthy and many of their injured players back on the starting lineup - including Julian Edelman, Dont'a Hightower, Chandler Jones, and Sebastian Vollmer - the team is closer to full form than they have been the past eight games. The Chiefs have starters Laurent Duvernay-Tardif out as well as Jeremy Maclin. So both sides will be contending to some injury losses. Expect a hard-hitting and well-coached matchup that comes down to the wire. My prediction: Patriots Win: 38-35.
Packers at Cardinals (-6.5), 8:15 p.m. ET (NBC): The Packers certainly have their work cut out for them. Rodgers has been looking off-kilter since game seven, when his early season bravado seemed to dry up. Losing six out of the last 10 games of the season did not help, either. With the Cardinals coming off a horrifying and embarrassing loss to Seattle to end their season, but the Packers coming back to try and staunch the bleeding of a blowout to the Cards in week 16, both teams will be contending. Given that Rodgers was sacked eight times in their last meetup, and that they were entirely shut down for most of the game, it's not unfeasible to predict a similar outcome. My prediction: Cards Win: 35-21.
Seahawks at Panthers (-2.5), 1:05 p.m. ET (FOX): Last year the Seahawks dashed the Panthers playoff chances. This year there will be blood to pay. They squeaked out a win in Minnesota last week that almost wasn't, and that only happened because the Vikings botched a usually automatic field goal attempt. This time around, they'll be facing a team that will stop at nothing to get to the Super Bowl. It's very unlikely that Cam Newton and company will allow the Seahawks to get the best of them this time. My prediction: Panthers Win: 28-17.
Steelers at Broncos (-5.5), 4:40 p.m. ET (CBS): Peyton who? Yes, Manning does give them team playoff hopes and has experience. But he's also a choker in the playoffs, too. If he does not put up the numbers that that the team expects, we could very well see him benched. Given the Steelers excellent defense, this scenario could very well happen. But, with Ben Roethlisberger likely out, the Steelers will have to also contend with the Broncos top-rated defense while using backup QB Landry Jones. This game won't be the offensive, gun-slinging match-up we all want to see. Instead, it will be won on the defensive side. But which team will move on to the next round? My prediction: Broncos Win: 17-14.
Visit

NowItCounts.com

,
The Destination for Americans 50+

for stories that matter to you covering financial, health, beauty, style, travel, news, lifestyle, food, entertainment and sports.
Calling all HuffPost superfans!
Sign up for membership to become a founding member and help shape HuffPost's next chapter