Delivery drones are so 2013. The big news in technology in retail in 2014 and beyond is robots replacing humans. Starting just this week, right across the road from Apple in Cupertino, the Aloft hotel is testing robotic bellhops. As reported in The New York Times, the cute-as-a-button "Botlr" will deliver basic items from the front desk to your room. Best of all, no tips necessary, but positive tweets appreciated (#MeetBotlr).
In a world where humans are relatively expensive, robots in retail make sense. Particularly when (in gestures and in sounds) they remind us of endearing droids like R2-D2 from Star Wars, or Rosie the Robot from The Jetsons television series, rather than (say) The Terminator. It's easy to imagine a near future where robots could be store greeters (New York pharmacy Duane Reade had a holographic greeter in its Wall Street flagship when it opened in 2011). Robots too could race items to and from change-rooms in apparel stores.
Robots are already performing more menial, behind-the-scenes roles in retail, such as inventory checking and shelf replenishment can't be far behind. And (as with Aloft's Botlr) robots are starting to pop up in basic service roles too, like the Robot-run restaurant in Harbin, China with Robochefs and Robowaiters.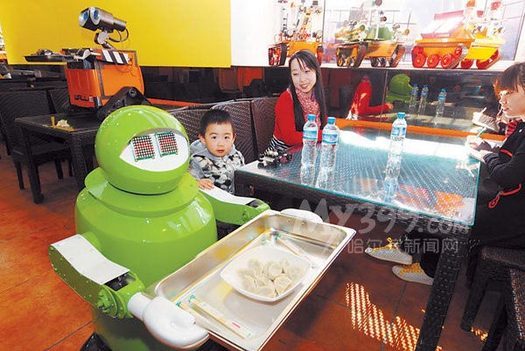 Google is spending hundreds of millions of dollars purchasing companies with expertise and IP in robotics and artificial intelligence. The tech giant's well-publicized experiments with self-driving cars are all about removing people from the picture. When driverless technology is married with Uber, you can see why Google invested US$258 million in the smart-phone driven travel company. Tap the app on your phone and a vehicle will arrive, sans someone at the wheel. As Uber co-founder Travis Kalanick famously stated: "When there's no other dude in the car, the cost of taking an Uber anywhere becomes cheaper than owning a vehicle."
So, ready or not, robots are coming. It's only a matter of time before the "dude is a droid" in your local store, particularly in more value-driven outlets where every dollar in overheads counts. And if service levels go up and costs go down, then that is a good thing for both retailer and shopper.
Of course, with every trend is a counter-trend. As the robots roll in, living, breathing, smiling human beings will be a differentiator in retail's future.
Popular in the Community